Torta Recipe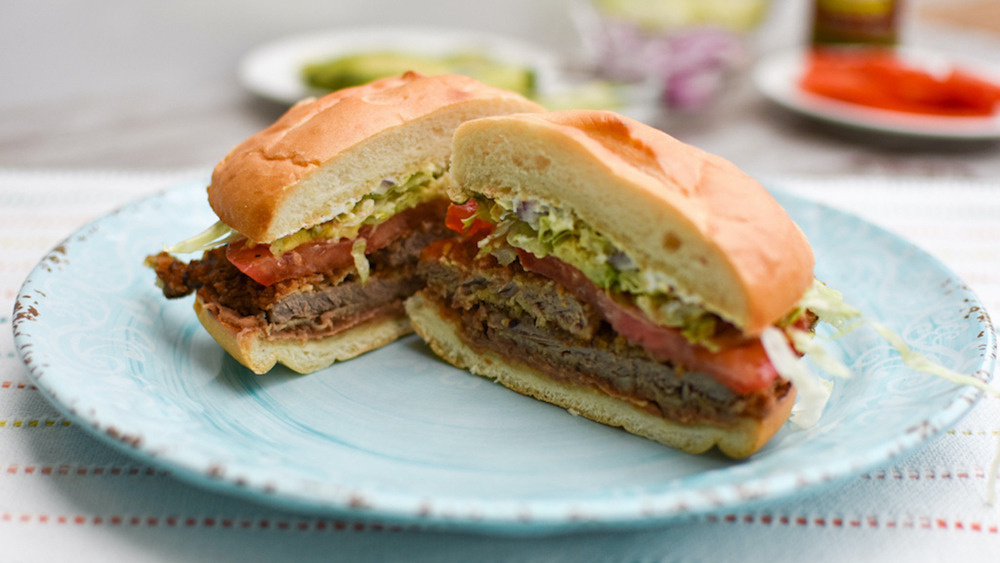 Stephanie Rapone/Mashed
Some people have a tendency to fall for a style of sandwich and make that their preferred type of sandwich in all cases. It feels like just about everyone has their go-to order at the deli and a sandwich of choice they lean on for an easy at-home meal time and time again. Just about every style of cuisine has its own signature sandwich or favorite things to put between two slices of bread.
In Mexico, that sandwich is the torta. It's a hearty sandwich filled (depending on who is making the sandwich) with avocado, tomato, onion, lettuce, beans, sour cream, and a piece of thinly pounded fried steak. This sounds like a lot if you're looking to make it at home, but with the right recipe — meaning this one right here from Stephanie Rapone, the founder of Pantry to Plate — you can easily whip up a delicious torta for yourself.
"I love creamy refried beans and avocado with crunch lettuce," Rapone says, "so that is what makes it perfect for me!" Here's how to make a torta that just about everyone will love.
Gather your ingredients to make this torta recipe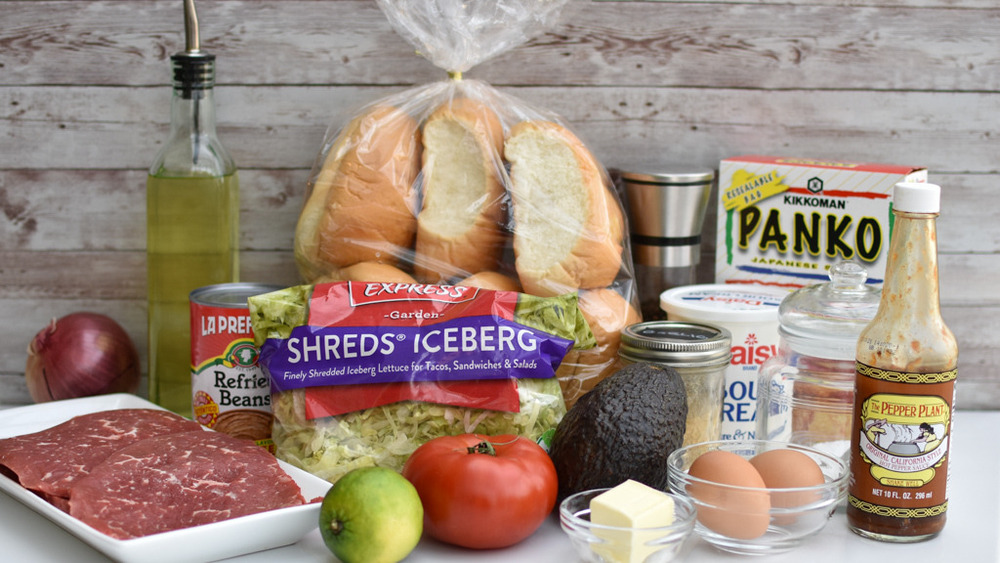 Stephanie Rapone/Mashed
A torta, like every other sandwich out there, is ultimately an extremely customizable food that you can bend and shape to your liking. At the heart, however, are some key ingredients.
First off is a thin-cut sirloin or round steak that is pounded thin and fried (if you're not much of a steak person, Rapone says chicken breast or pork loin will do the trick). Whatever meat you choose, you'll need egg, panko, and canola oil for the frying, as well as lime juice and spices like salt, black pepper, and garlic powder. And then there are the toppings: avocado, tomato, shredded lettuce, onion, sour cream, refried beans, and your favorite hot sauce.
Finally, a sandwich is only as good as its bread. For this torta recipe, grab bolillo rolls (a football-shaped Mexican bread that's similar to French bread) or telera rolls, which are similar but slightly flatter. Either of these breads are perfect because "the middle is soft enough that the refried beans meld into the bread, but the outside is solid enough that the sandwich doesn't get mushy and fall apart," Rapone says.
Prepare the raw ingredients for your torta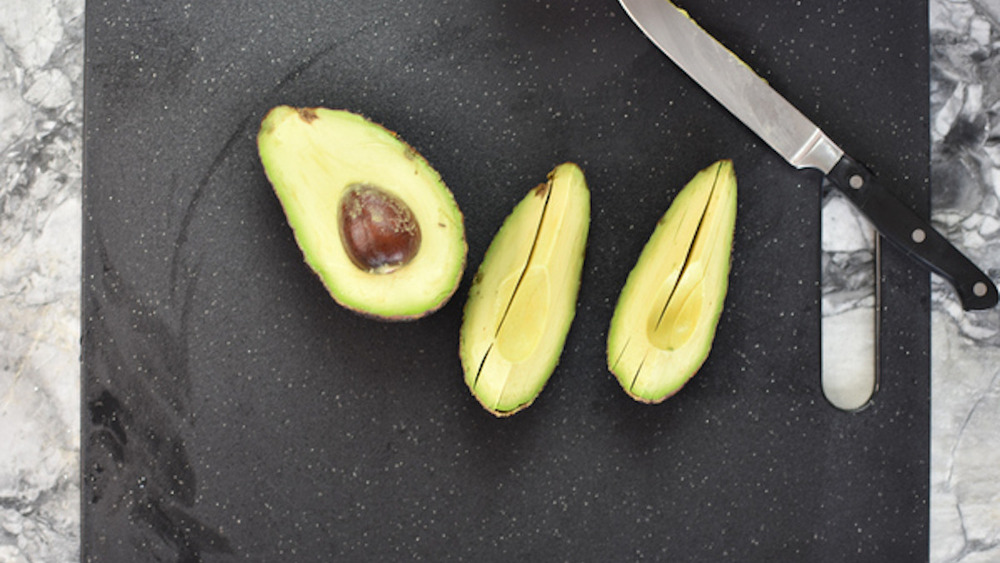 Stephanie Rapone/Mashed
The first thing to do as soon as you've gathered all of the ingredients you need for this torta recipe is to wash, chop, and slice all of the raw ingredients — meaning pretty much all of the toppings. Cut a lime in half and juice one side, and then cut the other half into wedges so people can add extra lime juice at the end if they wish.
Then shred the lettuce (or you could purchase already shredded lettuce to make things faster). The avocado, tomatoes, and onion should get a thin slice. This allows all the flavor of the ingredients to be evenly distributed without making your torta a sandwich that's too tall to comfortably bite.
Getting the perfect thin slice on a tomato can be tricky. Pro tip: A serrated knife is the best way to go. The right way to cut a tomato is to lay the tomato on its side with the stem part facing one side. Use your serrated knife to cut off the top and then use that cut to align the subsequent slices.
Pound the meat for your torta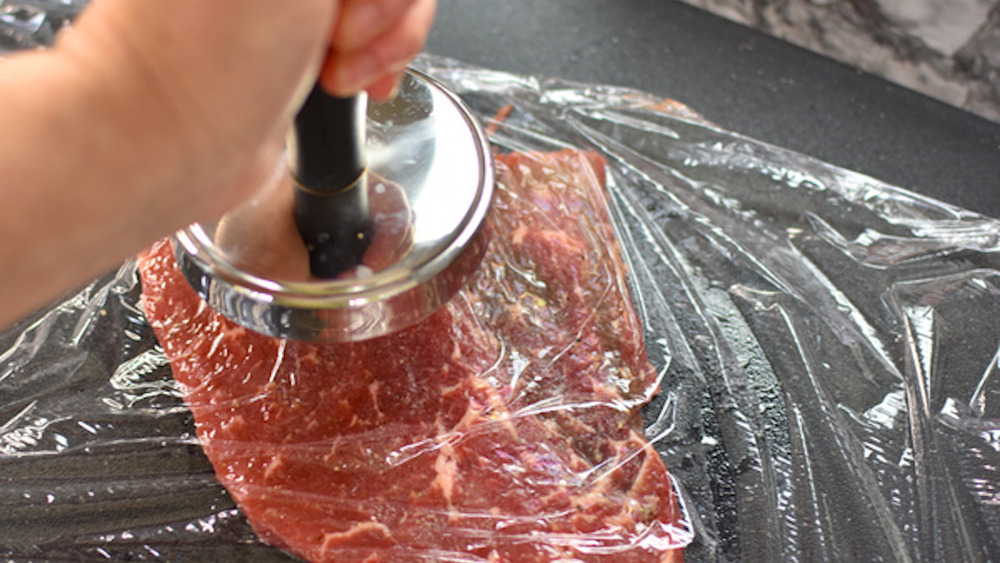 Stephanie Rapone/Mashed
This torta recipe calls for using a very thin piece of meat. To make things easier, select as thin of a round steak or sirloin as you can find (and the same goes for if you opt for pork or chicken, too). No matter how thin you purchase it, however, it'll still likely be too thick if you bought it in a package rather than from the butcher (more on that in a bit).
The solution is to beat it with a meat mallet. A meat mallet, which is sometimes also called a meat tenderizer or meat pounder, is a small hammer with little pyramid peaks. It's used to smack the piece of meat thin — in this case, you're looking to hit it until it's between an eighth and a quarter of an inch thick. Pounding the meat will make it a little wider, so cut the meat if needed to make sure that it'll fit in the roll.
If you don't have a meat mallet but are purchasing your meat at a quality butcher shop, Rapone suggests asking the butcher to run thin slices of meat through the tenderizer for you.
Bread your flattened steaks for this torta recipe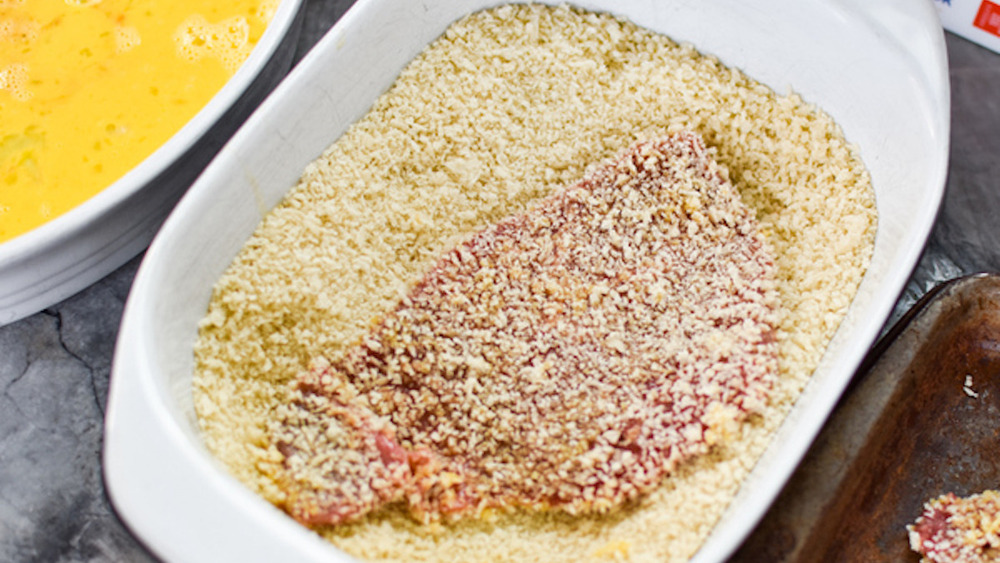 Stephanie Rapone/Mashed
Other than making sure your meat of choice is pounded thin, getting a proper and even breading is key to this torta being all that it can be. To start, whisk the two eggs with a fork in a small casserole dish until they're an even consistency without any lumpy parts that have more yolk than white (or vice versa). Then take the panko and spread it in another casserole dish or rimmed dinner plate.
Take a piece of flattened meat and dip it in the eggs, making sure to completely coat both sides. Allow the excess to drip off back into the casserole dish, and then dip the meat to cover it with breadcrumbs. Repeat this for all of the meat.
"You might need to shake the dish with the breadcrumbs to make sure they are even in the pan, which will make sure they are even on the meat," Rapone says.
Fry the steaks to make your torta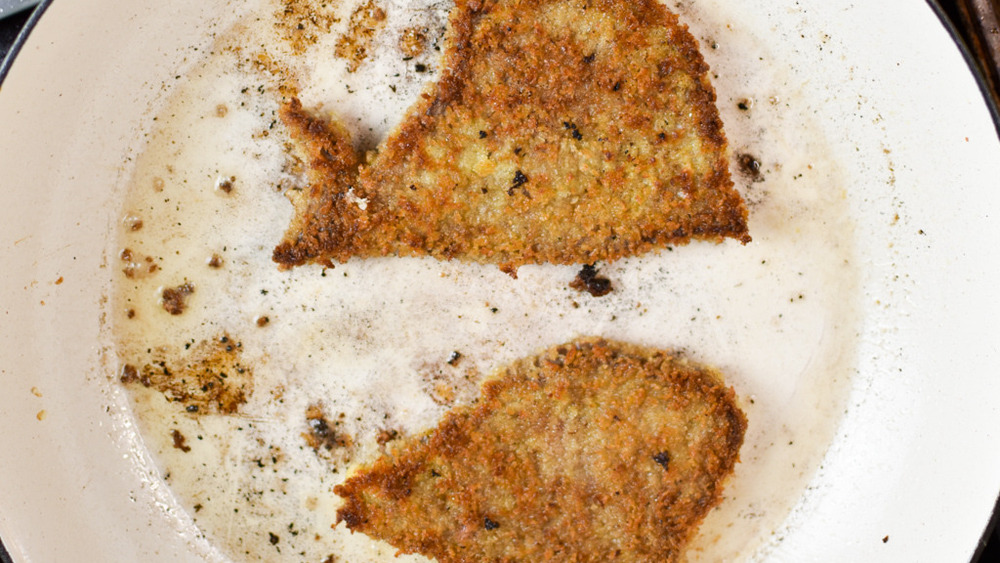 Stephanie Rapone/Mashed
Now it's time to get to cooking. For the torta bread, butter the rolls and toast them lightly in a skillet.
Then, for the meat, heat about a quarter of a cup of oil in a large skillet over medium-high heat. You're looking to get the oil to around 350 degrees Fahrenheit, which you can measure with a cooking thermometer or simply wait until the oil starts to sizzle. Fry the first pieces of breaded steak in the pan for about two minutes, leaving room so the pieces aren't rubbing against each other. Then flip them over and fry for another two minutes until they're golden brown.
You'll want to keep as much of the breading intact as possible. "I use a fork to stick and flip the meat in the skillet instead of tongs because tongs can make it lose some of the breadcrumbs," Rapone says.
To ensure there's enough oil in the pan for the next batch, you may need to add a couple tablespoons of extra oil before putting cooking the rest of the breaded pieces.
Assemble your torta sandwich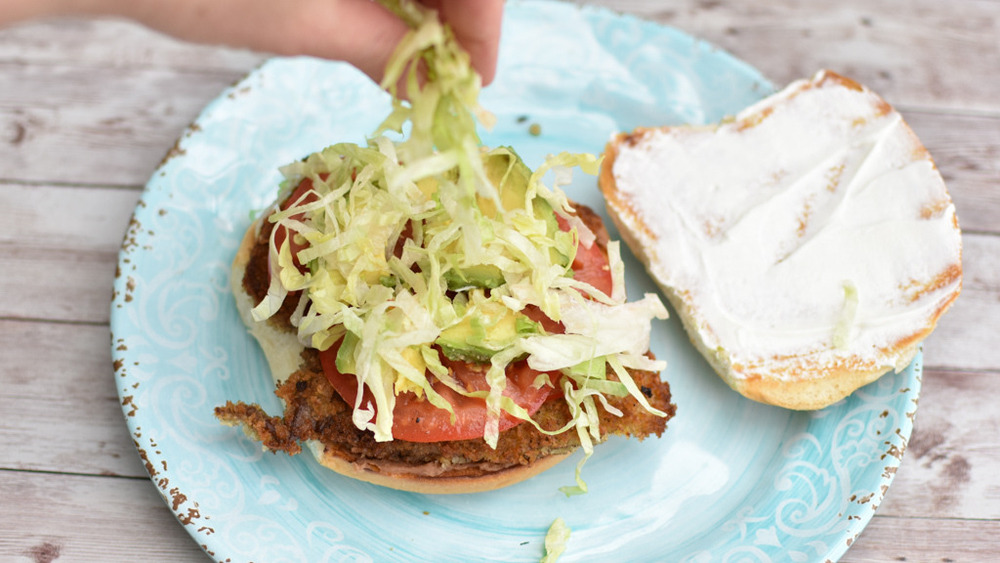 Stephanie Rapone/Mashed
Open your can of refried beans and microwave them in a bowl for about 30 seconds. Stir them to redistribute the heat and check the temperature. You don't need the beans to be steaming hot, just warmed through enough so that they're creamy and easy to spread.
Finally, the last step is the assembly. Spread the refried beans on the bottom bun and sour cream on the top. Then add the fried steak, avocado, lettuce, tomatoes, onion, hot sauce, and whatever other toppings you prefer. How your order the ingredients in your sandwich and what toppings you choose is a personal choice, but one tried and true way is to follow Rapone's suggestion: "I do the refried beans on the bottom bun, then the meat, tomato, lettuce, avocado, and sour cream on the top bun," Rapone says. "I love flame-roasting fresh jalapeños to chop and put on it!"
All that's left to do is enjoy.
Torta Recipe
A torta is a hearty sandwich filled with avocado, tomato, onion, lettuce, beans, sour cream, and a piece of thinly pounded fried steak.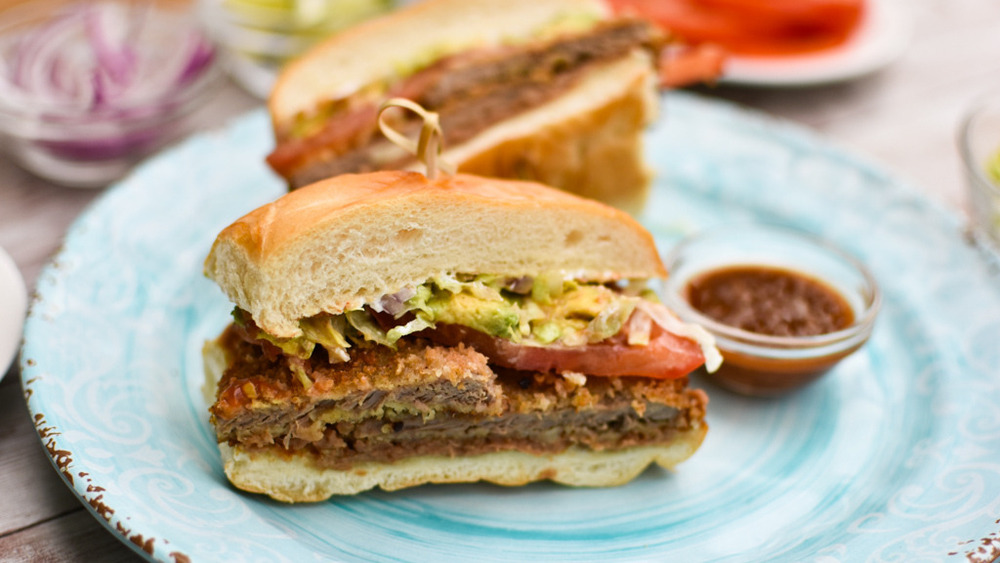 Ingredients
1 ½ pound thin-cut sirloin or round steak (look for steak that is as thin as possible, ideally no thicker than about ⅓ of an inch)
½ teaspoon salt
½ teaspoon black pepper
1 teaspoon garlic powder
1 lime
2 eggs, beaten
1 ½ cups panko
1 cup canola oil for frying
4 telera or bolillo rolls
2 tablespoons butter
Optional Ingredients
Avocado
Tomato
Shredded lettuce
Onion
Sour cream
Refried beans
Hot sauce
Directions
Cut the lime in half. Juice one half. Cut the other half into quarters and set aside. Wash and slice/chop the avocado, tomato, onion, and any other toppings, as needed.
To the lime juice, add the salt, pepper, and garlic powder. Drizzle over the steaks on both sides.
Cover a piece of steak with plastic wrap, and use a meat mallet to pound until an ⅛ of an inch to a ¼ of an inch thick. Cut, if needed, so they are about the same size as your rolls.
Use a fork to whisk the eggs in a small casserole dish until they are an even pale yellow. Place the panko in another dish or on a rimmed dinner plate. Coat each piece of steak in beaten egg on both sides, and allow excess to drip off. Coat generously in breadcrumbs on both sides.
Butter rolls and toast lightly in a skillet.
Heat a ¼ of a cup of oil over medium-high heat in a large skillet until sizzling. Fry the breaded steak for about 2 minutes on each side, until golden brown. You will need to fry in batches and will probably need to add a few tablespoons of oil between each batch.
Microwave the refried beans for 30 seconds and stir. You may need to microwave a bit longer — you just want them warmed through with a creamy, spreadable consistency. Spread the beans on the bottom buns and sour cream on the top. Top the beans with the steak and other toppings that you love.
Nutrition
| | |
| --- | --- |
| Calories per Serving | 306 |
| Total Fat | 21.6 g |
| Saturated Fat | 4.4 g |
| Trans Fat | 0.1 g |
| Cholesterol | 70.9 mg |
| | |
| --- | --- |
| Total Carbohydrates | 12.5 g |
| Dietary Fiber | 0.9 g |
| Total Sugars | 0.4 g |
| Sodium | 223.4 mg |
| Protein | 15.3 g |