The Real Difference Between Cornish Game Hens And Chicken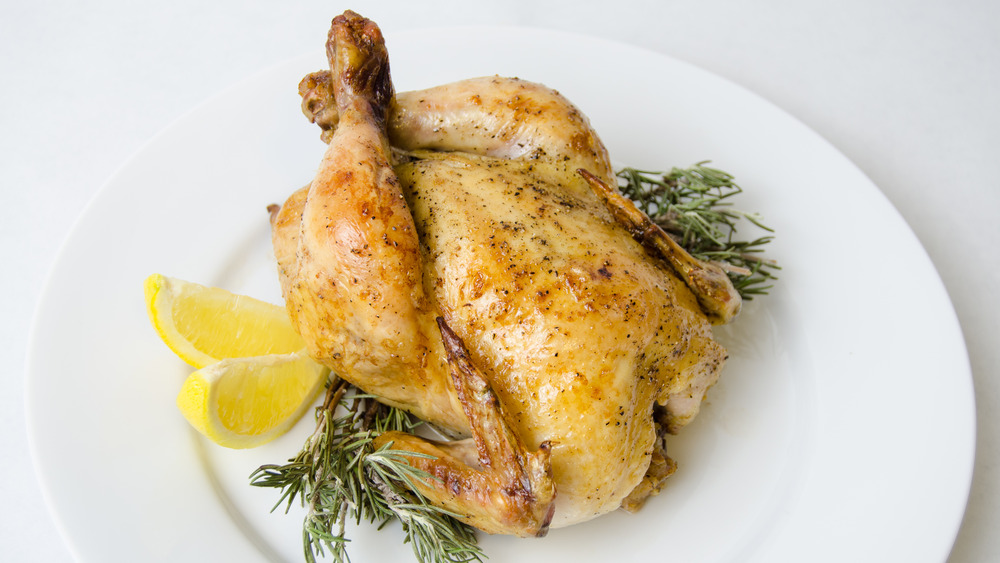 Shutterstock
What are Cornish game hens, exactly? Other than making you feel like a giant in the frozen food section at your local market, are they more than just fancy miniature chickens you can hold in the palm of your hand? The answer is: technically, not really. Many factors, including preparation and presentation, differentiate the tiny fowl from their larger counterparts — but in truth, a Cornish game hen is just a very young variety of the packaged chicken many grocery shoppers know and love (via The Spruce Eats).
The Spruce Eats outlines the three most common types of commercial chicken sold, which are classified based on approximate age and weight. Roaster chickens are processed between 3-5 months old and weigh upwards of six pounds, and broiler and fryer chickens are 6-10 weeks old with an average weight of 3.5 pounds. All can be prepared in a myriad of ways, using many different types of recipes.
Love Kitchen Today explains that Cornish game hens are processed when they are around 5 weeks old and their weight is still under 2 pounds, thus maximizing their tenderness when grilled or roasted. The outlet explains that these succulent little birds are packaged whole and often served individually, as their small size creates an elegant and visually appealing entree. Additionally, their nearly all-white meat is leaner than regular chicken, making Cornish game hens a healthy choice for the calorie-conscious.
Cornish game hens are a hybrid chicken breed that grow very rapidly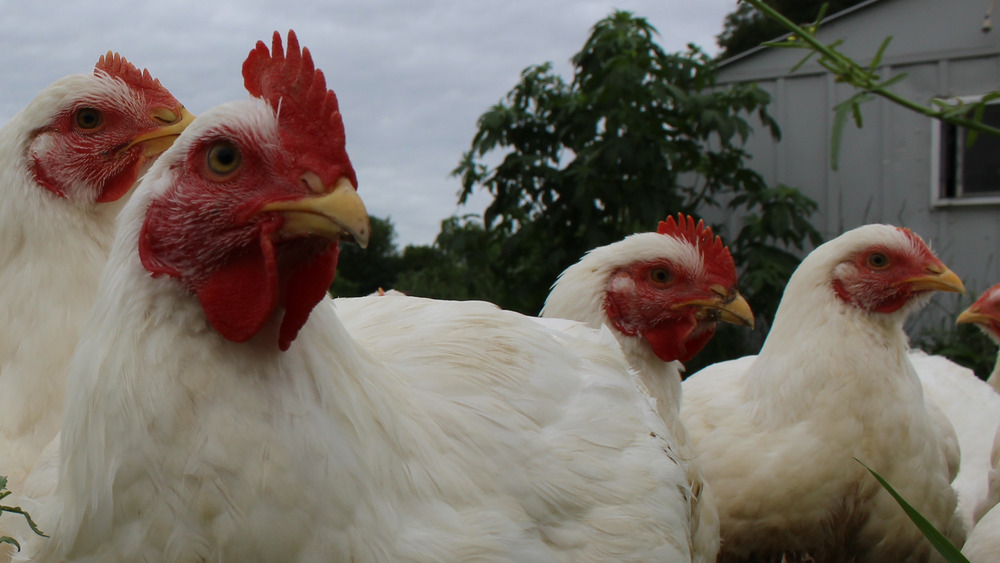 Shutterstock
Livestock Conservancy traces Cornish chickens back to England in the early 19th century, where they were originally known as Indian Game chickens and bred to fight. Although they ended up being poor combatants, they were muscular birds with ample breasts. In 1910, the American Poultry Association officially changed the breed's name to reflect their appropriate lineage. Crossing these chickens with American breeds in the 20th century created a plump product that developed quickly and could therefore be processed at an extremely young age.
According to San Francisco Chronicle, Jacques and Alphonsine "Therese" Makowsky developed the hybrid known as the Rock Cornish game hen in 1950 after a fire at their Connecticut farm wiped out their roosts of African guinea hens. The article references a July 1955 publication from Saturday Evening Post in which Mrs. Makowsky was credited with crossing Cornish and Plymouth Rock chickens while looking for a way to quickly replace their profitable flock.