The Dish That Made Chicago One Of Guy Fieri's Favorite Food Cities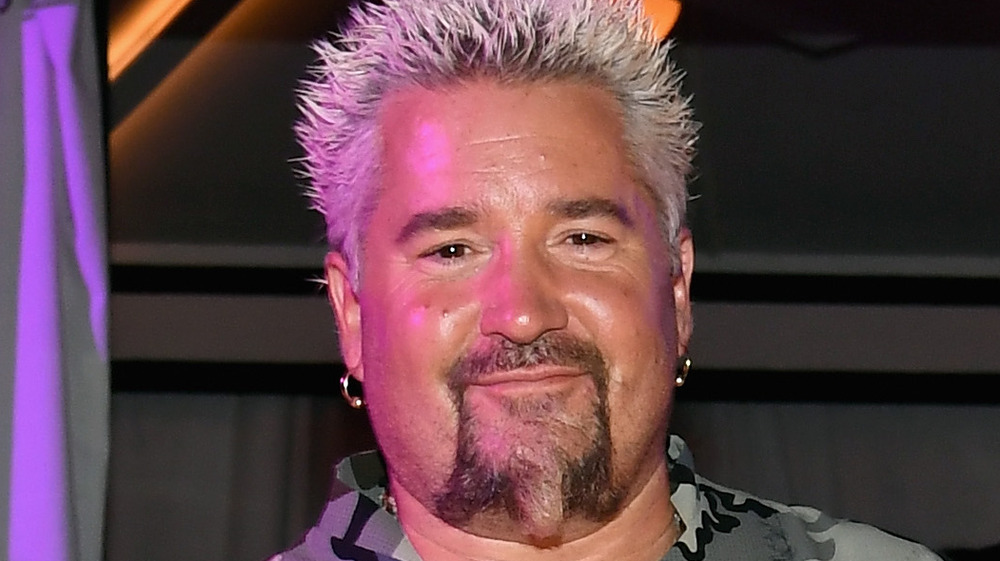 Ethan Miller/Getty Images
Chicago has long been a mecca for good food. If you visit the Windy City, chances are you're going to have some outstanding meals. From the famed deep dish pizza to the iconic Chicago-style hot dog to countless amazing sandwiches, burgers, and everything in between, Chicago has a lot going on — even for the seasoned foodie's taste buds. With the city's incredible food history, it's almost difficult to believe that celebrity chef and host of Food Network's Diners, Drive-ins and Dives Guy Fieri had never been to Chicago prior to filming his Triple D series, but it's true. 
Fieri recently talked with Chicago Tribune to promote a new season of Tournament of Champions and shared that his first stop to the iconic city — also home to the champion Chicago Cubs — didn't happen until 2007. Since then, it's fair to say Fieri has been quite taken with Chicago and its proud food prowess. In fact, Fieri has placed a spotlight on 30 different Chicago-area restaurants on his show since that first visit (per the Tribune). But there's one dish and restaurant that made such an impression on Fieri, it not only put Chicago on the map for the chef, but he even claimed he was going to "lose his mind" when devouring the meal. That must have been some dish!
Fieri is a big fan of this iconic Chicago sandwich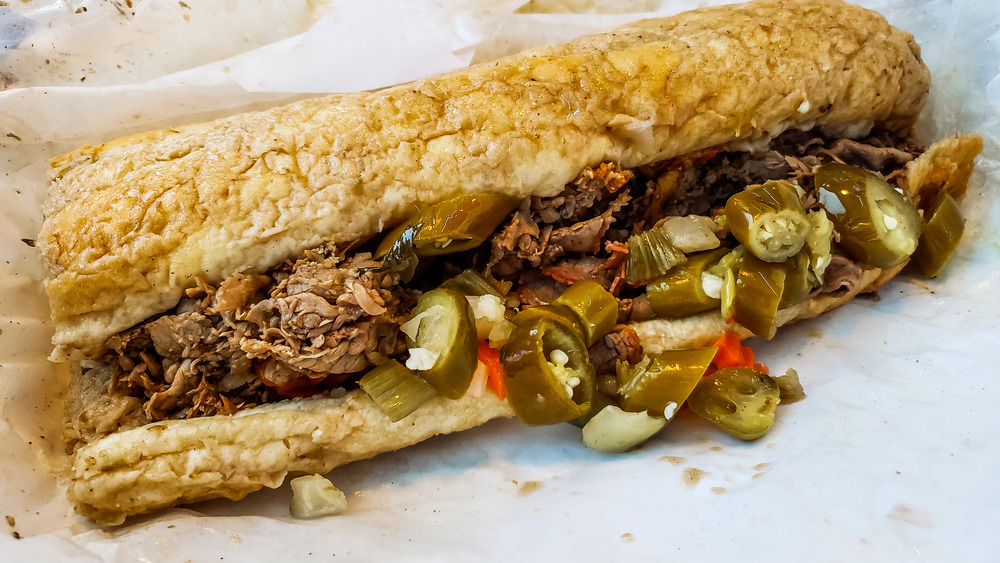 Shutterstock
According to Chicago Tribune, Fieri became sold on Chicago and its food thanks to one Italian beef sandwich he sampled at a drive-thru restaurant in suburban Alsip called Frosted Mug where the beef is "slow-cooked in a pizza oven." Chicago's Italian beef sandwich has a long history. Per AmazingRibs.com, the popular food originated on the south side of the city some time in the early 1900s, and might be best described as similar to a French dip sandwich with bell peppers — only messier. Many restaurants prepare it in different ways, though Fieri attests Frosted Mug's is his favorite.
AmazingRibs.com also notes there's not really a definitive answer to who invented the sandwich. The only thing most people can agree on is that it was likely dreamed up by someone from the city's thriving Italian immigrant community. Though, once you start eating an Italian beef sub, you probably won't care who came up with the concept because all you will be able to think about is the state of nirvana this juicy, meaty sandwich conjures up.
Though Frosted Mug is no longer in business, there are plenty of other restaurants and quick service establishments that serve up this favorite Chicago-style sandwich, including Al's Beef, which claims to still be the #1 Italian Beef option since 1938 (via Al's Italian Beef).