Alex Guarnaschelli's Throwback Photo Is Major Chopped Nostalgia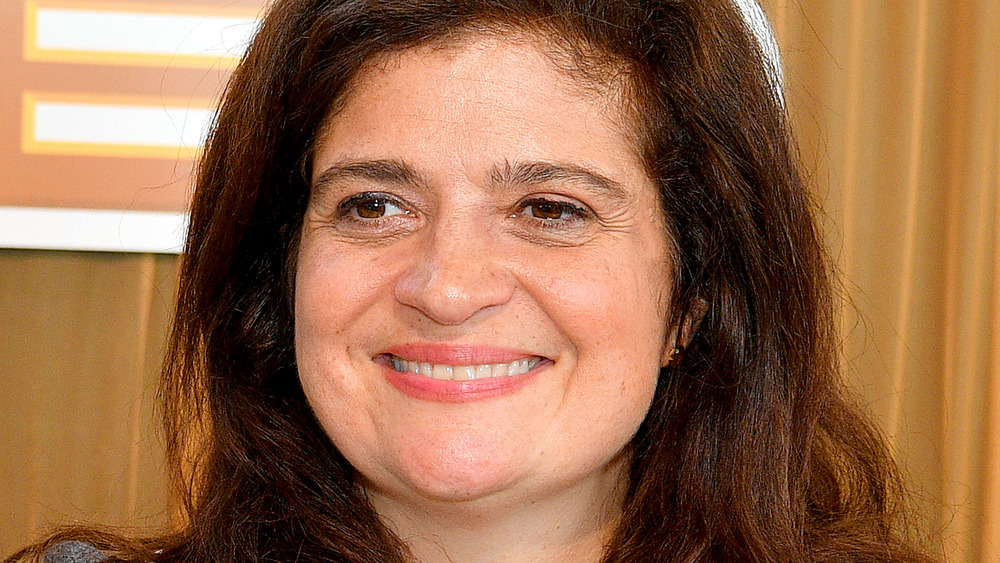 Dia Dipasupil/Getty Images
Alex Guranaschelli is a beloved member of the celebrity food family, and family it really is. The chef recently shared a Chopped throwback photo on her Instagram, and it's bringing in waves of nostalgia. To begin your journey back to the early days of Chopped, it helps to have a refresher. The show has now been running for 45 seasons (via Insider). Contestants create their dishes using mystery baskets supplemented by the Chopped kitchen. The show is hosted by Ted Allen, who you may recognize from the original Queer Eye (via IMDb). Allen has since become a staple in food circles as a host, author, critic, editor, and even sometimes a contestant.
Captioning the old pic, Guarnaschellit says, "This is the CHOPPED family in full effect. Do you know who everyone is? #throwback @kengoodmanphoto." Seeing this group back together gives us all the foodie feels (via Instagram). As one fan comments, "I love it & yes! I can name every one!" and so can team Mashed.
First, you have judge Marcus Samuelsson, owner of Red Rooster Harlem restaurant, cook for President Barack Obama, and Iron Chef contestant (via Food Network). Next, you'll find Aarón Sánchez, owner of Johnny Sánchez, author of multiple books, and host of Cooking Channel's Taco Trip. Slide over to Geoffrey Zakarian, winner of The Next Iron Chef: Super Chefs, author, and owner of The Lambs Club. 
The Chopped food family is large
Continuing on the nostalgic journey is lifelong cook Chris Santos, owner of Beauty and Essex and The Stanton Social (via Food Network). Next in line is Maneet Chauhan, restaurant and hotel expert extraordinaire. Did you know Chauhan has a grudge against pineapple? "I personally hate to work with pineapple, the reason being that that was the one ingredient that played a critical role in me (and all my predecessors) being eliminated on my season of The Next Iron Chef" (via Food Network).
Back to the bottom row, we can see restaurateur Scott Conant who also hosts 24 Hour Restaurant Battle and has competed on Iron Chef (you might be seeing a theme here, as multiple Chopped judges have appeared on Iron Chef). Add Marc Murphy, chef and owner of Landmarc, trained in both Paris and New York, and vice president of the Greater New York City Chapter of the New York State Restaurant Association. And last but certainly not least, Amanda Freitag, Iron Chef contestant, Bobby Flay battler, and chef under the famed Jean-Georges Vongerichten and Alain Passard.
With credentials like this from the judges, it's no wonder why the competition is so heated on Chopped.