Costco's Salsa Cremosa 3-Pack Has Fans Excited
If you consider yourself a salsa connoisseur, you have most likely sampled a wide variety of these sauces. But even if you love trying every salsa under the sun, you may have not had the chance to taste a salsa cremosa. This elusive dip has proven hard to come by, but luckily, Costco now dishes out this variety of salsa. 
Instagrammer @costco_doesitagain uncovered the product on their latest shopping foray and posted a three-pack of the goods alongside the caption "Salsa Cremosa 3-pack (Chipotle and Cilantro Lime) now available and on sale for $5.89! Made from simple, quality ingredients, this craveable combination of tangy tomatillos and lime with garlic and jalapeno will transform your fish tacos, grilled chicken or garden salad. A perfect addition to your daily dish and a new must-have pantry staple. Available at Costco locations in the Bay Area!" The post has gotten everyone excited, collecting almost 2,000 likes in under a day and a wide selection of gleeful replies, ranging from "These are SO GOOD" all the way to "This stuff really do slap."
Costco salsas worthy of celebration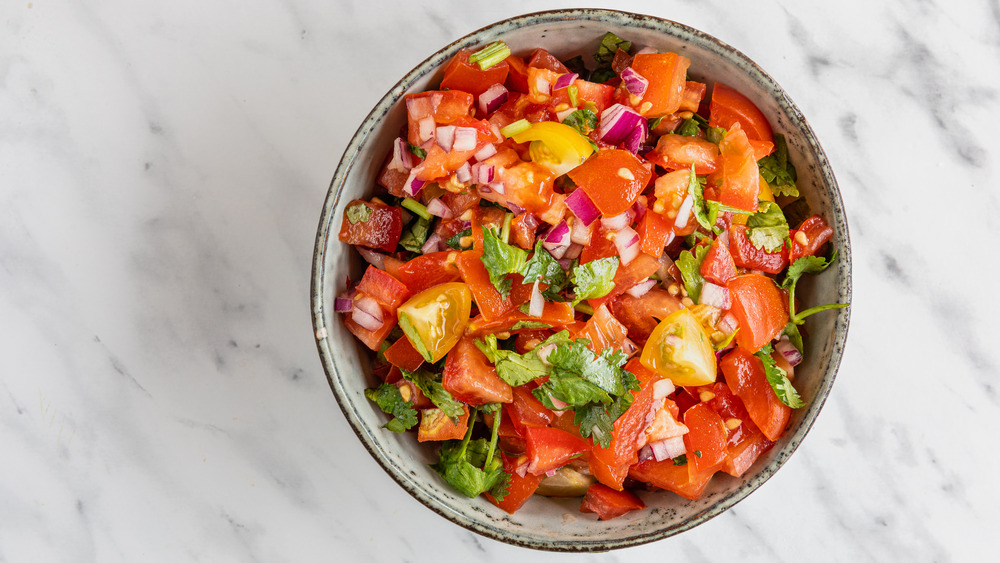 Shutterstock
If you thought salsas didn't deserve this kind of applause, you have to taste some of these unique sauces. According to PR Newswire, the salsa cremosa three-pack featured at Costco comes directly from Mexico and wraps up authentic flavors we don't often see in the States. These salsas surpass any simple chip. Use either of the new flavors on any meat or vegetable to add a spicy, creamy dimension to take your meal to the next level. Just make sure to enjoy these salsas in moderation. According to Herdez, a single serving of the chipotle salsa cremosa contains 17 percent of your daily sodium intake. If you need to watch your health, try to go easy on this new salsa.
For a taste sensation that can send your mouth straight to Mexico, nothing comes close to these new salsas that have Costco fans and salsa fanatics ready to dig in. Don't pass up an opportunity to snag a few of these bottles while you can. Costco has the habit of taking away our favorite products right as we got used to having them in our lives, and you wouldn't want to miss tasting these.