Easy Salsa Recipe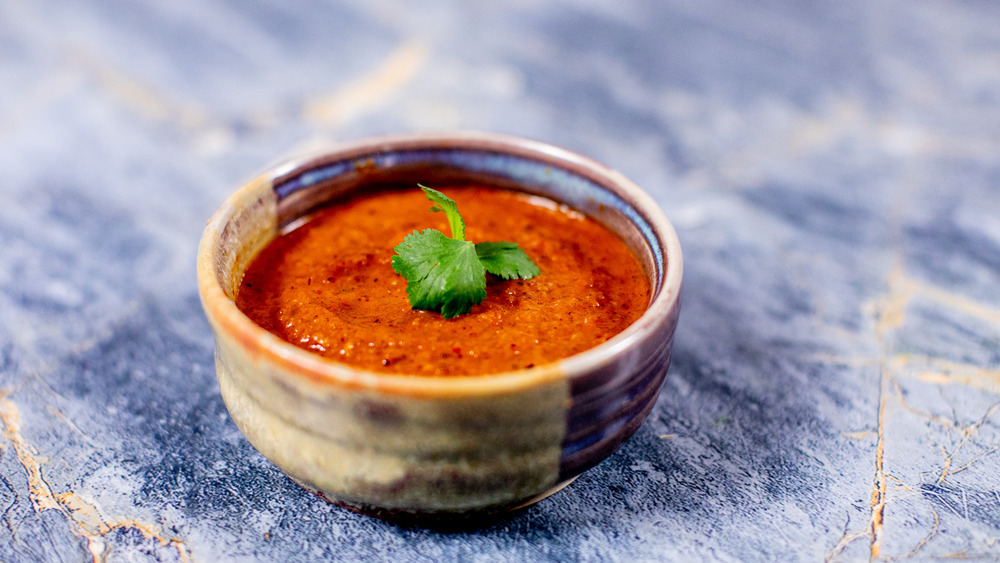 Nathaniel Lee/Mashed
If you think salsa is only for dipping chips, then maybe you also think butter is only for toast, syrup only for pancakes, and eggnog only for the holidays. Okay, you might be right on the nog front, but relegating a classic red salsa to use with tortilla chips alone is like driving a Ferrari in the slow lane, a.k.a., very boring. Chef and food writer Nathaniel Lee of Beginner Food uses this salsa on everything from "grilled meats to great salads," and says "you can even use it for a Mexican bruschetta," with breakfast and far beyond.
And yes, of course the stuff is great on chips, too.
It's hard to beat fresh salsa, and once you have made it once or twice, it's easy to make this über condiment. It's also easy to customize red salsa as you wish, especially when it comes to spice level. "Spice wise, you can use any peppers you like," says Lee. From habaneros (or spicier) to jalapeños to banana or bell peppers, you choose the heat you want. And with any given pepper, Lee says: "To decrease spiciness cut, out the seeds and the white veins."
Gather the ingredients to make your salsa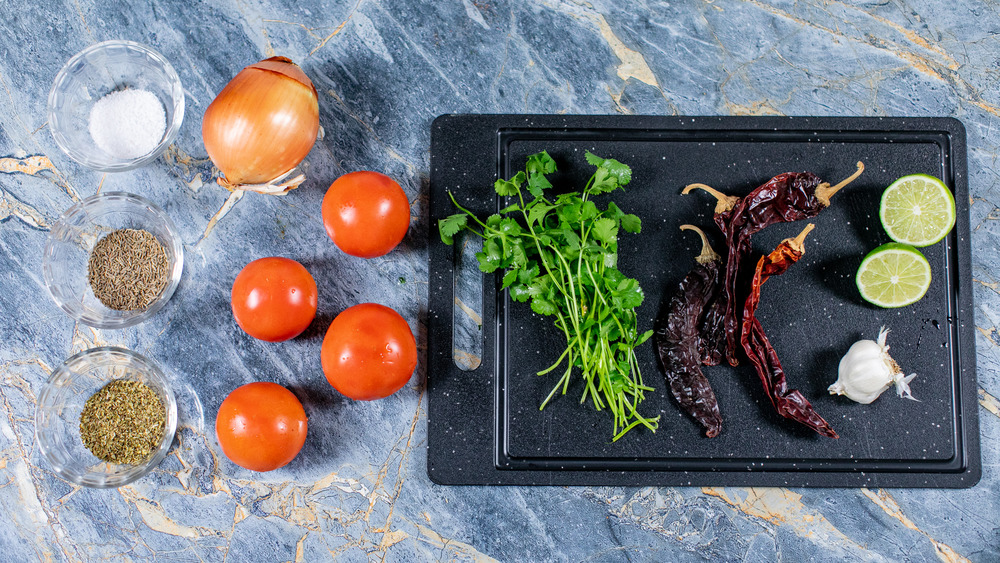 Nathaniel Lee/Mashed
This salsa recipe is a bit of an anomaly in that one of the primary ingredients, the pepper type, isn't specified. If you need a bit of help, play it safe like this: If you like some kick, go with jalapeños, but if you like it mild, go with banana peppers and remove seeds and white parts. You'll need four medium-sized dried chili peppers of whatever you choose.
Aside from that, you'll need four medium vine-ripened tomatoes, one medium onion, four garlic cloves, two tablespoons of dried chili powder, one tablespoon of cumin seeds, one tablespoon of oregano, three tablespoons of olive oil, a heavy pinch of salt, three sprigs of fresh cilantro, a lime, and a tablespoon of sugar.
Get chopping (and maybe seeding) for your salsa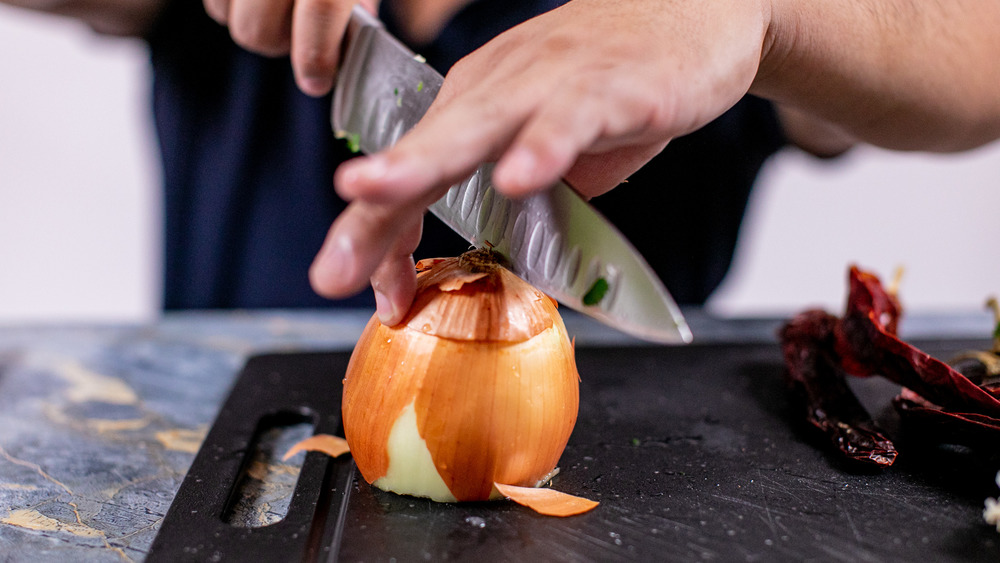 Nathaniel Lee/Mashed
Grab a good, sharp chef's knife, have a few bowls or clean spots on the counter for prepped ingredients, and get to prepping your salsa. Roughly chop the cilantro and set it aside (even in the fridge). Quarter the tomatoes and onions, roughly chop the garlic, and remove stems and tops from the chilis and chop them. (For a milder salsa, remove seeds and white inner veins from the peppers, too.)
And while you're at it, you may as well go ahead and slice the lime into wedges, though that can wait if you prefer. Now is also a good time to start your oven's broiler, by the way.
Spice your salsa and cook it all up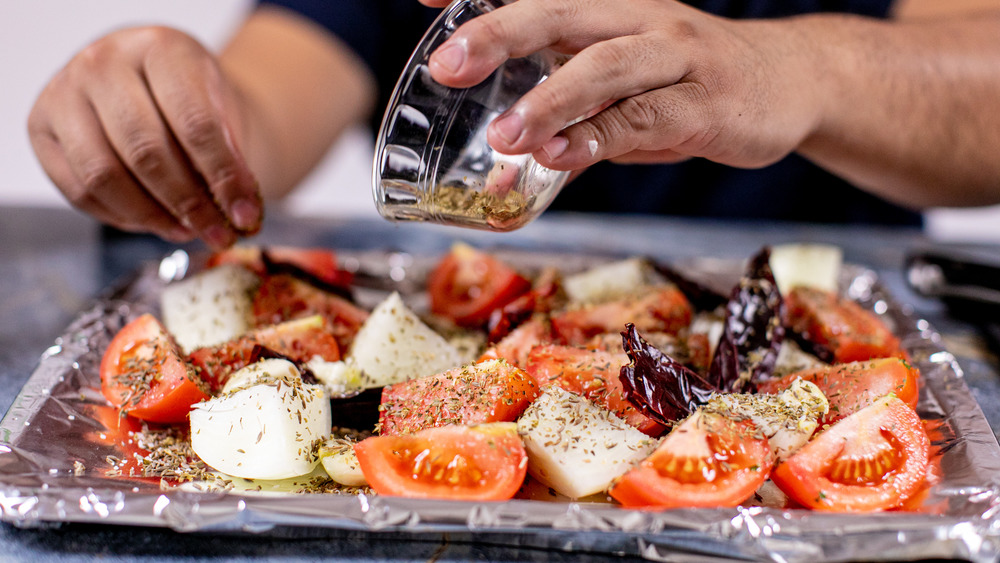 Nathaniel Lee/Mashed
Line a baking sheet with foil (or parchment paper if you don't have foil) ,and put the chopped chili peppers, garlic, tomatoes, and onions on the sheet. Note that Lee says: "It's very important you cover the chili pods with the tomatoes so they don't burn." The liquid from the tomatoes will keep them from ending up too crispy.
Now, drizzle all these salsa veggies with olive oil and sprinkle on the cumin, oregano, and salt. Broil the prepared pan for 20 minutes or until everything is slightly charred.
Blend your salsa, then simmer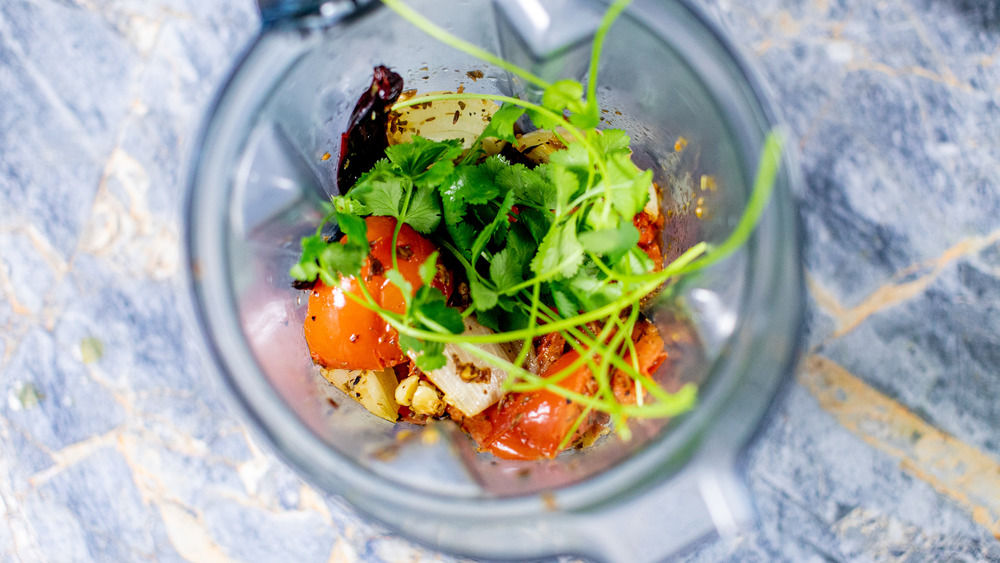 Nathaniel Lee/Mashed
Once the broiling is done, let everything cool until you can handle it a bit, then transfer the cooked mixture to a blender and toss in all but a few pinches of cilantro (save some for garnish) and the sugar, then blend on high until everything is pulverized and mixed. Traditional salsas are usually not chunky, but more on the smoother side.
Now, transfer this blended goodness to a pan and simmer it for about 15 minutes, adding a bit of water as needed to keep the consistency as you prefer and dashes of salt and pepper if needed. And that's it. Let the salsa cool, spritz in some lime juice, add more fresh cilantro, and enjoy. It will keep (and keep tasting great) for about a week provided you seal the stuff and put it in the fridge.
Easy Salsa Recipe
It's hard to beat fresh salsa, and once you have made it once or twice, it's easy to make this über condiment. Try this delicious red salsa recipe for yourself.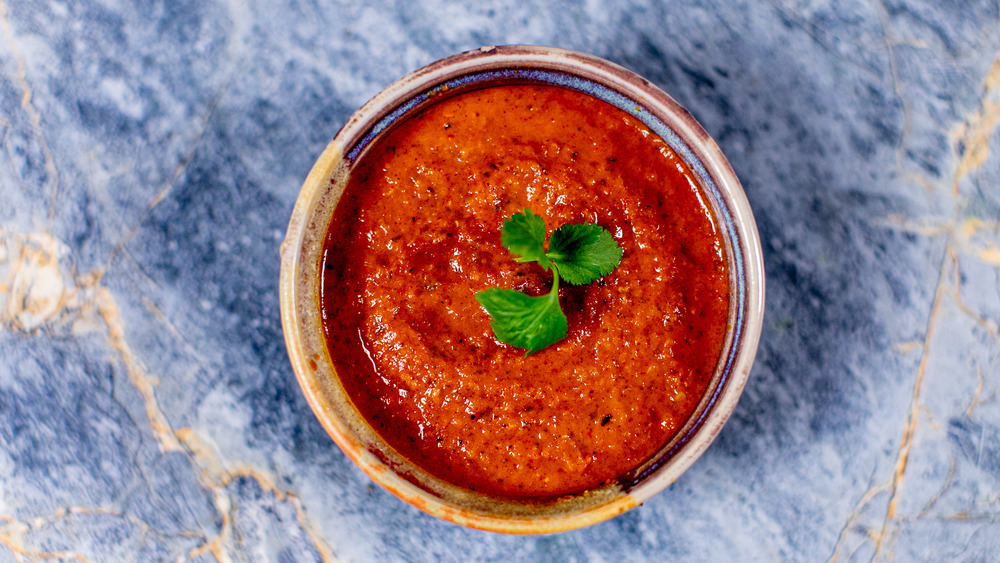 Ingredients
4 dried chilis of your choosing
4 vine-ripened tomatoes
1 medium onion
4 garlic cloves
2 tablespoons dried chili powder
1 tablespoon cumin seeds
1 tablespoon oregano
3 tablespoons olive oil
heavy pinch salt
3 sprigs cilantro
1 lime
1 tablespoon sugar
Directions
Gather, rinse, and measure your ingredients.
Chop the cilantro and set aside for now, then quarter the tomatoes and onions and chop the garlic and chilis (for mild salsa, remove the seeds from the chilis).
Set oven to broil and then put the tomatoes, onions, garlic, and chilis on baking sheet and drizzle with olive oil (it's very important you cover the chili pods with the tomatoes so they don't burn) and sprinkle on spices.
Broil for 20 minutes or until all is slightly charred, then let cool briefly.
Add everything from the baking sheet as well as the sugar and cilantro into a blender and blend on high until well-mixed.
Add blended mixture to pan and cook for 15 minutes, adding water to thin or cooking longer to thicken based on your desired texture.
Remove from stove, mix with juice of fresh lime, and garnish with fresh cilantro.
Nutrition
| | |
| --- | --- |
| Calories per Serving | 110 |
| Total Fat | 7.6 g |
| Saturated Fat | 1.1 g |
| Trans Fat | 0.0 g |
| Cholesterol | 0.0 mg |
| | |
| --- | --- |
| Total Carbohydrates | 11.2 g |
| Dietary Fiber | 3.0 g |
| Total Sugars | 5.6 g |
| Sodium | 109.2 mg |
| Protein | 1.8 g |