Homemade Spaetzle Recipe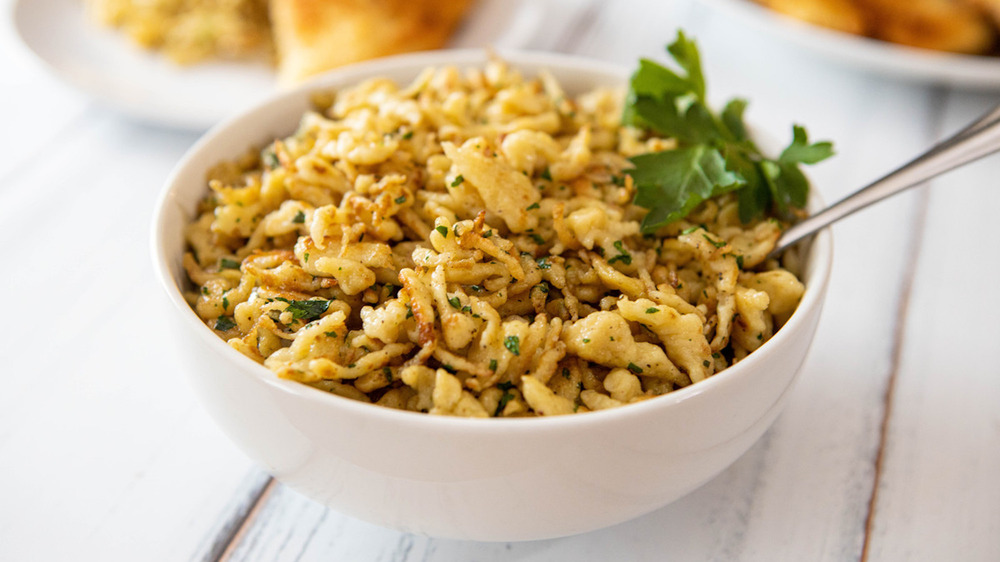 Keith Kamikawa/Mashed
Fresh noodles are at the heart of recipes from around the world. You're probably familiar with some of the many types of Italian, Chinese, and Japanese noodles. Spaetzle, which are a type of German egg noodle, deserve just as much love.
Homemade spaetzle is a short noodle with a wavy shape. The noodles come from southwestern Germany and are served throughout the country as well as in Hungary, Austria, and parts of France and Italy, according to MasterClass. They're served in a number of ways, all of them delicious. Though getting the right shape can be slightly tricky at first, this spaetzle recipe from food photographer and recipe developer Keith Kamikawa is one that anyone can make — even if you don't have any other pasta-making experience.
"It's an incredibly easy style of noodle to make," Kamikawa says. "It's also super fun to create, and nothing beats crispy, fresh fried spaetzle!"
Gather your ingredients to make this homemade spaetzle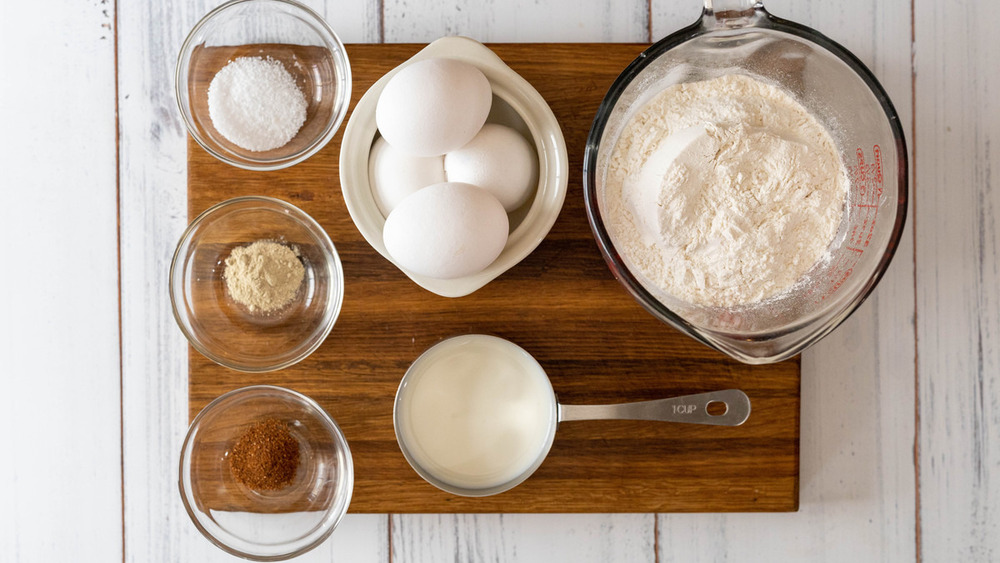 Keith Kamikawa/Mashed
Like other fresh noodle recipes, it doesn't take many ingredients to make quality homemade spaetzle. All you'll need is two cups of all-purpose flour, three-quarters of a cup of milk, four eggs, some salt, white pepper, butter, vegetable oil, and water. You'll also need Italian parsley, which is the kind with flat leaves and a stronger flavor as opposed to curly parsley, which is more mild and often used for decoration.
Kamikawa also adds just a little bit of nutmeg (only a quarter of a teaspoon) to the recipe. But a little goes a long way.
"Nutmeg is traditionally used in a lot of European dishes," Kamikawa says. "It is traditionally in spaetzle and gives a warm, nutty flavor and aroma. It's really wonderful and compliments savory or sweet-styled spaetzle perfectly."
Make the batter for your homemade spaetzle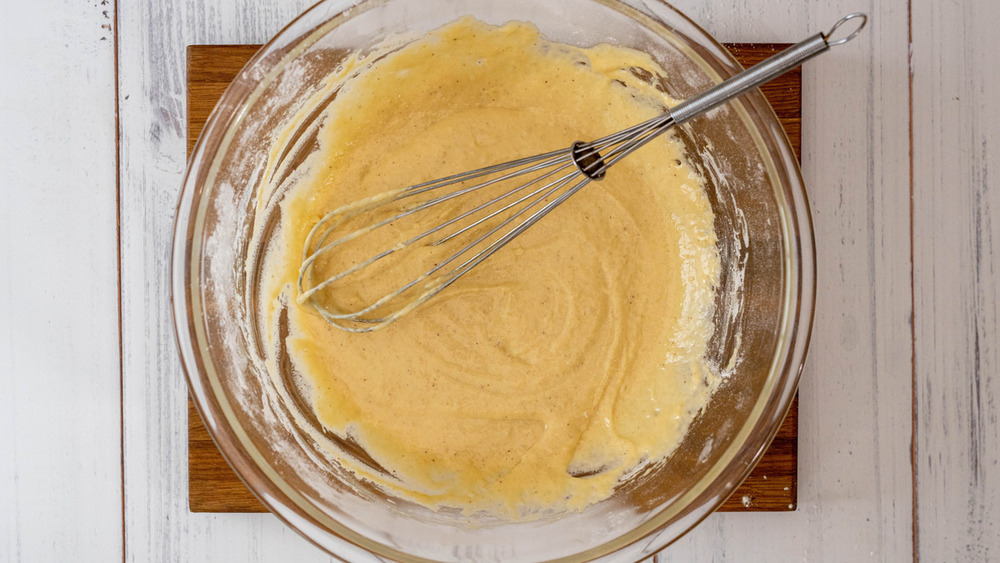 Keith Kamikawa/Mashed
Once you've got your homemade spaetzle ingredients on hand, it's time to make the batter. Pour the three-quarters of a cup of milk into a bowl along with the four eggs, and whisk the mixture. In a separate larger bowl, add the flour, nutmeg, salt, and white pepper, and mix it all together to combine. Bringing wet ingredients together separate from the dry ingredients ensures that both are evenly distributed.
Once your two bowls are ready, bring them together by slowly adding the egg-milk mixture to the dry ingredients. Whisk them together until it's smooth. Keep in mind that this will end up on the wet side, unlike a more solid bread batter. "The batter should be a little thicker than pancake batter," Kamikawa says.
Cover the mixture with plastic wrap once it's the right consistency, and let it rest for 30 minutes.
Cook the homemade spaetzle in boiling water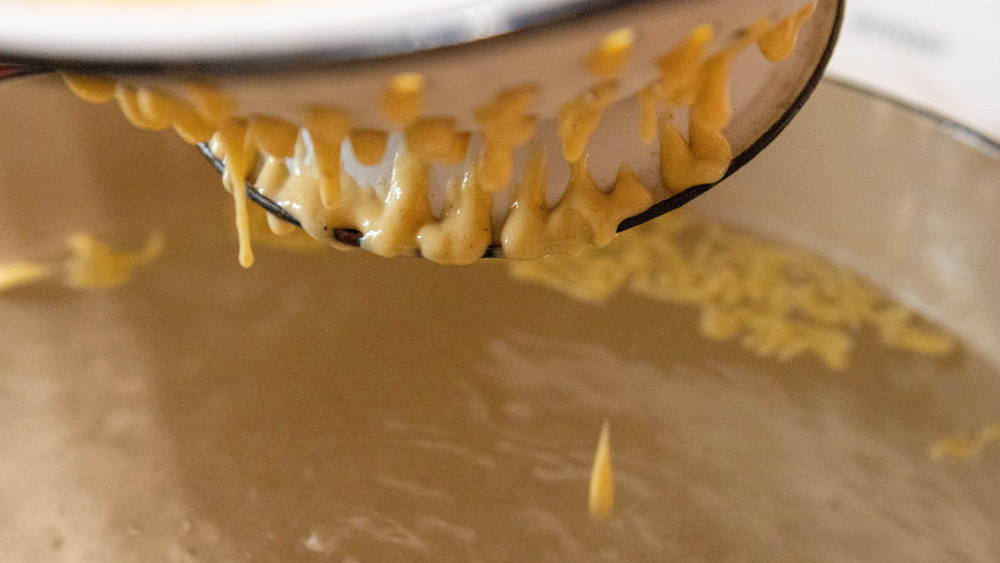 Keith Kamikawa/Mashed
When the resting period is close to done, add four quarts of water and a tablespoon of salt to a large pot, and bring it to a boil. The salt is just enough to add flavor to the spaetzle as it cooks (more is added later to further enhance the flavor, though).
Once your homemade spaetzle is boiling, grab a colander and pour the batter into it. Press the batter through the holes with a rubber spatula, and let the pieces drop straight into the boiling water. You'll know they're finished cooking as soon as they float, which will only take one to two minutes, so keep an eye on them. Fish the floating pieces out with a slotted spoon, and lay them out on a sheet pan lined with a paper towel.
There's a good chance you're not going to be able to do all of the spaetzle in one go depending on the size of your pot and colander. Rather than try and force it, do three or four batches before moving onto the frying step.
Fry your homemade spaetzle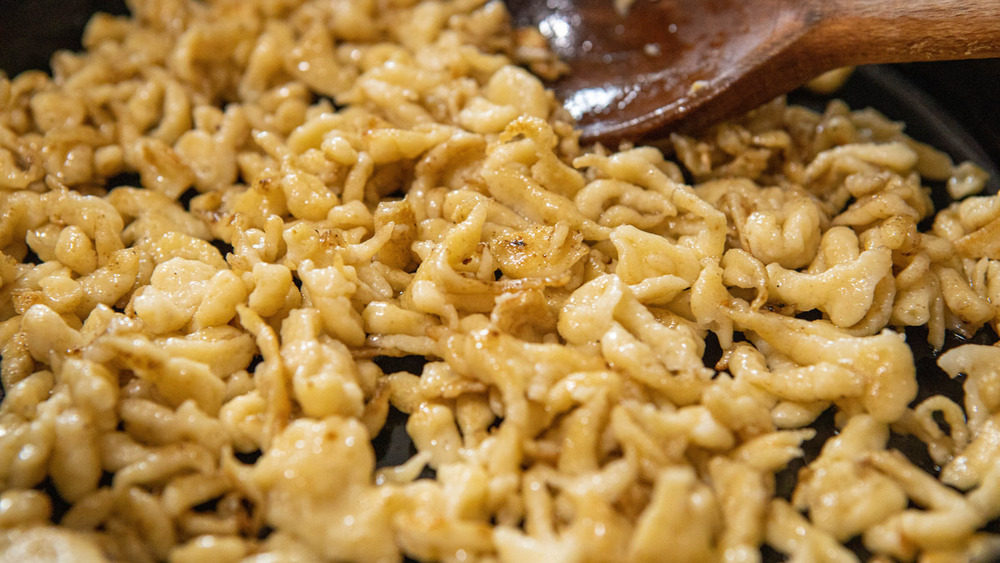 Keith Kamikawa/Mashed
The cooking doesn't stop at the boil. Though the homemade spaetzle noodles are fully cooked when they're taken out of the water, for the perfect spaetzle, you'll need to bring out the frying pan. Put a large nonstick pan with the vegetable oil on a burner over medium heat. When it's hot (you can test it by flicking a small amount of water onto the pan and seeing if it sizzles), add an even layer of spaetzle. Just be sure you don't overfill the pan because, "If you try to fry too many spaetzle at once, it's a little tough to get them to evenly crisp," Kamikawa says.
Stir the spaetzle that you can fit with a wooden spoon occasionally to keep it from burning. The outside will brown after about three to five minutes.
Add more butter, spices, and herbs to your homemade spaetzle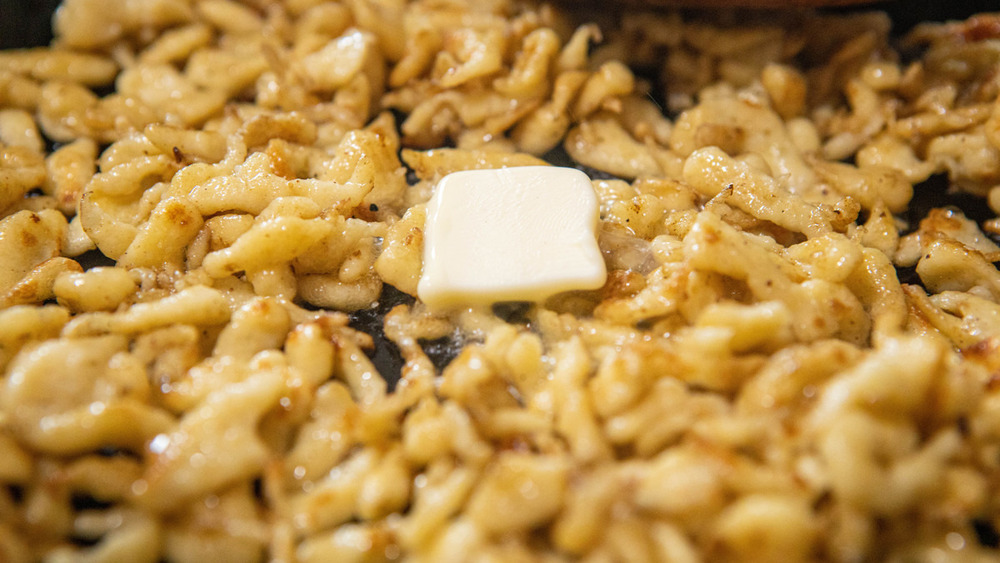 Keith Kamikawa/Mashed
The homemade spaetzle is finished cooking once the outside is browned, and all that's left to do is add the toppings. Add a pat of butter (about a tablespoon to a tablespoon and a half), and mix it into the fried spaetzle. Add the minced parsley as well as salt and pepper to taste. Once it's all melted and properly combined, repeat as many times as necessary until all of the spaetzle are fried. Then all that's left to do is eat.
"I really love them with just butter salt and pepper, but you can do a ton with spaetzle," Kamikawa says. "You can sprinkle them with Parmesan, or go all of the way and make mac and cheese but with spaetzle. You can make a rustic fresh herb and wild mushroom cream sauce or even add caramelized apples, toasted almonds, cinnamon, and brown sugar for deliciously sweet spaetzles."
Pack away the extras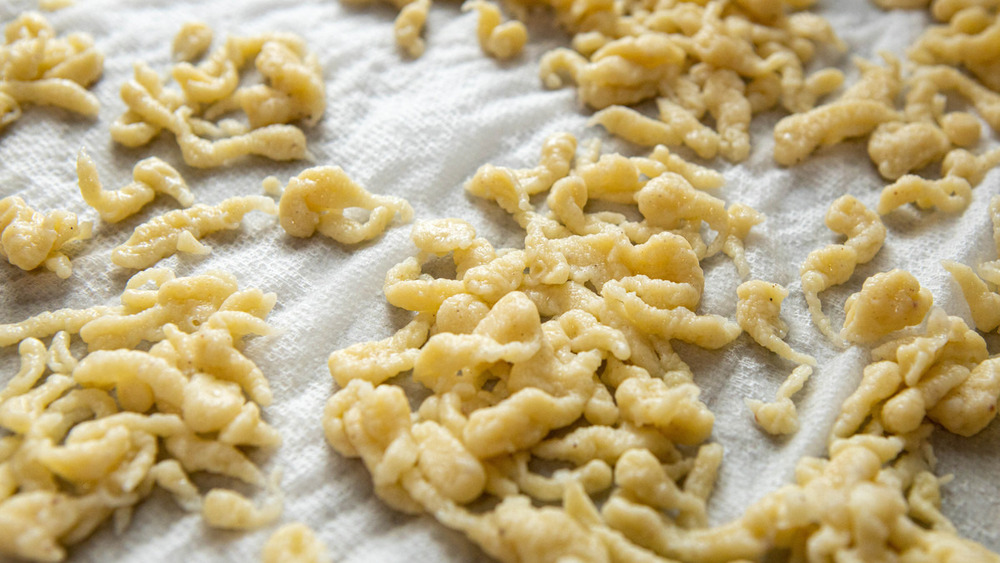 Keith Kamikawa/Mashed
Sometimes, there are leftovers for even the best recipes, and that just means there's more to enjoy on the second go around. You can pack away the homemade spaetzle in an airtight container and put it in the fridge like you would with other leftovers. Just be sure to eat it in a couple days while it's still on the fresher side.
The best way to handle spaetzle leftovers for this recipe, however, is to set aside what you think could be extra just after the boiling step. Cook them as you normally would, but instead of pan-frying the extras, run cold water over the warm spaetzles, toss them in a little vegetable oil, and then store them in an airtight container or freezer bags. They'll last in the refrigerator for two days this way or for two to three months in the freezer. When you're ready to eat them, simply thaw them if needed and complete the rest of the preparation steps.
Homemade Spaetzle Recipe
Homemade spaetzle is a short noodle with a wavy shape. The noodles come from southwestern Germany and are served throughout the country.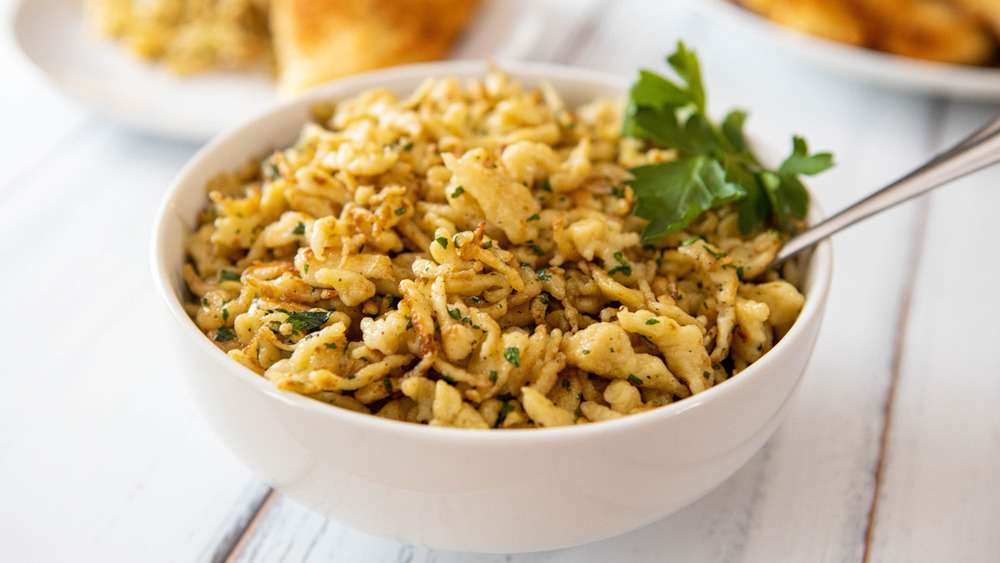 Total time: 1 hour, 5 minutes
Ingredients
4 eggs
2 cups all-purpose flour
¾ cup milk
¼ teaspoon nutmeg
1 tablespoon + 1 teaspoon kosher salt
½ teaspoon white pepper
4 quarts water
3 tablespoons unsalted butter
2 tablespoons Italian parsley, minced
2 tablespoons vegetable oil
Directions
Whisk eggs and milk in a bowl and set aside.
Combine flour, nutmeg, 1 teaspoon kosher salt, and white pepper in a larger separate bowl.
Slowly add egg mixture to flour and whisk until smooth. Cover with plastic wrap for 30 minutes to rest.
Bring 4 quarts of water plus 1 tablespoon kosher salt to a boil in a large pot.
Once the water is boiling, pour batter into a colander. Using a rubber spatula, press batter through the colander holes, dripping the batter into the boiling water.
Cook the spaetzle until they float, about 1 to 2 minutes. Use a slotted spoon to remove cooked spaetzle to a paper towel-lined sheet pan. Repeat until all the batter is cooked.
Heat a large nonstick pan and fry spaetzle in 2 to 3 batches. Heat vegetable oil. When hot, add spaetzle in an even layer. Do not overfill pan.
Using a wooden spoon, stir spaetzle occasionally until they brown, about 3 to 5 minutes.
Add a pat of butter and mix it into the fried spaetzle, then finish with minced parsley and season with salt and pepper to taste. Repeat until all spaetzle are fried.
Nutrition
| | |
| --- | --- |
| Calories per Serving | 229 |
| Total Fat | 10.9 g |
| Saturated Fat | 4.1 g |
| Trans Fat | 0.2 g |
| Cholesterol | 93.7 mg |
| | |
| --- | --- |
| Total Carbohydrates | 25.3 g |
| Dietary Fiber | 0.9 g |
| Total Sugars | 1.3 g |
| Sodium | 1,001.7 mg |
| Protein | 6.7 g |