This May Be The World's 'Most Pampered' Fruit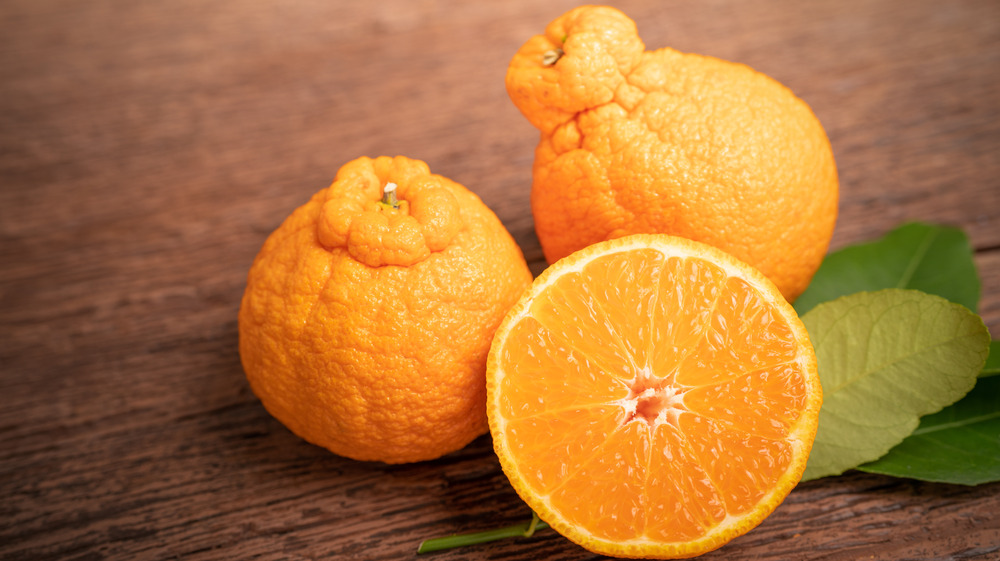 Shutterstock
Citrus fans, listen up — if you haven't yet sunk your teeth into a juicy wedge of dekopon, more commonly referred to in America by its brand name of Sumo Citrus fruit, you're missing out. The mouthwatering hybrid of navel oranges, mandarins, and pomelos is not only tasty, but it's also easy to peel, seedless, and less messy than other citrus fruits, making for an ideal eating experience.
However, the process of getting these fruits into the hands of consumers isn't easy. In an interview with CNN, Jerry Callahan, GVP of Produce and Floral at the Albertsons grocery store chain, even referred to them as the "most pampered" fruit. The reason behind his comment is clear once you dive into the growing process. 
Hand-pruned and hand-trimmed, Sumo Citrus trees are treated with plenty of tender loving care. The delicate skin, which makes peeling the fruit so easy for consumers, is a liability while growing, so the Sumo Citrus team has a type of clay 'sunscreen' that is applied to each fruit in the summer to protect it from the sun.
Then, when they're ready to harvest and head to consumers, each fruit is hand-picked and carefully packed in a pallet to ensure it doesn't bruise. Even when it comes to transportation, Sumo Citrus isn't taking any risks with their pampered cargo — the pallets are packed in trailers that have been specially designed to reduce the amount of bumpiness for the fruit's trip (via Sumo Citrus). Talk about VIP treatment!
Where did Sumo Citrus come from?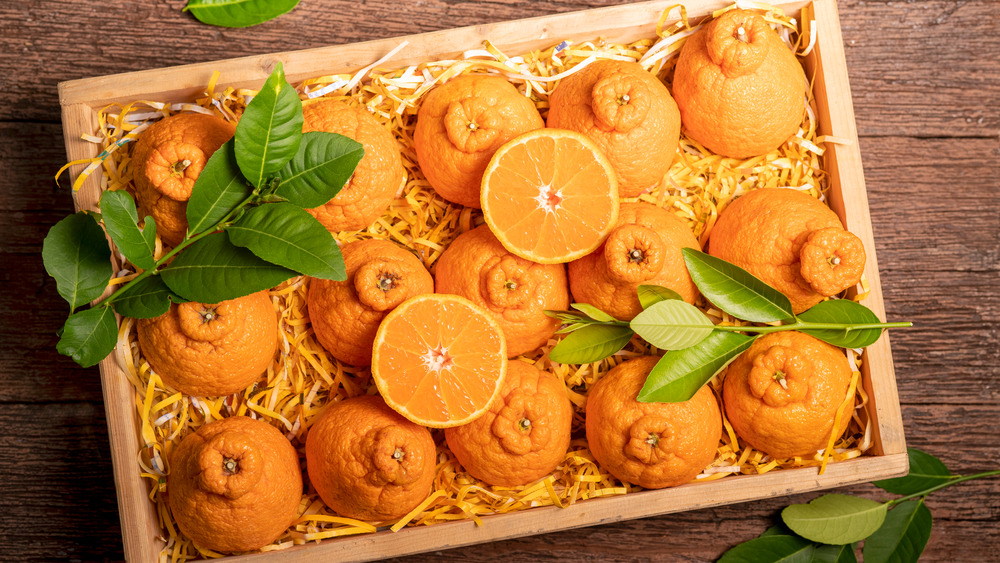 Shutterstock
While relatively new in North America, dekopons were first available to Japanese consumers in the 1970s, according to CNN. They grew in popularity, despite their relatively high cost, and growers in the U.S. were desperate to get their hands on the seedlings. However, it wasn't until decades later, in 2011, that they were introduced to the American market.
There's still not an abundance of the Sumo Citrus, though. According to the company itself, they're only grown in the San Joaquin Valley in California (via Sumo Citrus). And, in addition to all the pampering that the fruit needs to successfully grow, the trees take approximately four years to actually yield the fruit, and they're only available between January and April, all factors that contribute to their higher price, according to Delish.
If you're dying to get your hands on some Sumo Citrus, the company's website has a convenient 'Where to Buy' section that you can browse. You'll certainly be in good company — Eva Chen, director of fashion partnerships at Instagram, is a huge fan of the fruit and frequently posts about them or shares them with her team, as Refinery29 notes. Similarly, actress Jenna Fischer, best known for her role on The Office, shared about her desire to grow her own (via Twitter) so much that Sumo Citrus eventually sent her a tree (via ABC-7).