What You Should Know Before Drinking RumChata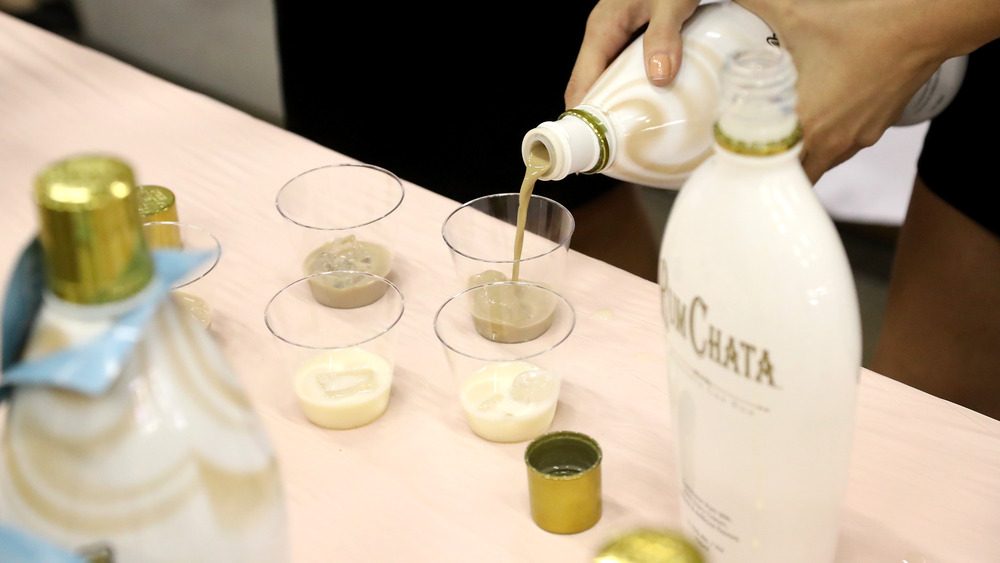 Rob Kim/Getty Images
When you're craving a dreamy dessert-in-a-cup cocktail, RumChata is one of the best options to hit the spot. It's the world's first rum-based cream liqueur, officially launching in 2009, according to Thrillist, and has been popular ever since. But before you go pop open that bottle, here are some things to know about the drink and how best to enjoy it.
RumChata is a blend of five-time distilled Caribbean rum and Wisconsin dairy cream, according to The Spruce Eats. The sweet, creamy drink, with flavors meant to emulate the Mexican drink horchata, packs a punch at 13.75 percent ABV, as Thrillist notes. But its notes of vanilla and cinnamon make it taste more like a sweet treat than a boozy beverage, so it can be quite easy to drink a few pours without even realizing it. 
With its smooth flavor, the drink is good enough to enjoy simply over ice. Of course, there are also plenty of RumChata cocktails to try. But mixers beware, just like cream, RumChata can curdle.
What makes RumChata curdle?
The cream that makes RumChata so rich and delicious also makes it susceptible to curdling. The Spruce Eats notes that high-acid add-ins, like citrus juices or some sodas, can cause the unsightly effect. The reaction to acid is purely an eyesore, however, and doesn't impact the flavor or the drinkability of the cocktail, the article furthers. So if you don't mind the look, mix away with whatever you'd like! 
Surprisingly, even with the cream content, Thrillist notes that it's safe to keep RumChata at room temp, with no refrigeration necessary (thanks to the alcohol content that acts as a preservative), and it will stay good for up to six months. For a popular RumChata mash-up, Thrillist suggests a "Cinnamon Toast Crunch" recipe, which mixes RumChata and Fireball for a spicy sipper. The luscious liqueur also makes for the perfect add-in to a cup of joe; the brand even came out with FrappaChata (via Rumchata.com), which is the liqueur conveniently pre-mixed with dark roast coffee.
No matter how you sip it — neat or mixed, smooth or curdled (hey, to each their own) — this dessert-like liqueur is a real treat.