Costco Shoppers Are Loving This Premium Ginger Beer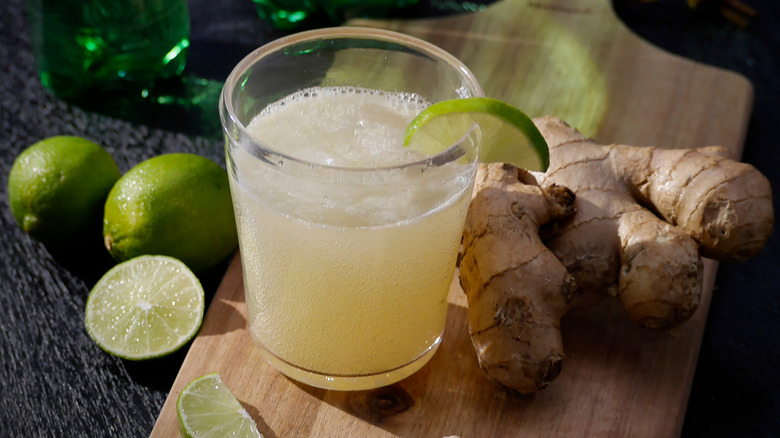 Shutterstock
There's a time and place for ginger beer, and for those who love it, the place is quite often. Taste of Home describes ginger beer as a non-alcoholic drink that has a "robust, spicy and aromatic flavor." The sugary beverage also works both on its own and as an integral ingredient of a Moscow Mule, so what's not to like? Still, whether you're into making homemade ginger beer or dipping your toe in the ginger ale side of the taste explosion pool, you wouldn't be doing your due diligence as a ginger-themed soft drink enthusiast if you weren't constantly on the lookout for new and exciting ways to enjoy quality ginger beer brands. 
Well, today is your favorite day, seeing as the word among the Costco faithful is that the big-box retail chain is carrying a pretty awesome high-end ginger beer that might be well worth your time. Let's take a look at the premium ginger beer brand that Costco shoppers are loving.
Costco customers have plenty of love for Fever Tree Premium Ginger Beer
Reddit's Costco fans have been enthusing over Fever Tree Premium Ginger Beer as of late, praising its excellent taste and the extra value that buying it from Costco brings to the table. "Try the ginger beer by Fever Tree, it is smooth and good. They had a discount until end of this week," one user recommended. "Bigger bottle than last time they had it too. It's fiery with no corn syrup. Bought 2 boxes!" another wrote. Though some Redditors said that this particular brand doesn't really cater to their tastes, many users praised Fever Tree Premium Ginger Beer's spicy taste and (relatively) low sugar quotient. 
Some fans of the stuff were also quick to note that Costco's comparatively large bottles and cheap prices make the Fever Tree deal a perfect example of the chain's allure. As a user pointed out, "It's these gems that make me love Costco: awesome product made available to members in a 'special' Costco size (9.3oz bottles vs 6.8) and at a steep discount over other retailers. (~$0.13/oz vs .22!)." Wise words, indeed. If you happen to have a Costco membership and love great ginger beer deals, here's one that may be well worth checking out.