Trader Joe's Fans Are Psyched For Its New Ajika Georgian Seasoning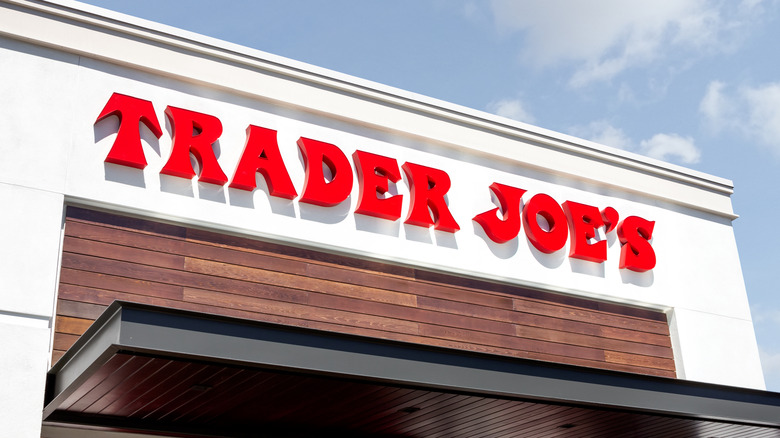 Shutterstock
If you're a fan of interesting spice blends, you don't have to look any further than your local Trader Joe's. From their Everything But The Bagel seasoning to their Mushroom and Company Umami seasoning blend, they have a reputation for providing delicious and flavorful seasonings that can't be found anywhere else. Recently, the grocer has expanded their selection of unique international spices with the addition of their new Ajika Georgian seasoning blend.
The seasoning is described as a "spicy, earthy, and alluringly aromatic" traditional seasoning from the country of Georgia (via Instagram). Each bottle of Ajika Georgian seasoning contains a unique blend of crushed chili peppers, coriander, and fenugreek, an herb that's similar to clove and popular in Asia and the Mediterranean region (via WebMD). Minced garlic, marigold, and salt complete the blend for a savory and smokey taste that's sure to add depth to any dish. This seasoning adds hearty, garlicky flavor and a kick of spice that goes great with just about everything, from steaks and roasts to vegetables, soups, and stews.
Shoppers couldn't stop raving about this Ajika Georgian seasoning
Trader Joe's shoppers who have tried the seasoning seem to have only good things to say about it on social media. Popular Instagram user @traderjoesobsessed made a post alerting their followers to the new find, raving: "It's a garlicky spicy... one which is perfect for almost anything... I just tried it on some eggs and the spice level is 6/10 with lots of flavor! You can really taste the coriander and fenugreek! Grab one in case it's seasonal."
The Trader Joe's fan account's followers were equally excited to try this new blend; one replied: "Oh yes! Another spice to add to my cabinet that I have absolutely NO space for but I'll still get it!" while another celebrated: "Yay adding this to my spice cabinet for sure!"
So if you're a fan of spice, or looking to mix up your cooking with some seasoning blends you haven't tasted before, you won't want to miss out on this Ajika Georgian seasoning blend. It's currently available for just $1.99 per bottle, so there's no reason not to grab one the next time you head to your local Trader Joe's.