Everything You Need To Know About Fire Masters
Tonight the new season of Fire Masters will premiere on Food Network Canada. According to a press release, fans of the previous seasons of Fire Masters will get to see the same fiery face-offs they've come to expect from the original grilling competition series. Each of the 15 hour-long episodes will have three contestants facing off in two elimination challenges. In the final third challenge, the remaining chef will face one renowned chef for the ultimate grilling showdown. Winning contestants will have a chance at $10,000 and the title of Fire Masters Champion.
This season of the show is still sponsored by Napoleon, which supplies Fire Master's grilling stations and a portable grill that serves as the second elimination challenge prize. Certified Angus Beef makes its return as the show's exclusive beef provider. Additionally, this season, Tourism Vernon, the tourism board for Vernon, British Columbia, will also sponsor one of the final showdown challenges, displaying the natural bounty of the region through its fresh ingredients.
Dylan Benoit also returns to the third season as the established host of Fire Masters. As The Globe and Mail reported, he worked for both Mark McEwan, the head judge for Top Chef Canada, and then Alinea, the three Michelin-starred restaurant in Chicago, before moving to the Cayman Islands in 2010, where he runs Prime Group, a catering group.
You can also find an advertisement for the new series on YouTube. Each episode will air on Thursdays at 11 p.m.
It's a lot like Beat Bobby Flay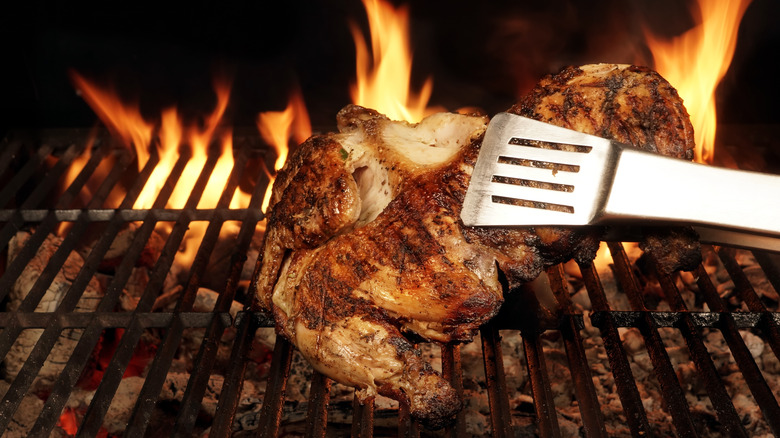 Shutterstock
After two seasons, Fire Masters has proven itself a middling success. It has managed to be renewed twice now, but on IMDb, it only enjoys a user review of 5.6 stars. Of course, user reviews can be capricious, but one familiar complaint crops up a couple of times.
The show is structured like Beat Bobby Flay. Contestants compete in elimination challenges until the last one standing can take on a celebrity. However, as both IMDb users notice for Fire Masters and Beat Bobby Flay fans comment on Reddit, the program seems slanted against the contestants. They never seem to win. This doesn't necessarily mean that the shows are rigged. The celebrity chefs have more experience cooking in televised competition settings, which is its own skill. Still, it can frustrate a viewer to see how little contest there sometimes is between the two.
In that regard, the reason for Fire Masters' lack of a splash is almost certainly due to it being a regional show replicating the wildly successful program. As its Food Network Canada page notes, you can watch it through streaming services for Canadian television. But if you enjoy Beat Bobby Flay but not the Bobby Flay, it might be worth your effort to find Fire Masters.