How Customers Feel About Tyga's Virtual Kitchen, Tyga Bites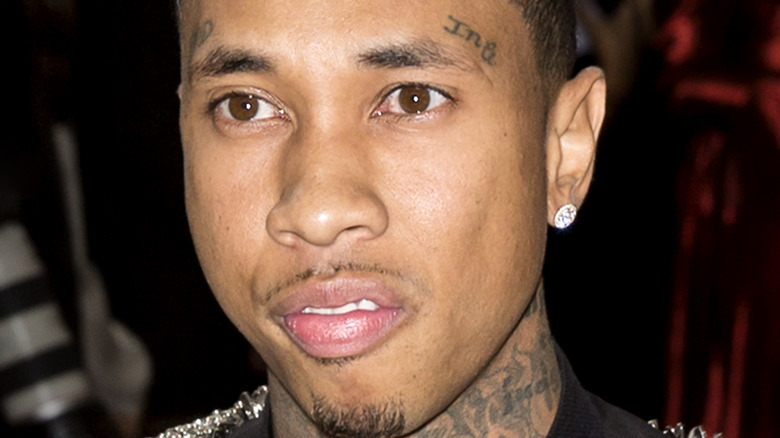 Shutterstock
Popular rapper Tyga got into the restaurant industry last July with his virtual kitchen/delivery-only business, Tyga Bites. The service began as an ode to chicken nuggets and gave fans the option to order healthier baked versions of the popular dish. A press release emphasized the fact that these bites are "antibiotic-free, oven-baked, boneless" treats that had been specially created by celebrity chef Eric Greenspan (via People).
The chicken nuggets were initially only being sold through Grubhub (though it has since expanded to Uber Eats, DoorDash, and Postmates). It started out in more than 30 locations across the U.S. such as Los Angeles, New York, Boston, and Chicago, among others, and it's still going strong. Per its website, Tyga Bites offers the choice of a variety of spice options, including black garlic, peri peri, and lemon black pepper. And there's plenty of dips available too, like General Tso and Korean BBQ. Nuggets can be coupled with side dishes such as Tyga Tots and Sweet Potato Tyga Tots as well as cookies.
The rapper was quoted back then as saying, "The bites are baked just right; choose a dip then take a sip! I even threw in some chocolate chip cookies for dessert."
But what did customers think of Tyga Bites?
Reviews of Tyga Bites have been less than favorable
If online reviews are anything to go by, fans expected a lot more from Tyga Bites, and they aren't totally sold by the experience so far. Almost a year since launching, the brand has a 2-star rating on Yelp. 
One customer commented that they didn't like the nuggets at all and were really let down by their overall quality. They explained, "These were pretty nasty ... they tasted like the ones you get in elementary school lunches, and the tots were soggy and barely cooked." Another commenter took further issue with the tater tots, saying they "tasted like they were freezer burnt Ore-Ida and the chicken was just okay."
Another customer wrote about their experience on Reddit, noting, "It wasn't that great, got the bites and tots and they were overly seasoned and chicken was odd and real mushy." While they're not the most encouraging reviews, there's still fans out there — Tyga Bites' Instagram has 100,000 followers and growing.