Kellogg's New Special K Cereal Is Not What You'd Expect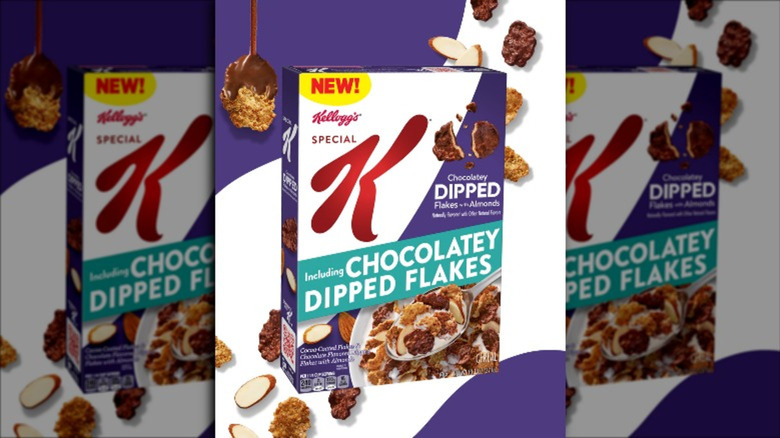 Kellogg's
Fans of Special K cereals are probably already familiar with their wide range of delicious flavors, whole grain ingredients, and healthy additions of real fruit and nuts, but they are going to be in for a pleasant surprise with Kellogg's exciting new release. Kellogg's has just announced the arrival of their brand-new Special K Dipped Chocolatey Almond cereal. While this new cereal might not be exactly what fans of traditional Special K were expecting, cereal lovers are sure to be delighted by this deliciously chocolatey new product.
"At Kellogg's Special K, we help cereal lovers do what's delicious by providing them with a diverse range of flavorful and innovative products. If you're craving a deliciously unique, chocolatey experience, our dipped cereal is the perfect bowlful, easily enjoyed during breakfast or any time of day," Kellogg's Brand Director Cindy Huntington said in a statement (via PR Newswire). The new cereal will be available in stores nationwide this month. The recommended price for a 13.1-oz box is $3.99, while the larger 19.2-oz boxes will sell for $4.99, according to Food Business News.
Special K Dipped Chocolatey Almond cereal contains vitamins, minerals, and antioxidants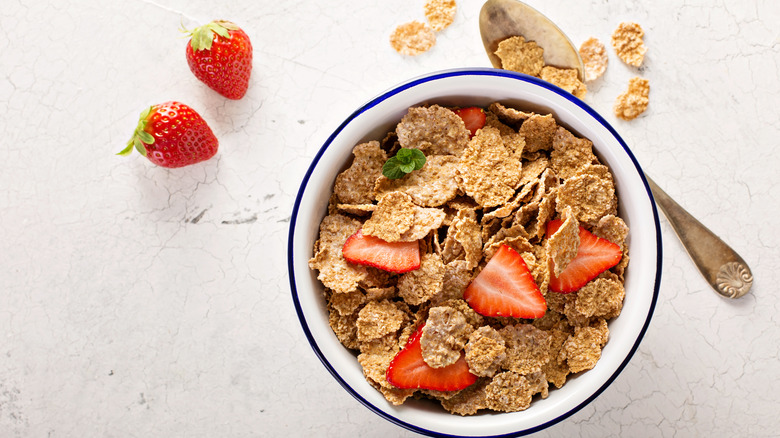 Shutterstock
This new cereal will contain Special K's multigrain flakes, dipped in chocolate and dusted with cocoa, along with slices of real almonds. Each satisfying, chocolatey bowl makes a perfect breakfast, afternoon pick-me-up, or bedtime snack. But it's not just a delicious treat — Special K Dipped Chocolatey Almond cereal can also add a nutritious boost to your diet any time of the day. The sliced almonds provide a filling and heart-healthy kick of protein, while the flakes are made with whole-grain wheat and wheat bran. The multigrain cereal is also formulated with fiber, antioxidants, and essential nutrients like vitamin A, C, and E, according to Food Business News. 
Each bowl of this cereal also contains important minerals like iron, niacinamide, beta-carotene, and folic acid, as well as vitamin D3 and essential B vitamins, including riboflavin, vitamin B1, and vitamin B12, per Special K. So you can feel free to enjoy every bite of this new cereal without guilt, because not only will you be getting to enjoy the sweet and nutty taste, but you'll also be getting a healthy boost of essential vitamins and minerals to help get you through the day.