Kellogg's New Cereal Combines Frosted Flakes And Apple Jacks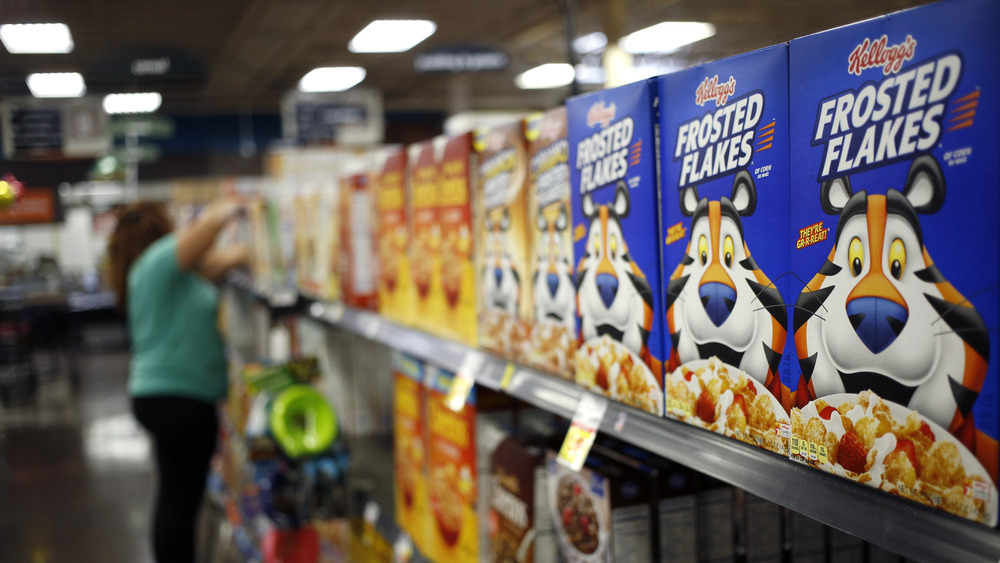 Bloomberg/Getty Images
The folks at Kellogg's have been hard at work this year, as can be seen by the plethora of new products the brand is rolling out, including items for the breakfast cereal aisle. One of those particular new products has fans all abuzz, a mashup between two favorite cereals: Frosted Flakes and Apple Jacks, as Delish reports. And, as you could probably guess, it's exactly what it sounds like: Frosted Flakes and Apple Jacks in one bowl, no changes. It's as if you purchased one box of Frosted Flakes and one box of Apple Jacks, mixed them together, and served them for breakfast.
While it's not the most inventive creation ever, it is a formula that's proved successful for Kellogg's in the past; last year the brand released a similar mashup cereal, blending Frosted Flakes and Froot Loops for a brief time. The new Frosted Flakes and Apple Jacks cereal is set to arrive on grocery store shelves in June and is a limited-time offering.
But what else does Kellogg's have up its sleeves?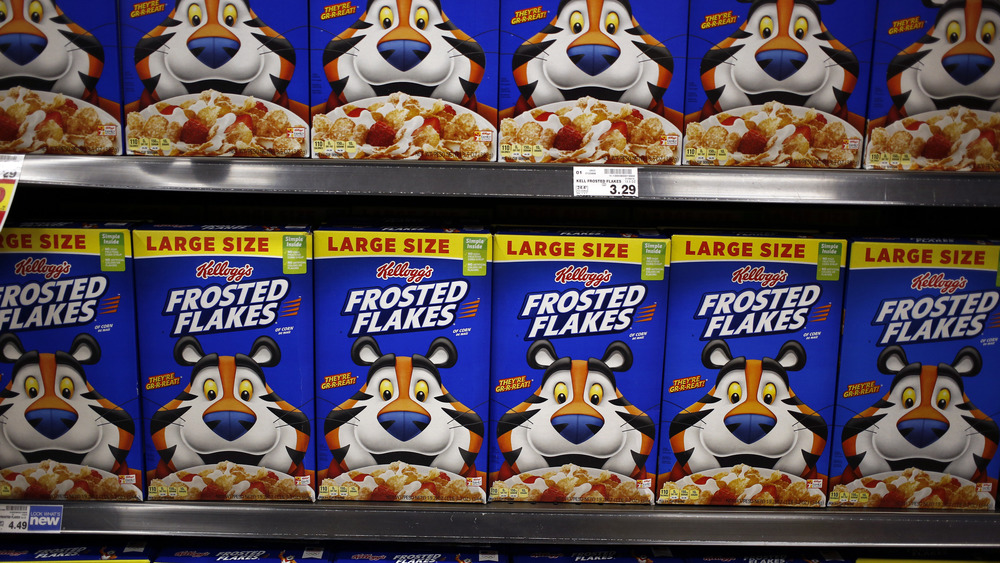 Bloomberg/Getty Images
But this new cereal isn't the only thing Kellogg's has been cooking up recently. In late February, just about a week before the Frosted Flakes-Apple Jacks combo announcement, Kellogg's likewise announced (also per Delish) that it would be releasing Frosted Flakes with Crispy Cinnamon Basketballs in April. The new offering is similar to the old discontinued Cinnamon Frosted Flakes and features a Shaq endorsement on the front of the box.
Frosted Flakes has been getting a substantial amount of love from Kellogg's over the last year, as it wasn't even that long ago that Kellogg's also released Frosted Flakes with Marshmallows. But the new cereal doesn't end there. Food Business News says that Kellogg's announced a particularly nostalgic new cereal at the start of 2021, in partnership with Little Debbie: Cosmic Brownies Cereal, available in May and following the December 2020 release of its Little Debbie Oatmeal Creme Pies Cereal.
In other words, if you love cereal, as many do (and even those who didn't, learned to love it over the course of the pandemic, as Food Business News reported last October), you have lots of brand-new options to pick from now and for the next several months.