What Chopped Winner Joe Sasto Is Up To Now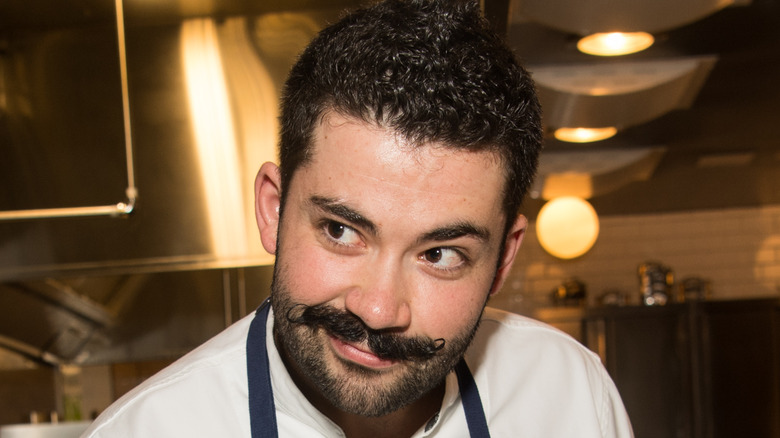 Emma Mcintyre/Getty Images
Celebrity chef Joe Sasto dazzled fans in season 28 of the popular TV show, Chopped. According to PopSugar, the competitive and super-talented chef was also a part of the show, Top Chef where he managed to reach the finals. Following his television appearances, Sasto worked as a chef at Cal Mare in Los Angeles until it shuttered in 2019. According to FSR Magazine, he specialized in preparing Italian dishes at the restaurant.
Sasto's journey has been tricky, to say the least. As per his website, because he didn't receive formal culinary training, it wasn't easy for him to get into the industry. But Sasto didn't give up and spent time picking up several opportunities to cook while studying at the University of California at Davis. In 2010, he decided to take a leap of faith and launched a restaurant in Ukiah, diving straight into the world of food. Sasto made sure that he got extensive experience before participating in Chopped. Following his win, the chef has kept himself busy, exploring a range of professional opportunities.
Joe Sasto's been active
Since his win on Chopped, Sasto has taken up several gigs. For example, teaches cooking enthusiasts the ins and outs of pasta through virtual sessions, as per his website. Interestingly, his classes are customized for home chefs and include a range of lessons related to creating a variety of pasta shapes, the art of dough making, and mastering pasta-making techniques. He's also the co-founder of a pop-up initiative based in San Francisco called Luna Focacceria (via Instagram). 
It's safe to say that Sasto has stayed active in the industry after Chopped and been open to experimentation. For example, he was a part of an initiative called Hits Kitchen that delivered curated easy-to-make meal kits to customers last year (via ABC Chicago). Sasto explained why such a concept is important: "Even though it's like, you know, a home cook or whoever it might be, making it. They're not necessarily a professional chef, but the fact that they're trying something new is like inspiring to me to keep trying new things and doing new things."
Plus, he makes sure to constantly interact with his fans on social media. For example, in a recent Instagram post, he shared something rather unusual and interesting: he posted a video of himself making Oreo pasta. His fans can't seem to get enough of his work. One admirer wrote, "Mommy needs this" while another said, "My mom is watching your video and got excited when she saw Oreo cookies." How sweet!