This Raising Cane's TikTok Hack Will Change The Way You Eat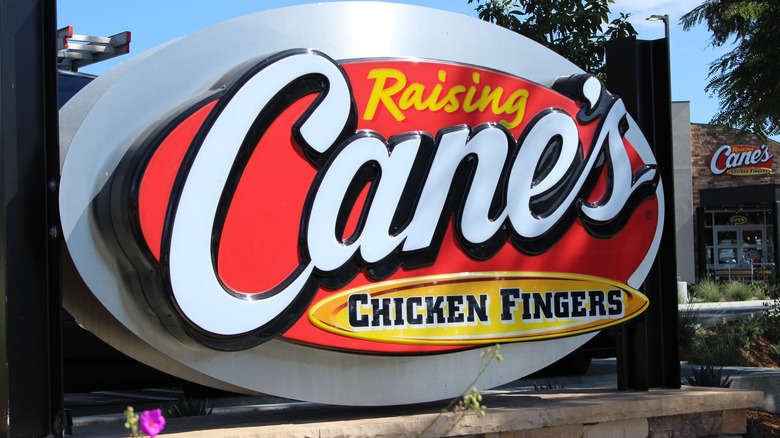 Shutterstock
For those lucky enough to live in a place where Raising Cane's exists, you know the sweet pleasure of its crispy fried chicken fingers, fluffy Texas toast, and one-of-a-kind Cane's sauce for dipping. But TikTokers and internet users everywhere were pleasantly surprised to find that there are hacks to make your Raising Cane's experience even more incredible. It's also a convenient way to feel like you're getting more bang for your buck, assuming you're fine with a little DIY sandwich experience.
TikTok user foodwithbros posted a video featuring a Raising Cane's Box Combo, which includes four chicken fingers, crinkle-cut fries, Texas toast, coleslaw, and Cane's sauce. But instead of the typical chicken finger dipping, the user slices the Texas toast in half, creating a perfect bed on which to place two chicken fingers, fries, coleslaw, and a heaping drizzle of sauce. The result is a picturesque and delicious crispy chicken finger sandwich comprising all the best parts of Raising Cane's in one package.
What you didn't know about the Raising Cane's sandwich hack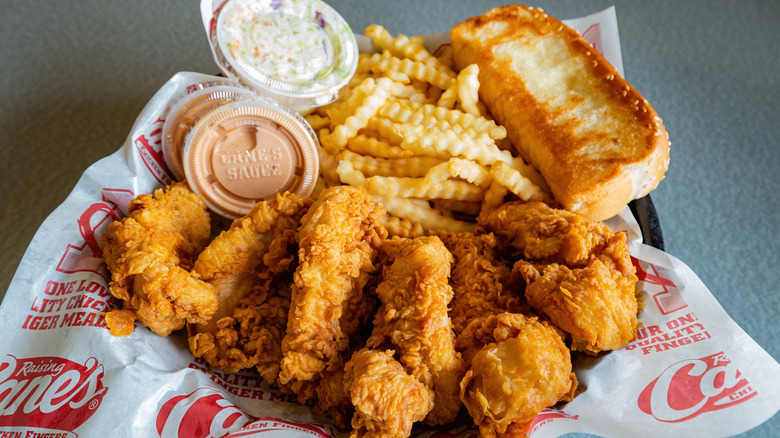 Shutterstock
The popular food hack has been an inspiration for other popular internet personalities like YouTuber Mymyfied, who tests the sandwich hack while doing her usual true crime storytelling. In this video, Mymyfied sits behind an impressive spread of a Caniac Combo, which includes six chicken fingers and two Cane's sauces. Still, with all of the options available, the Texas toast sandwich hack prevails over traditional chicken finger dipping.
Well-known food YouTuber Lizzy Lew Food also jumped on the Raising Cane's hack, but with a surprising twist. After reviewing the hack in a previous video, the internet personality goes on to inform viewers that the sandwich hack exists as a "secret menu" item. So, according to Lizzy Lew Food, you can order the Cane's Sandwich Combo on Texas toast for a few pennies extra and with way less hassle than ordering each individual item or meal component separately.