Aldi Just Added Two More Hummus Flavors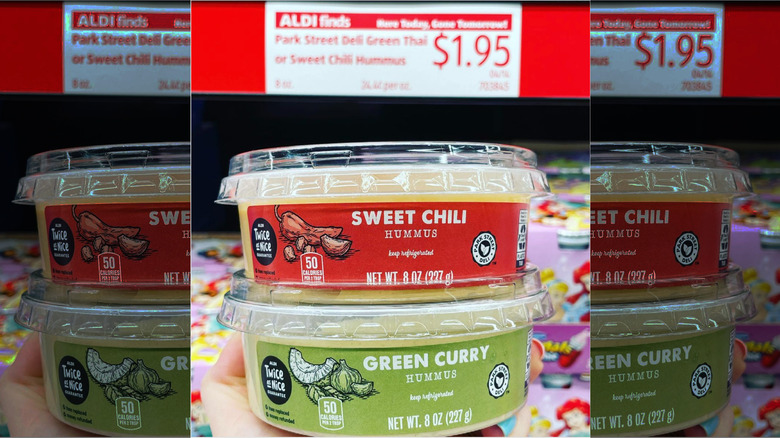 Instagram
Hummus is a classic dip, and for very good reason. It's about as versatile as any dip can be and goes well with a multitude of different flavors and dippers. Not convinced? Take a look at the constantly changing hummus offerings from Aldi!
The popular discount supermarket regularly releases new hummus flavors to keep shoppers on their toes, and the two latest might surprise you: green curry and sweet chili! (via Aldi). According to a recent post from Instagrammer @theamazingaldi, these two new flavors are already becoming fan favorites. According to one commenter: "The green curry is top notch! I'm about to stock up" (via Instagram).
Another Aldi instagrammer, @aldi.mademedoit, posted a photo of the new green curry and sweet chili hummus flavors, and their commenters were equally excited, one writing, "I ate the whole sweet chili container in 1 sitting" with a crying laughing emoji and another stating, "At this point aldi is 90% hummus!" (via Instagram). It seems that shoppers don't mind the extra hummus selection ... that is, unless the store runs out before they can stock up.
More Aldi hummus flavors fans can't get enough of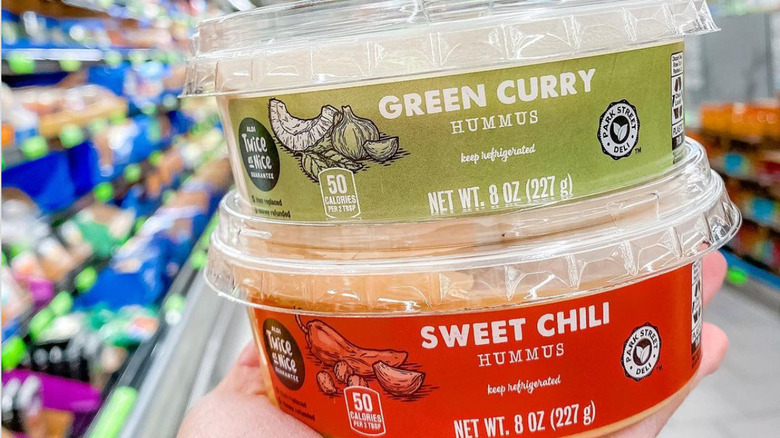 Instagram
The downside to Aldi's ever-expanding hummus selection is that the tasty new flavors are only around as long as supplies last (via Aldi). For instance, in the comments of @theamazingaldi's post on the two new Aldi hummus flavors, one user took the opportunity to talk up another limited-edition Aldi hummus flavor, writing: "Did you try the dill pickle hummus? It is delicious. I only bought one, because I wasn't sure about it. I hope they still have it tomorrow" (via Instagram). Even on @aldi.mademedoit's post, other Aldi hummus offerings were brought up, with one person commenting: "I got sweet chili (haven't tried yet!) & caramelized onion, soooo good! I'm going back tomorrow for green curry" (via Instagram).
It makes sense that the stuff would sell out fast, especially at just $1.95 per 8-ounce container! For that price, stocking up isn't such a bad idea. So, if you want to try out these tasty hummus flavors before they disappear, head to your local Aldi ASAP.