Gin Fans Need To Try Aldi UK's Newest Fruity Flavor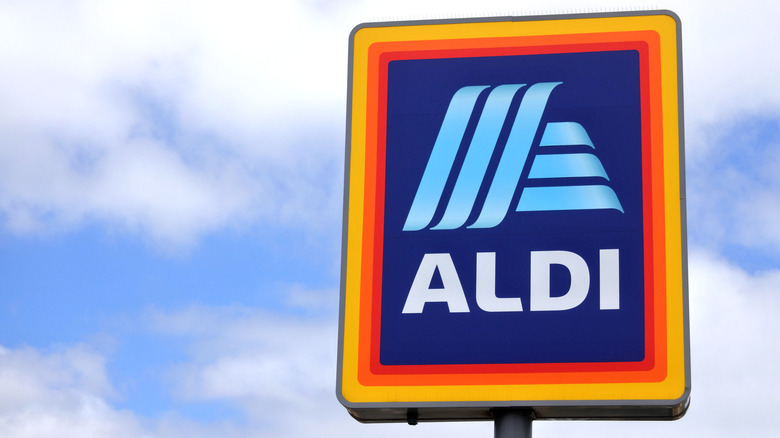 Shutterstock
As the months start to warm up, you may find yourself reaching for a refreshing beverage. While sitting outside soaking up the sun rays at a barbecue, nothing quite hits the spot like a fruity cocktail. Luckily, there's a lot of delicious options to choose from like a raspberry cosmopolitan, pear martini or even a lemon basil margarita (via Town & Country). However, if you're looking for something that incorporates gin, that isn't always as easy. 
Fortunately for us, Aldi has just released its new Glitter Globe Peach & Elderflower Gin Liqueur that's sure to be a hit this summer, according to Metro. If that isn't enough reason to want to celebrate, it's also only $12.99 and features a 23-carat gold leaf that sparkles when you shake the bottle. We recommend trying it in Town and Country's vibrant sunrise drink, which features muddled blood orange, lemon and agave. All these fruity flavors together sound like the perfect refreshment for a hot day.
Aldi is offering multiple new drink options for summer
Aldi
The peach flavored gin will be available starting April 22 and is part of Aldi's new infusionist drinks, which feature a variety of incredible looking options (via Metro). "Joining Aldi's already popular Infusionist range, this snow globe bottle will inspire shoppers to go for gold and indulge on a tasty gin liqueur infused with sweet peach and elderflower – ideal for a refreshing Bank Holiday tipple," Aldi said.
The grocery chain is also debuting two new flavors of its popular Greyson's Gin: Greyson's Mediterranean Orange Gin and Greyson's Sicilian Lemon Gin, per Delish. Aldi describes its orange gin as having "sharp citrus notes" with a well-rounded sweet flavor. While its site explains the lemon version is "rich, fresh and zesty – perfect for those longer summer evenings." Sounds like it's a win-win with whichever fruity gin you decide to go with and if you're hosting a large party, maybe pick up all three.