Unique Party Foods You Definitely Won't Want To Share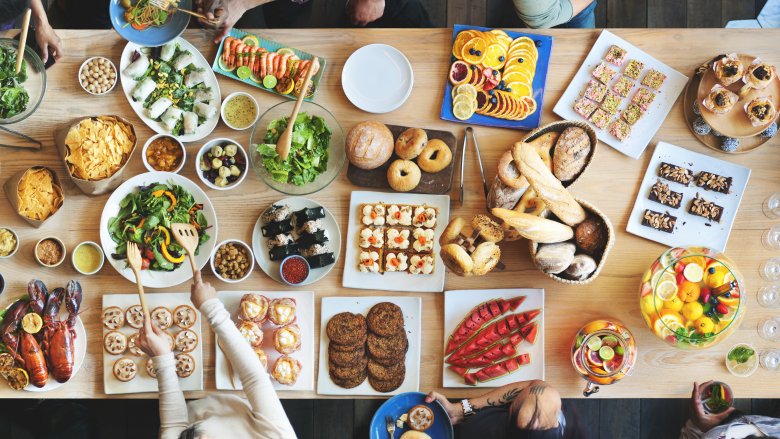 Shutterstock
There will always be a place in our hearts (and stomachs) for deviled eggs and cocktail weenies.
But after weeks of gobbling down holiday comfort food, holiday classics and party mainstays become increasingly less tempting. Replacing dreams of sugar plums are cravings for food with a little more pizazz — for exotic delicacies flavored with fiery jalapenos, showered in smokey goat cheese crumbles, or garnished with fresh sprigs of dill and cilantro.
Give the public the party foods they've been craving. Whether you are hosting a party or contributing a dish as a guest, you can be the bell of the ball if you bring along a delicious but unconventional snack to share.
Surprise party guests with one of the inspired and enchanting starters and finishers listed below. But take heed: these recipes are so irresistible, you might just decide to gobble down the masterpiece hors d'oeuvres yourself. But if that's the case, you can always stop by Costco on the way to the party and grab a case of mini quiches to bring instead, right?
Baked brie and honey figs
Harness the mighty flavors of the fig while impressing your party guests with this super-easy-but-sophisticated brie and honey fig dish. At once savory and sweet, the fig-centric treat could work as both an appetizer and dessert. To whip up baked brie and honey figs, start by hunting down a half pound of purple-skinned Mission or California figs, which are prized for their sweet taste and delicate texture. Slice the figs into quarters and arrange them around the perimeter of a large wheel of Brie. Sprinkle on a quarter cup of chopped walnuts and drizzle with a third cup of honey.
Once you've properly smothered the cheese, cover the brie loosely with aluminum foil and bake it for 20 minutes at 350 degrees Fahrenheit. Once the cheese is soft, shower on a bit more honey and serve it immediately with crackers.
Fried ravioli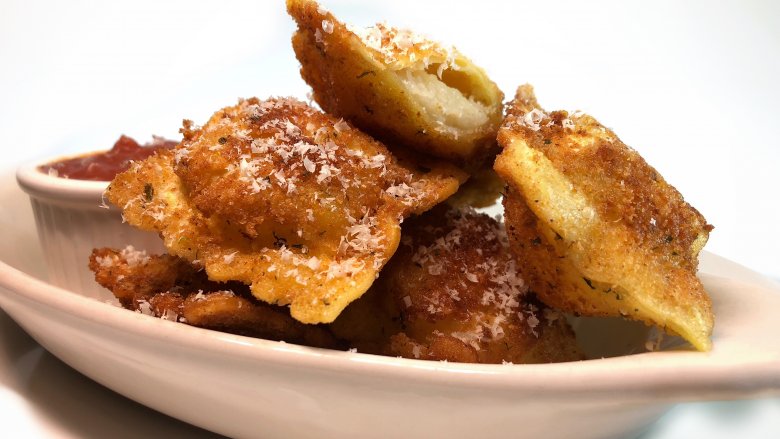 Shutterstock
Transform a box of store-bought refrigerated ravioli into a playful appetizer by sizzling up some fried ravioli. Start by creating a breading station: Set out a bowl with one cup of buttermilk and another bowl with two cups of Italian-style bread crumbs. One by one, dunk each ravioli into the buttermilk bowl so it is given a full coat, then bathe it in bread crumbs. As you work, lay out each completed ravioli on a baking sheet.
Next, fill a large frying pan with a two-inch-high layer of olive oil. Heat the olive oil over medium heat until it simmers, then drop the ravioli into the oil in small batches, being careful not to crowd the pan. Cook each batch for around three minutes or until golden brown. After each batch, set the fried ravioli onto paper towels and shower with freshly grated Parmesan. Serve the ravioli on a big platter alongside three dipping sauces: ranch, and pesto, and warm marinara.
Mini taco quiches
In addition to being too delicious to share, these mini taco quiches come with the additional challenge of being almost too adorable to eat. We believe in you, though.
To put a south-of-the-border spin on this party classic, begin by sizzling up a pound of lean ground beef with a third cup of chopped onion in a large, non-stick pan. Once the beef is browned, remove it from the heat and drain well. Then, add to the meaty mixture an eight-ounce can of tomato sauce, a quarter cup of water, a third cup of black olives, a packet of taco seasoning, two tablespoons of hot sauce, and one beaten egg.
Now, it's time to make the "crust." Slice a 10-inch flour tortilla into three smaller circles using a circular cookie cutter. Grease a 12-muffin tin, then line each cup with a small circle of tortilla. Fill each tortilla crust with a quarter cup of the meat mixture, then top with a sprinkle of shredded cheddar cheese. Bake at 350 degrees Fahrenheit for 25 minutes or until cooked all the way through. Serve with sour cream and salsa for topping.
Banana Nutella dip
Here's a cool secret: this banana nutella dip is actually fairly waistline-friendly — depending on what you use as a dipper. Combining Nutella with banana, fluffy whipped cream, and tart Greek yogurt, the dip pairs well with healthy treats like apple slices and strawberries or with naughtier treats like homemade pie crust dippers. Let your guests decide if they want to be naughty or nice by serving a bowl of banana Nutella dip along with a platter of fresh fruit, homemade pie crust dippers, cookies, pretzels, graham crackers, etc.
To craft the dip, combine a half-cup of pureed banana with a half cup of Nutella, a cup of Greek yogurt, and a cup of Cool Whip (the Lite option works fine here if you're counting calories). Sprinkle on a quarter-teaspoon of ground cinnamon, and whisk the ingredients together in a large bowl until smooth. Chill this dip until you're ready to serve.
Irish nachos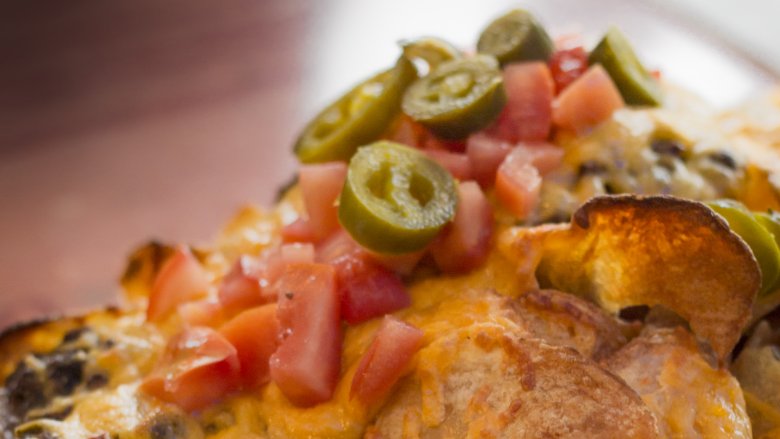 Shutterstock
This Irish-inspired twist on classic nachos swaps out tortilla chips for crispy fried potatoes. Begin by washing and drying a pound and a half of russet potatoes — but don't peel them! Slice the potatoes into even, thin circles. In a large bowl, season the potatoes evenly with two tablespoons of olive oil, a half teaspoon of dried, crushed rosemary, and a half-teaspoon of dried, crushed thyme. Lay out the potatoes on a greased baking pan, then bake at 450 degrees for 20 minutes. Flip them over to bake for another 20 minutes or until golden brown.
Now, you can add the toppings. Start with a generous layer of shredded cheddar cheese — about a cup and a half should do — then sprinkle on five slices of cooked, chopped bacon. Return to the oven for around three minutes or until the cheese is melted. Top with a quarter-cup scoop of Greek yogurt or sour cream, and a quarter-cup scoop of pico de gallo and blacked beans. Shower on two chopped green onions and a tablespoon of chopped cilantro. You may want to serve with an additional bowl of sour cream and salsa on the side.
Shrimp jalapeno poppers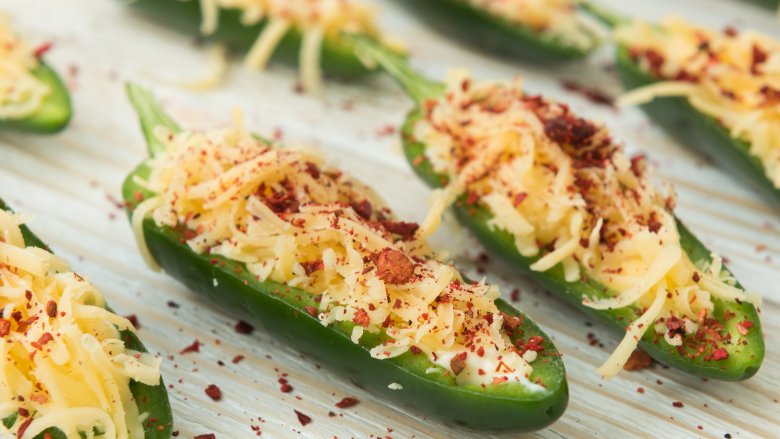 Shutterstock
Get the party warmed up with a tray of fiery shrimp jalapeno poppers topped with cream cheese and a kick of chipotle sauce. You'll need 12 jalapenos for this recipe; the larger, the better.
Before handling jalapenos, consider wearing gloves — the oils will stay on your hands for a while, and they burn! Slice jalapenos lengthwise and use a spoon to remove the seeds and white membranes. Next, chop a quarter-pound of cooked and peeled jumbo shrimp into small pieces. In a bowl, combine the shrimp with eight ounces of softened cream cheese, a cup of shredded monterey jack cheese, and two tablespoons of chipotle sauce. Add salt, pepper, and chili powder to the mixture to taste.
Next, scoop a spoonful or two of the shrimp and cheese mixture into each halved jalapeno so the peppers are brimming over. Bake at 425 degrees Farenheit for 18 minutes, or until the cheese is bubbly and golden brown. Sprinkle with cooked, crumbled bacon and green onions. Serve warm.
Hummus cucumber cups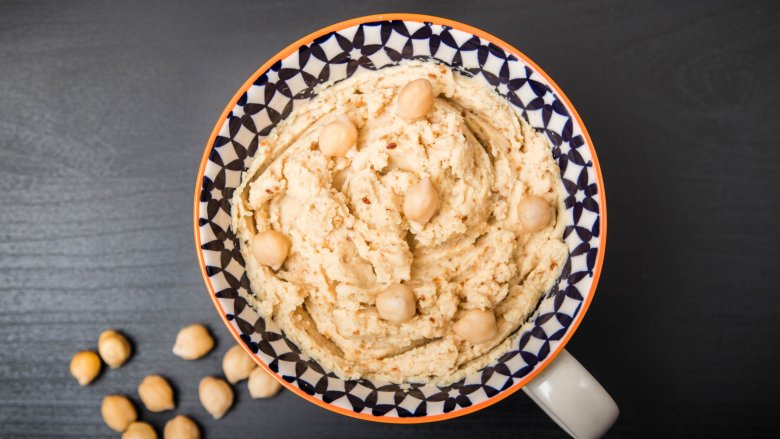 Shutterstock
Store-bought hummus will do the job, but why not make your own hummus to illicit the awe of your partygoers?
Stir up a batch of homemade hummus with 12 ounces of dried chickpeas. You'll need to soak your chickpeas in water overnight, then drain and rinse them the following day. Boil them in water in a large pot with three cloves of garlic and a pinch of baking soda — to help loosen the skin — for about 40 minutes to an hour, or until the beans are soft. Ater they are cooked, drain and rinse the cooked chickpeas. Remove the skin of the chickpeas by gently pinching each kernel. Blend the peeled chickpeas with the cooked cloves of garlic in a food processor, adding in a quarter cup of tahini and three tablespoons of fresh lemon juice as you process the mixture. Add water as needed and continue to blend until the mixture is  smooth and creamy. Finish with a teaspoon of sea salt, a teaspoon of ground cumin, a dash of ground cayenne, and a quarter cup of extra virgin olive oil before you turn off the processor.
Serve the hummus in cucumber "cups." Make these by peeling four large cucumbers and cutting them into one-inch-thick slices. Use a melon baller to scoop out the center of each slice so only a thin layer remains to hold the hummus. Spoon on dollops of hummus and sprinkle on smoked paprika.
Mini corn cakes with smoked salmon
Topped with smoked salmon and dill crème fraîche, these cute mini corn cakes pack a bunch of flavor. To cook up the corn cakes, combine an 8.25-ounce can of creamed corn with a cup of plain white cornmeal, one cup of sour cream, two tablespoons of vegetable oil, one and a half teaspoons of baking powder, one teaspoon of salt, and two large eggs. Whisk in a large bowl until the mixture is smooth. Scoop a teaspoonful of the mixture into a greased 24-muffin pan. Bake the mini muffins at 350 degrees Fahrenheit for 20 minutes.
As the muffins are cooling, you can whip up the dill crème fraîche. Chop up two tablespoons worth of fresh dill weed and stir into a cup of crème fraîche with a tablespoon of fresh lemon juice. Once the muffins are cool, top each one with a dollop of the dill crème fraîche. Slice up two four-ounce packages of thinly slice smoked salmon into short strips, then lay a strip atop each muffin. If you want it to look extra fancy, garnish each mini corn cake with a sprig of fresh dill weed.
DIY barbecue sliders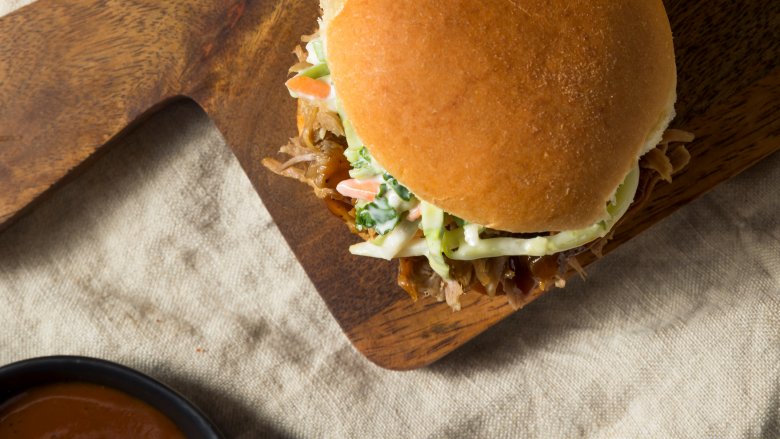 Shutterstock
Invite your guests to flex their culinary creativity with a platter of DIY barbecue sliders. You supply the rolls; they heap on the barbecue chicken and all the fixin's.
Grab a package of Hawaiian dinner rolls and slice them in half to create buns. Brush the top of the rolls with melted butter, and consider layering half of the rolls with slices of pepper jack cheese. Bake at 350 degrees until the bread is golden brown.  
Next, prepare the chicken. Toss warm shredded barbecue chicken with a third cup of red barbecue sauce. Serve a bowl of barbecue chicken alongside the tray of Hawaiian rolls. Next to the chicken, lay out a plate out of sliced tomatoes, thin red onion slices, along with other fun toppings like pickled okra and sliced jalapeno. White barbecue sauce and slaw are other optional toppings that will prove popular. Invite guests to heap rolls high with meats, toppings, and sauces.
Goat cheese and nut nibblers
Pulling from the idea that most things in life can be improved when topped with cheese and butter, this recipe tops warm French bread with both. Start by slicing up French bread into thick slices and slathering them with butter. Toast the French bread slices on a baking tray at 375 degrees for about eight minutes, or until lightly golden colored.
After taking the tray out of the oven, shower the slices of warm fresh bread generously with four ounces of crumbled goat cheese. Place the tray back in the oven and bake for about three minutes or until the goat cheese is soft.
Once removed from the oven, use a butter knife to smash the softened goat cheese and spread it more evenly over the slices of bread. Layer each nibbler with a couple thinly sliced pieces of fresh pear. Sprinkle roughly chopped walnuts over the top and drizzle on two teaspoons of honey. Finish the nibblers with freshly ground black pepper to taste.
Mini snickerdoodle sandwiches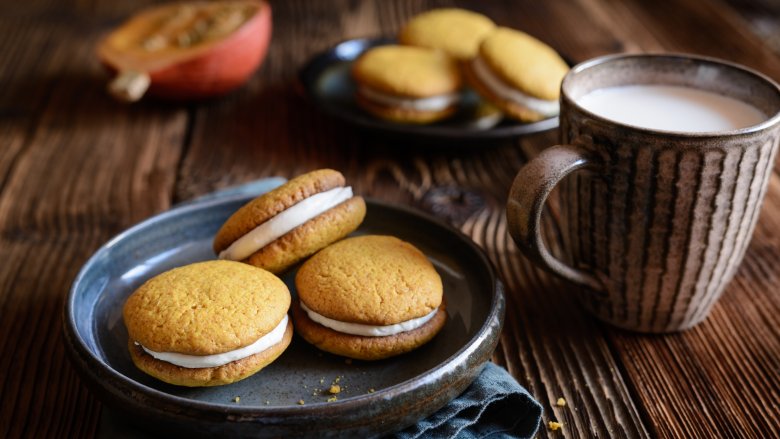 Shutterstock
The great thing about mini cookies is you can eat one or five without feeling too guilty. After all, they are mini.
To make the cookies, start by creaming two sticks of softened butter until smooth. Add in one cup sugar and beat until the mixture is fluffy, then mix in one egg and two teaspoons of vanilla extract.
Next, start on the dry ingredients. Mix three cups of flour, one teaspoon of baking soda, two and a half teaspoons of ground cinnamon, and a half teaspoon of salt. Carefully, pour the dry ingredients into the wet ingredients in a mixer set to low speed until the dough is thick.
Roll the dough into quarter inch balls and cover them with a dry mixture of cinnamon and sugar. Bake at 350 degrees Fahrenheit for 10 minutes.
As the cookies cool, move on to the frosting or sandwich "filling." Cream two sticks of butter until fluffy, then beat in one cup of sugar on high speed for around two minutes. Continue to beat on medium speed for two minutes as you add in two cups of sour cream. Spread dollop of frosting on the bottom a cookie, then place another cookie on top.