This Kid's Birthday Cake Hack Saves Time, According To The Pioneer Woman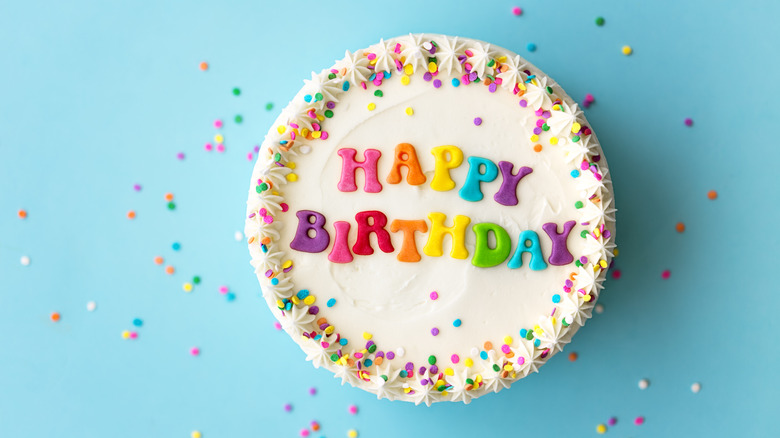 Shutterstock
If you've ever tried to throw a birthday party for a friend or even your kids without outsourcing the cake to somewhere like Walmart, then you likely know how tricky it can actually get. Between trying to clean and decorate your home, as well as provide activities, snacks, and drinks, it's a lot to get together before the big day arrives. Fortunately, The Pioneer Woman has a major time-saving hack.
Before she gets to the recipe for her best chocolate birthday cake, Ree Drummond, says, "When it comes to cake decorating, I just put out bowls of candy and let the kids go to town!" (via The Pioneer Woman). And it really can be that easy. In fact, you can make the cake well in advance, so all you have to do on the day before or the day of is let it thaw in the fridge. You can even let the guests frost the cake. If you don't want to entrust a whole cake to a group, you can easily make mini cakes or even cupcakes so each individual can decorate their own.
Ree Drummond's technique works with cupcakes too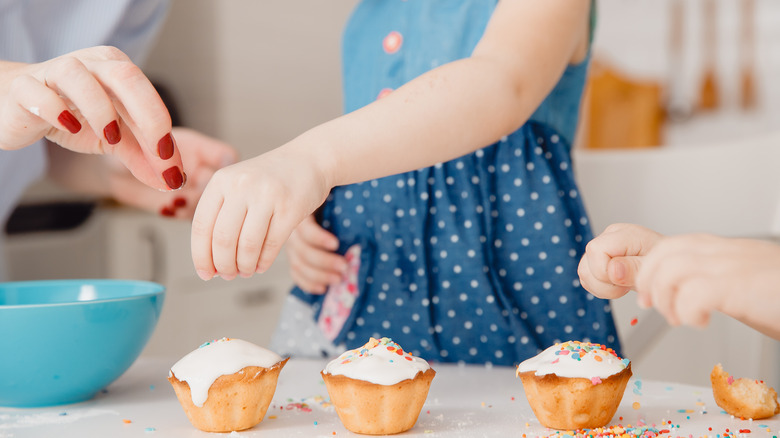 Shutterstock
The options for what you can decorate with are endless too. Though Drummond sticks with candy like M&Ms, rock candy, among other options, you can also include items like Oreos, strawberries, and several pastry bags filled with different kinds of frosting (via Bubble and Sweet). While your guests will love getting creative with their sweet treats, you can still control the party's theme through the cake or cupcakes by only placing decorating goodies on the table that match the party's theme or color scheme. This way the cake won't look like a total hodge-podge of candy when it's time to cut it.
There's another great tip for saving time after the party is over and the cake has been decorated and eaten. When you are decorating for the party and preparing the cake-decorating table, cover the table and perhaps even the floor if the kids are really young, with trash bags, paper grocery bags, or even wrapping paper. This way all of the sticky mess will fall on something disposable, so you can toss it or even recycle it when the party is over. So don't stress over the cake or the clean-up and enjoy the day. With these tricks, you've got the hard parts of a party in the bag.