How Rich Is The Noodles And Company CEO And What's The Average Pay Of Its Employees?
Noodles & Company had been around since founder Aaron Kennedy opened up its first location in Colorado in 1995 (via Fast Food Menu Prices). However, Kennedy was met with a few negative newspaper reviews that led him to re-evaluate the company entirely beginning just a year later, in 1996. That move proved to be a major success. Though the company has struggled a bit as of late, like so many other chains, it currently boasts over 440 locations in the U.S (via Noodles & Company).
Noodles & Company's path to success also brought in current CEO Dave Boennighausen. Labeled a "life-long Noodler" in his company profile, the Truman State University grad initially came on board as a senior financial analyst in 2004. He worked his way up to becoming the company's Vice President of Finance in 2007, per Noodles & Company's investor relations website. Boennighausen added "Executive" to the beginning of that title in 2011. Nearly one year later, he was named Chief Financial Officer.
Dave Boennighausen earned a major pay raise with his promotion to CEO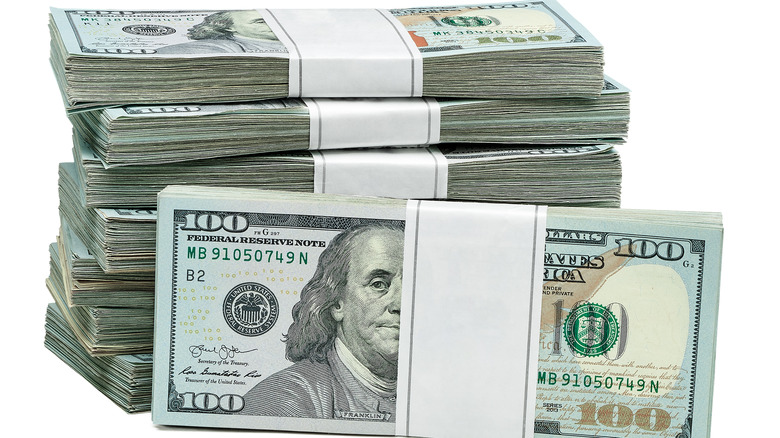 Shutterstock
Dave Boennighausen held the CFO position until being appointed Noodle & Company's Chief Executive Officer in June 2017, with a one-year stint as the interim CEO that began in July of 2016 (via Noodles & Company). And with his rise in the ranks of the company came a rise in the number on his paychecks as well.
According to Salary.com, the 42-year-old earned $623,554 in total compensation during his final full year as the restaurant's CFO in 2015, with $332,885 of that being his salary. He took in total compensation of $931,895 when he was promoted to CEO in 2017. 
Boennighausen's pay was bumped up to $1,630,469 in 2019. That number breaks down to a base pay of $548,654, a further $468,180 in bonuses, and a total cash compensation of $1,016,834. That also includes $600,038 in total equity and an additional $13,597 in undisclosed earnings (via Salary.com). Most recently, Wallmine reported that Boennighausen's net worth is estimated at $3.67 million.
Noodles & Company employees are only moderately satisfied with their pay
What about the employees at Noodles & Company's 400-plus locations? According to the job website Indeed, the base pay for team members varies, though the average hourly wage rings in at $11.35. This rate is seen as favorable by only 48 percent of workers. One former employee called the pay "fairly decent", but also noted that it was difficult to get a raise (via Indeed).
For those wanting to work their way up in the company, a role as shift manager brings in $12 to $14 an hour, per Glassdoor. Meanwhile, general managers can expect an average of $54,368 a year.
As for benefits, the Noodles & Company website provides a lengthy list that includes paid time off, education assistance, and healthcare depending on your position in the company The chain also offers an hour of paid leave for employees to vote in presidential elections.