Stouffer's Upcoming Product Combines Two Popular Comfort Foods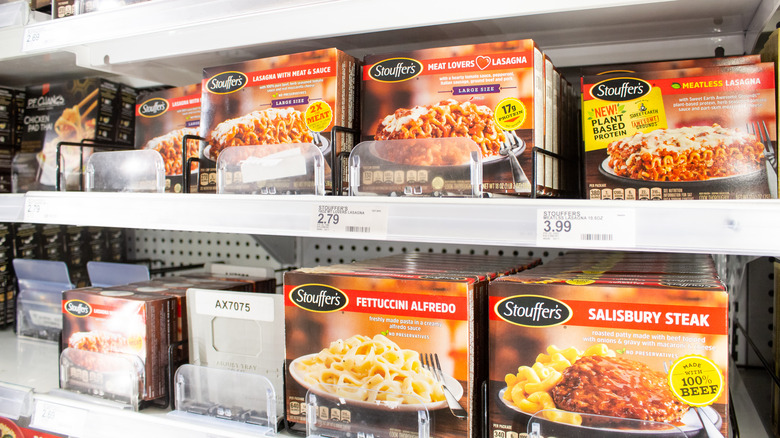 Shutterstock
When you need some instant comfort, nothing comes to the rescue like pasta. Whether we love chowing down on lasagna, mac & cheese, or any other noodle, the burst of carbs and sauce hit the spot like nothing else. To that end, Stouffer's not only tapped into our love affair with these pastas in their new product, but even found a way to combine both items into a mouthwatering frozen entree we can't wait to get our hands on. 
In a recent Twitter post, Stouffer's announced a revolutionary new product that puts mac & cheese right in the middle of a Stouffer's signature lasagna. The frozen meal launches this summer and with any luck, we can pick up a carton or three sooner rather than later. 
Twitter followers can't get enough of the product, with a ton of glowing replies pouring in, ranging from "Sounds delicious! Would love to try it!!!" all the way to "This might be the most beautiful thing I've ever seen." This meal truly marries the best of both worlds and Stouffer's guarantees the entree can put a smile on any face.
A frozen entree for Stouffer's fans everywhere
In a press release sent to Mashed, Stouffer's revealed that they may give lucky fans the chance to try the dish when it launches through an online giveaway. While we have yet to see details of this giveaway emerge, curious Stouffer's enthusiasts should keep their eyes glued to the food brand's social media channel as more information about the giveaway becomes available. 
Frankly, we can't wait to sink our forks directly into the new dish. Stouffer's promises some big tastes, as this one-of-a-kind lasagna gives us what we want — cheddar mac & cheese stuffed between layers of classic lasagna filled with meat and sauce. For a flavor explosion that can't compare to any other dish, make sure you keep your eyes open for this frozen entree later this summer. With any luck, the taste of the dish should live up to our expectation, and we might find our new favorite frozen meal. If you count yourself as a Stouffer's fan, you don't want to miss every ounce of comfort this lasagna promises to pack in.