Creamy Macaroni And Cheese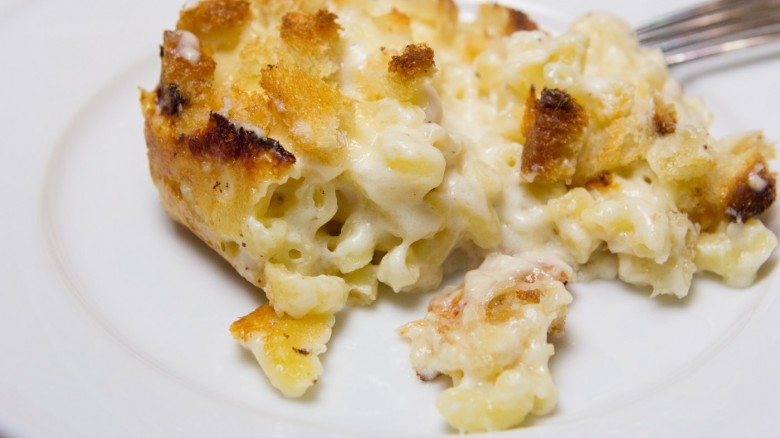 Prep time: 10 minutes. Cook time: 35 minutes. Servings: 4 to 6.
We all have our mac and cheese love stories, don't we? My longstanding affair with this ubiquitous dish began in childhood when a friend's mother fed me a bowl of inexplicably orange Kraft macaroni and cheese. After years of exclusively eating Chinese home cooking, I became instantly smitten with that newly discovered concoction of hot, cheesy carbs. Since then, I've eaten more versions of mac than I can count. Through all the years of dining experiences made memorable by child-friendly stovetop editions, oven-finished comfort favorites, and elevated restaurant takes, my love for mac and cheese remains strong.
Here, classic macaroni elbows are tossed in an impossibly rich and cheesy roux made with butter, flour, milk, cheddar, and Gruyere, along with dashes of nutmeg, black pepper, and coarse sea salt. Topped with buttery breadcrumbs, this rendition of my dream dish is a dreamy meal for any night of the week. It has everything: delectably flavorful cheese sauce, perfectly cooked pasta, and crispy baked top.
Ingredients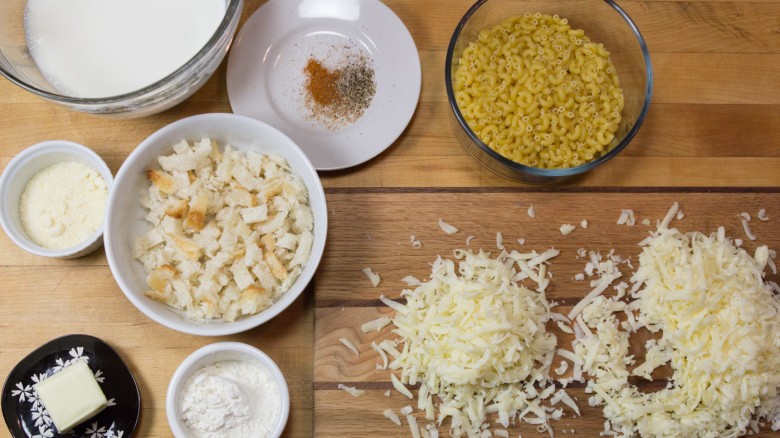 Shopping list


4 tablespoons unsalted butter, divided, plus more for greasing pan


3 slices crustless white bread, roughly torn


2 ¾ cups whole milk


¼ cup all-purpose flour


1 teaspoon coarse sea salt


⅛ teaspoon freshly ground nutmeg


⅛ teaspoon freshly ground black pepper


⅛ teaspoon cayenne pepper


2 ¼ cups grated white cheddar cheese, divided


1 cup grated Gruyere cheese, divided


2 tablespoons grated Parmesan


kosher salt


½ pound macaroni elbows


Equipment


medium pot


2 large pots


8-by-8 baking pan


Prepare breadcrumb topping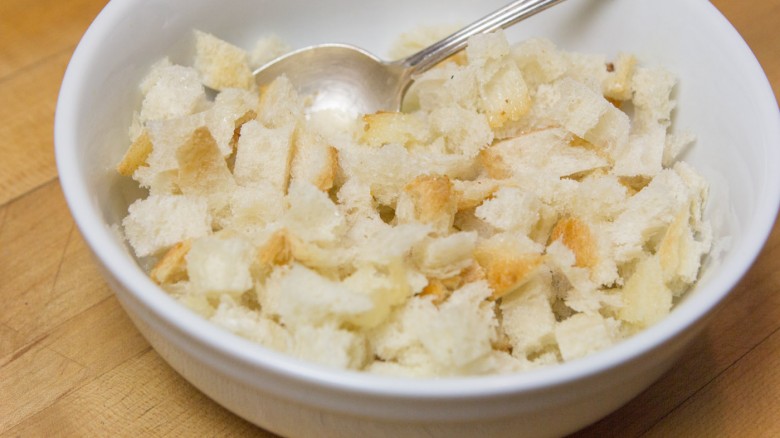 Preheat the oven to 375 degrees. Grease an 8-by-8 baking pan with butter. Place the bread in a small bowl. In a medium pot over low heat, melt 1 tablespoon of butter, then pour the melted butter over the bread and toss to combine. Set mixture aside.
Make roux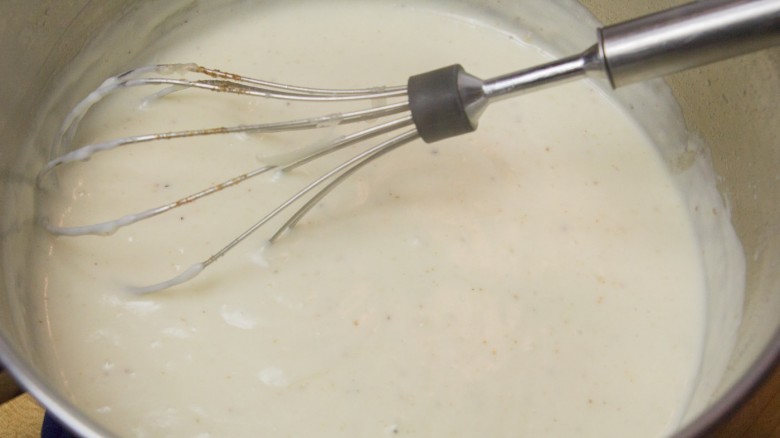 In the medium pot from the butter, heat the milk over medium heat until small bubbles begin to form on the surface. In a separate large pot, melt the remaining 3 tablespoons of butter over medium heat. When the butter is foamy, add the flour and cook, whisking, until combined, about 1 minute. Whisking continuously, add the hot milk gradually until smooth and thickened, 6-8 minutes, then remove the pot from the heat. Stir in the salt, nutmeg, black pepper, cayenne pepper, 1 ½ cups of cheddar cheese, and ¾ cup of Gruyere cheese until fully combined and set aside.
Cook macaroni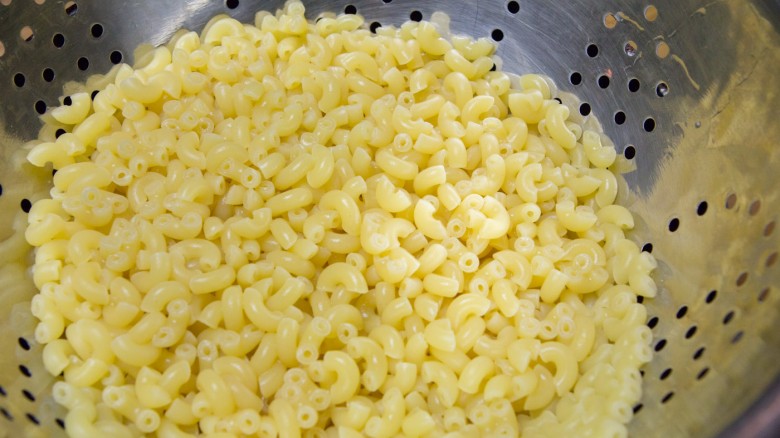 Bring a separate large pot of water to a boil over high heat. Once boiling, add a generous pinch of kosher salt and macaroni. Cook until the pasta is still very al dente, about 3 minutes, then drain it and rinse under cold water to stop the cooking.
Assemble macaroni and cheese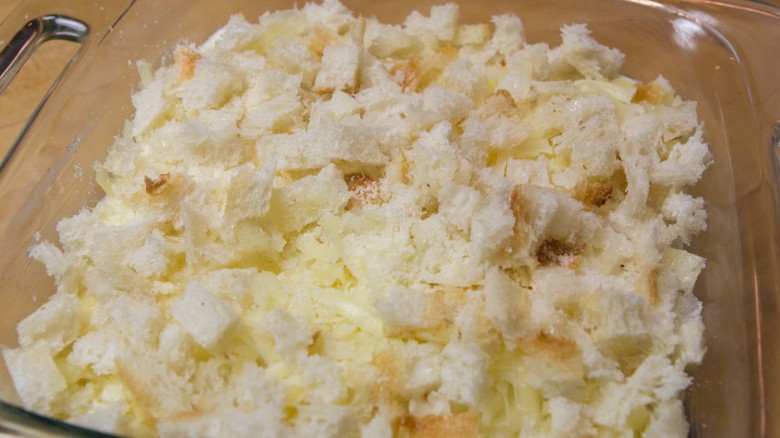 Add the macaroni to the pot with the cheese sauce, stir to combine, and transfer to the prepared baking pan. Sprinkle the Parmesan and remaining cheddar and Gruyere cheeses on top. Scatter over prepared breadcrumbs.
Bake macaroni and cheese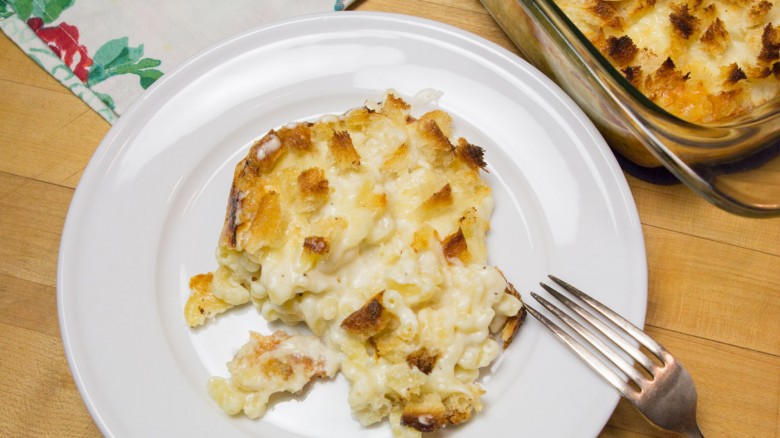 Transfer the macaroni and cheese to the middle rack of the oven and bake until the top is golden and the interior is hot throughout, 25-30 minutes. Remove the pan from the oven and set aside to rest for about 5 minutes, then dig in.