Pepsi Fans Are So Excited For The Return Of This Nostalgic Flavor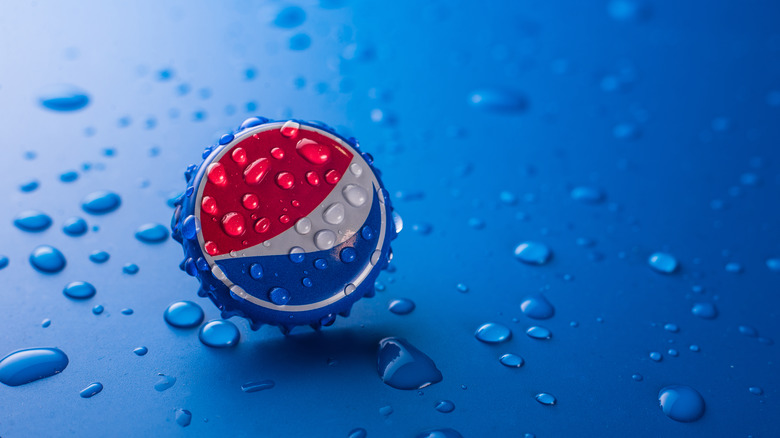 Shutterstock
If the past year has taught us anything (you know, besides the importance of washing our hands), it's that we need to appreciate good things while we have them. Of course, sometimes good things come back, case in point: Pepsi Blue is returning to store shelves after almost two decades of being discontinued, according to a press release received by Mashed.
Prepare for a wave of early 2000's nostalgia because this bright blue soft drink — once endorsed by Britney Spears herself (via YouTube) — is returning to stores nationwide starting on May 3. If you don't remember what it tastes like, Pepsi Blue was a sweet, berry-flavored cola first launched in 2002 to compete with Vanilla Coke (via Business Insider). Unfortunately for fans, the drink was widely criticized for using Blue 1, an ingredient that is banned in some countries, as its coloring agent. And after just two years in stores, it was officially discontinued (via USA Today). However, since 2004, fans of Pepsi Blue have never stopped clamoring for its return, and it seems they're finally getting their wish.
What fans have to say about the return of Pepsi Blue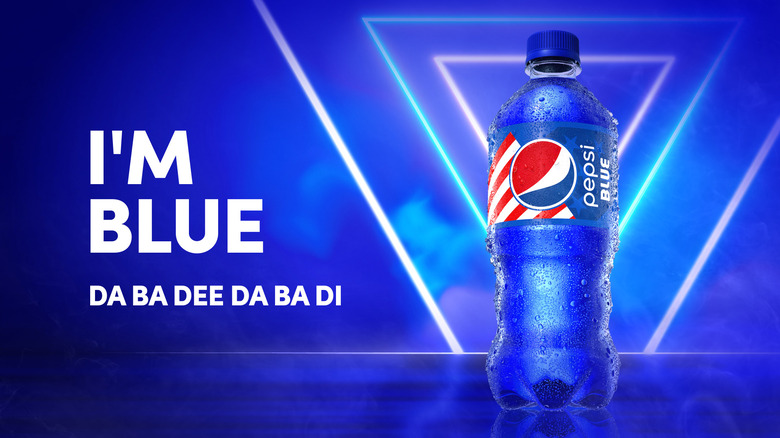 Pepsi
Pepsi took to Twitter to announce the long-awaited return of the cult-favorite cola to the soundtrack of another throwback: Eiffel 65's "Blue" (via Twitter). The video quickly gained over 14,000 views, and fans had plenty to say about it.
For some, the excitement of the moment necessitated caps lock, with tweets like: "FINALLY!! Thank you SO MUCH for bringing my favorite soda back! I'm beside myself with excitement! I'm going to buy and drink SO MUCH Pepsi Blue this summer" and "IT'S BACK! OMG! I NEED SOME ASAP! WHERE IS PEPSI BLUE? WHEN IS PEPSI BLUE? #PEPSIBLUEISBACK." For others, the announcement brought back waves of nostalgia, one person tweeting: "OMG!!!! My HIGH SCHOOL DAY MEMORIES! I want a full case."
However, not all fans of Pepsi were surprised by the news, probably because this isn't Pepsi's first re-release. You can likely thank the popularity of the Crystal Pepsi promotion in 2017 for this limited return of Pepsi Blue, per Today. 
If you can't wait to get your hands on some, look for a brand new bottle and label design wherever Pepsi is sold starting on May 3. It will be available in 20-ounce bottles, 16-ounce six packs, and 16.9-ounce six and eight packs, but only for a limited time while supplies last. Like the heeled flip flops and velour tracksuits of the early aughts, Pepsi Blue won't be around forever (via Insider).