Here's The Difference Between Hell's Kitchen Las Vegas And Lake Tahoe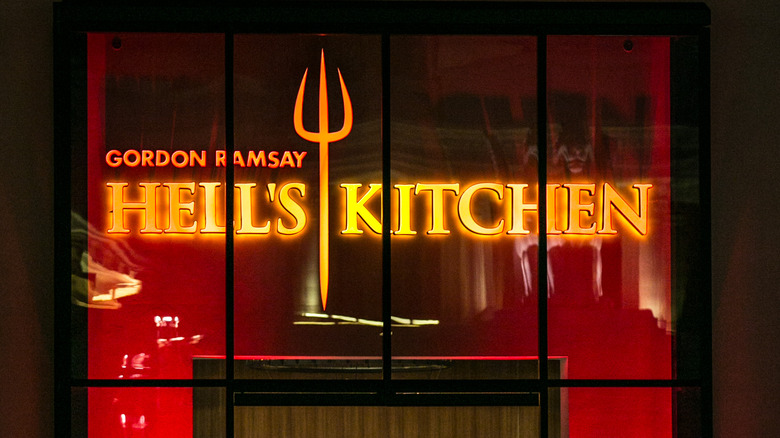 George Rose/Getty Images
Noted restaurateur and celebrity chef Gordon Ramsay is known for his many restaurants and TV shows, including "Hell's Kitchen," "MasterChef," and "Kitchen Nightmares." In 2018, fans of "Hell's Kitchen" got to sample the flavors from the hit reality TV show for themselves when Ramsay opened the first Hell's Kitchen in Las Vegas (via Eater Las Vegas). Two years later, the third Hell's Kitchen opened in Lake Tahoe, overseen by the winner of Season 10 of "Hell's Kitchen," Christina Wilson (via South Tahoe Now). 
While Hell's Kitchen Las Vegas is located in a massive 8,000-square-foot space just outside Caesar's Palace in Las Vegas, the smaller Hell's Kitchen Lake Tahoe can be found inside the casino, on the ground floor of Harvey's Lake Tahoe, a Caesar's Palace property. Also featuring blue and red flames that visually divide the cooking area (via Screen Rant) but with exposed wood beams that give the space a "lodgy feel" (via Tahoe Tribune), the Tahoe restaurant has only half the capacity of the Vegas restaurant, at around 150 seats.
There are also differences in the menu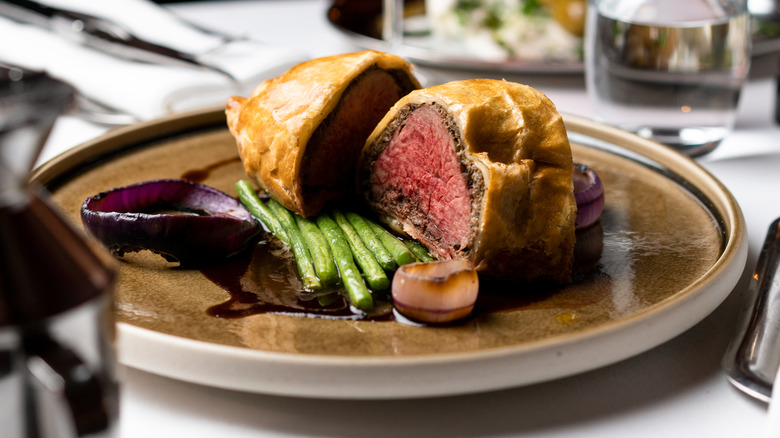 Shutterstock
The two restaurants feature similar menus, including signature dishes such as beef wellington, crispy skin salmon, and sticky toffee pudding. The differences? You can't order the braised short rib in Tahoe, but you can get a roasted rack of lamb instead, which you can't get in Vegas. Tahoe also offers a massive 32 oz. dry-aged tomahawk steak for two. Looking for the roasted asparagus in Tahoe? You'd be out of luck. But you can get the roasted Brussels sprouts or the roasted cauliflower instead. Salads and soups also differ, other than the Caesar salad, which you can order at both restaurants. 
Another difference is in the price, with Tahoe being slightly more affordable than Vegas. For example, the signature beef Wellington costs $57 at Hell's Kitchen Lake Tahoe as of April 2021 (via Open Table), compared to $63.95 in Vegas (via Hell's Kitchen Las Vegas menu). Similarly, the filet mignon costs $49 in Tahoe, compared to $55.95 in Vegas. The biggest difference is in the price of the prix fixe menu, which is $10 cheaper in Tahoe and comes with a different set of wines in the wine pairing menu.