The Las Vegas Hell's Kitchen Restaurant Is More Affordable Than You Might Think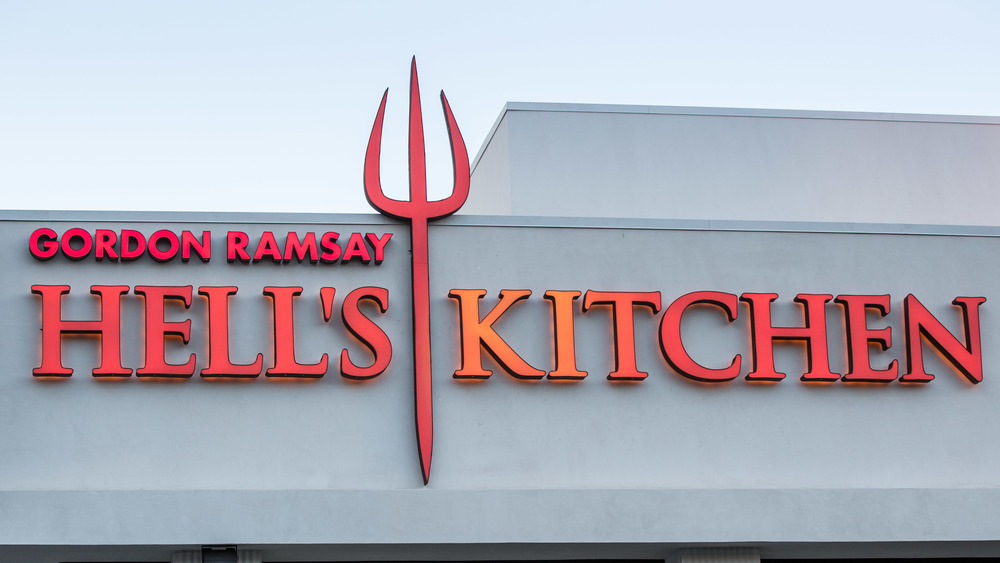 George Rose/Getty Images
Sitting in front of Caesars Palace Las Vegas, the iconic Hell's Kitchen pitchfork symbol calls to foodies. Although the accomplished Gordon Ramsay is not manning the pass as he does on the popular cooking competition, many elements from the show make eating at Las Vegas Hell's Kitchen a memorable experience. From the open kitchen to the classic menu items seen on Hell's Kitchen, there is a glimpse of the cooking competition lore. But, is the dining experience worth the money spent?
The word "affordable" depends on perspective. TV Over Mind reportedly spent more than $300 on a dinner for two. While one person is willing to spend $300 on a meal for two, another person would struggle to pay $100. The Las Vegas Hell's Kitchen restaurant is a celebrity restaurant with a pop culture connection.  That designation comes with entree menu prices ranging from $32.95 to $63.95 (Hell's Kitchen Las Vegas menu 12/16/20). In addition, a three-course, prix fixe dinner menu can range from $75.95 to $85.96, without wine pairings (Hell's Kitchen Las Vegas menu 12/16/20). Still, for a Hell's Kitchen fan, spending $63.95 for the infamous Gordon Ramsay Beef Wellington could be worth the expense.
Lonely Planet reports over 50 celebrity chef restaurants in Las Vegas, and Gordon Ramsay has several of them. In addition to Las Vegas Hell's Kitchen, his restaurants include Gordon Ramsay Steak, Gordon Ramsay Burger, Gordon Ramsay Pub & Grill, and Gordon Ramsay Fish & Chips (Gordon Ramsay Restaurant Group).
Is Hell's Kitchen the most expensive Gordon Ramsay restaurant in Las Vegas?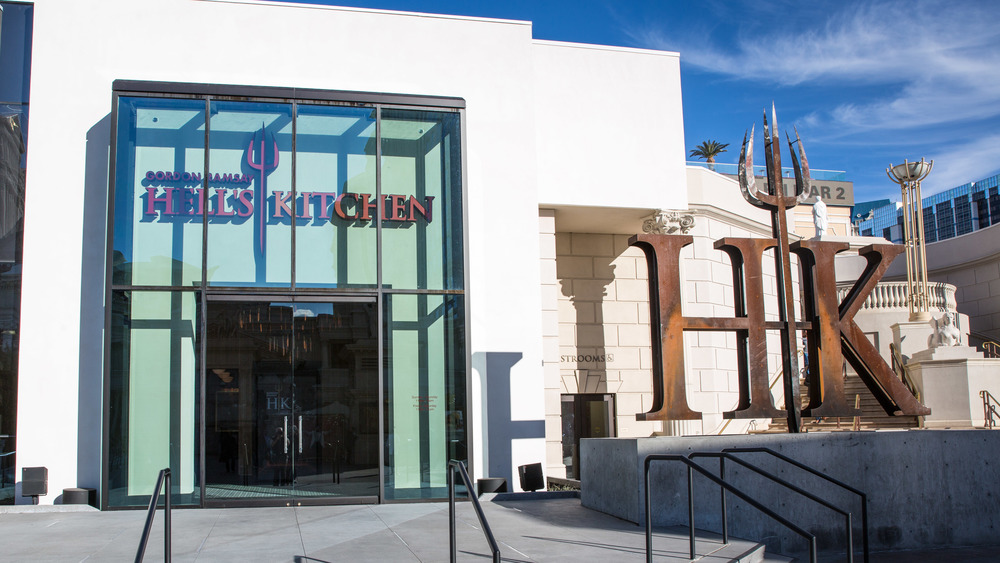 George Rose/Getty Images
While the theme of each restaurant is different, some of the dishes are similar. But the menu prices are not the same.
For example, at Gordon Ramsay Steak (Gordon Ramsay Steak Menu 12/29/20), the classic Beef Wellington is priced at $59.95, while the same dish is priced at $63.95 at Hell's Kitchen (Hell's Kitchen Las Vegas menu 12/16/20). For some people, the difference in price could have them leaning towards one restaurant over another.
While celebrity chefs can bring diners to the table, menu prices also can be a deciding factor. Although the Gordon Ramsay super-fan might want to secure a reservation at Hell's Kitchen Las Vegas for the television connection, his other namesake restaurants can offer a taste of his celebrated food at a different price. For example, the Gordon's three course dinner at Gordon Ramsay Pub & Grill includes the Beef Wellington and it is only $74.99 (Gordon Ramsay Pub & Grill menu 1/15/21). While the portions sizes vary, three courses for an additional $11 seems like a good value.
In the end, some people will be willing to spend the money to dine at Hell's Kitchen Las Vegas. Whether or not you label the final bill affordable depends if you have a seat at the high roller table.