Here's Why You Should Consider Draining Your Meatloaf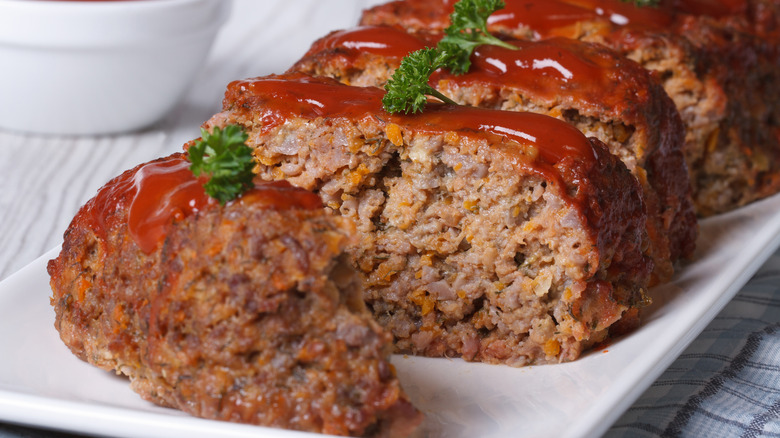 Shutterstock
Few culinary experiences rival the pure comfort of perfectly cooked meatloaf. Old fashioned yet timeless, the classic meatloaf is sublime, boasting roasted meat, aromatic vegetables, and a sweet/tangy, caramelized crust (via Food Network). What's not always savored is the puddle of grease pooling in the bottom of the loaf pan.
While baking your meatloaf in a loaf pan helps ensure that the meat stays moist, the grease in the bottom of the pan essentially simmers the exterior (instead of baking) and prevents the loaf from developing a crisp, flavorful crust (via Frugal Cooking). To prevent a soggy bottom, Bangor Daily News suggests draining the grease from the loaf pan 15 minutes before your cooking time is up; this helps guarantee all sides bake to perfection.
Food52 has another solution for that pool of grease – line the bottom of your loaf pan with two slices of white bread; as the meatloaf bakes, the bread will soak up most of the fat and promote a flawlessly cooked exterior. Plus, the site asserts that the "crispy, golden, beef-fatty toast" is excellent when served alongside the meatloaf or used to make a sandwich. Cuisine at Home states that you can also use disposable foil loaf pans with holes punched in the bottom. Simply press the meatloaf into the "poked" pan and place the pan on an ovenproof wire rack that's nestled in a baking sheet. As the meatloaf bakes, the grease drains out of the holes and prevents the loaf from getting mushy.
Free-form meatloaves require no draining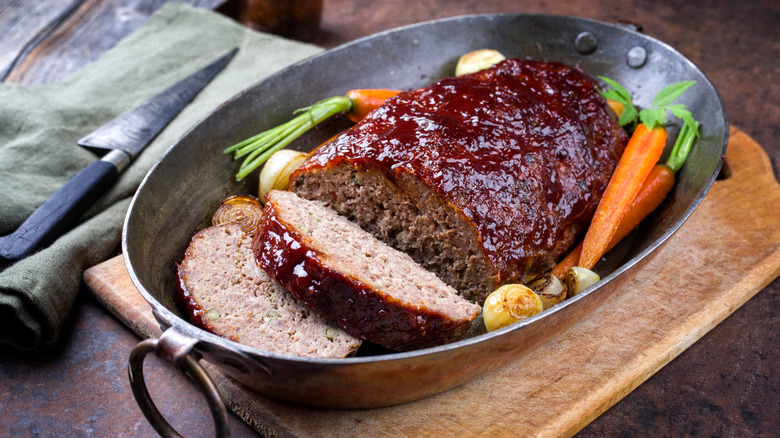 Shutterstock
If you'd rather ditch the draining or lining-the-pan-with-bread steps, Epicurious shares a recipe for a rich and meaty loaf made with beef, pork, milk-bathed breadcrumbs, onion, celery, and garlic. The hearty concoction is shaped into an oblong loaf, shellacked with ketchup, and baked on a foil-lined baking sheet (which prevents the grease from puddling underneath).
I Wash You Dry also shares a recipe for free-form meatloaf, an all-beef, savory loaf that's scented with Italian-style breadcrumbs, onion, garlic, parsley, and barbecue sauce, and then baked under a sheen of ketchup, brown sugar, and yellow mustard.
For stalwart traditionalists who demand that their meatloaves be cooked in loaf pans, this traditional meatloaf should fit the bill. 
The Wholesome Dish also features a meatloaf made with lean ground beef, breadcrumbs, and dried herbs, and the whole thing is glazed with ketchup, brown sugar, and a touch of tangy red wine vinegar.
If turkey meatloaf is your jam, Martha Stewart has a recipe for a lean, zingy turkey meatloaf that's enlivened with onion, bell peppers, hot sauce, and Creole seasoning.