Aldi Has Good News For Red Bag Chicken Fans In California
Aldi's frozen breaded chicken breast fillets — affectionately nicknamed red bag chicken after the packaging — have long been a popular grocery item. The breaded chicken breast is made with rib meat and comes fully cooked, making it the perfect solution for a delicious dinner that is also quick and easy to prepare. Aldi fans across the country have long raved about the easy and delicious product — that is, fans everywhere except for California (via Insider). For some reason, Aldi locations in California have not carried the chicken, so fans on the West Coast have long been deprived of this popular item (as one Redditor pointed out). However, all of that changed this week, when Aldi stores in California finally began stocking the popular chicken fillets.
Aldi fans in California were thrilled to be able to get their hands on this long-awaited product at long last. The popular Instagram account @aldi.mademedoit made a celebratory post alerting their followers to the good news, posting: "Run Forest RUNNN CALIFORNIA HAS RED BAG CHICKEN I repeat RED BAG CHICKEN. We fought long and hard for this day to come. Who is so excited to get their hands on some?!" (via Instagram).
Aldi fans in California couldn't wait to purchase the popular chicken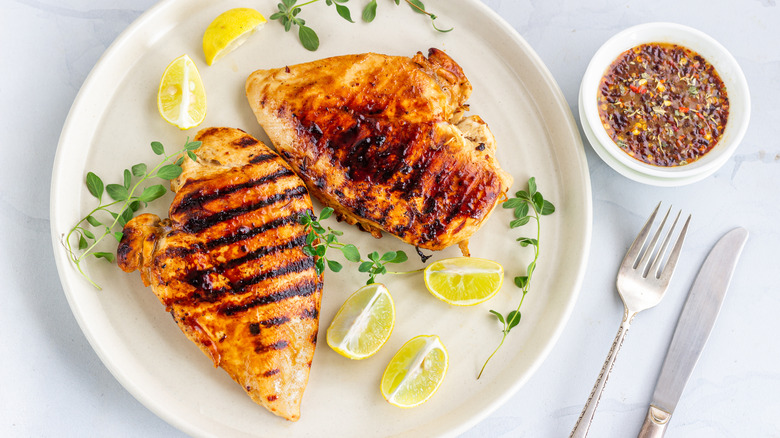 Shutterstock
Californians could barely contain their excitement over the news, as Aldi shoppers in the Golden State made plans to finally get their hands on some red bag chicken as soon as possible. Instagram user @akemilovesalex celebrated: "Omg I'm so Excited I Found it at one of my nearest Aldi store!!" (via Instagram). Follower @dhann715 agreed: "I bought two bags yesterday ... so happy my store in CA had them. I thought I was dreaming."
For Aldi fans in California, the long wait for this delicious chicken is finally over. Although the red bag chicken seems like it will now be a regular item at Aldi across the country, including California, if the social media responses are to be believed, this product is likely to sell out pretty quickly. After all, it's said to rival a Whataburger Honey Butter Chicken Biscuit and a Chick-fil-A chicken sandwich, per Today. So if you live in California and have had your eye on Aldi's red bag chicken for a while, you won't want to wait to head to your nearest location and grab a bag or two for yourself.