Classic Black And White Cookie Recipe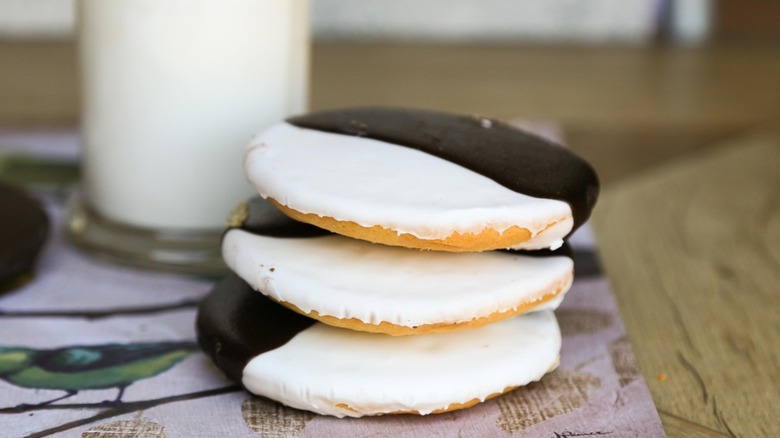 Maren Epstein/Mashed
While New York City is known as The Big Apple, there is no one food with which the city is synonymous, but rather a long list of such foods (none of them being apples). New York-style pizza, hot dogs, pastrami sandwiches, bagels, cheesecake ... we could go on and on, but we won't. Instead, we're just going to name-drop one more treat that's so iconically New York that it was featured in Seinfeld. In "The Understudy" episode (via Seinfeld Scripts), Bette Midler tells Kramer, "If I don't get a black and white cookie I'm not going to be very pleasant to be around." (We can totally relate to that!) These cookies are such a staple snack, that everyone likely looks forward to biting into the chocolate-vanilla deliciousness when they come to New York City or any bakery that sells them.
But, if you're not blessed with a good local deli or New York-style bakery, you may never have experienced this sweet harmony of flavors. Maren Epstein, a chef who promotes healthy eating at her website Eating Works, isn't opposed to the occasional indulgence, and she shares this recipe for authentic NYC black and white cookies so you can make them right at home. Who would have thought that was even a possibility? This recipe only makes 10 cookies, however, so you won't be tempted to overindulge (although, that's really not a bad thing when it comes to these sweet delights). If you want to overindulge, you can double the recipe!
Round up the ingredients to make black and white cookies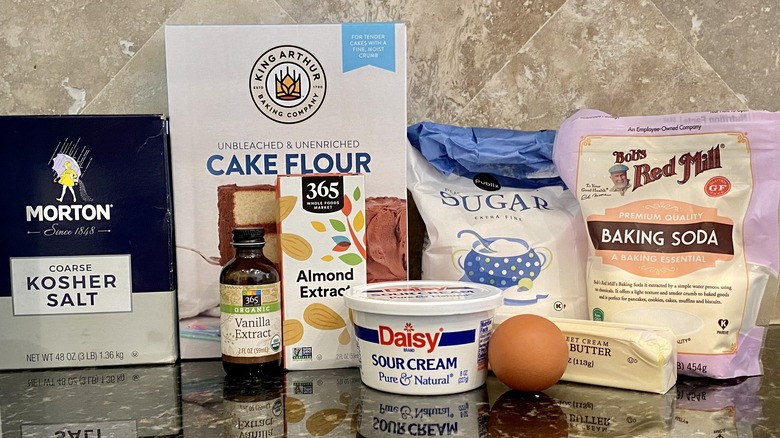 Maren Epstein/Mashed
Although they look quite fancy, black and white cookies don't require any unusual ingredients. Epstein does call for using cake flour in her cookies, but if all you have on hand is the all-purpose stuff, no biggie. You can very easily make a workable substitute by replacing 2 ½ tablespoons of the flour with cornstarch, then whisking and sifting the dry ingredients so they're thoroughly combined.
Apart from the flour, you'll need baking soda, salt, sugar (both granulated and confectioner's), unsalted butter, one egg, sour cream (the full-fat kind, as Epstein says this "helps make the cookies light and moist like cake"), both almond and vanilla extracts, agave nectar, and cocoa powder. As regards these last two ingredients, Epstein says of the agave, "I add it to make the frosting shiny, [but] you can use honey instead." As for the cocoa powder, she says, "Dutch-process makes a softer frosting," so this is what she uses. "Traditional chocolate powder," Epstein explains, "will harden and make a harder frosting," but it's okay to use this type of cocoa powder if you don't mind (or prefer) a harder frosting. 
Before you get started baking, there's one thing you'll need to do a few hours in advance: Take the butter out of the fridge and let it soften. It's pretty frustrating when you forget and have to resort to desperate last-minute butter-softening measures!
Make the cookie dough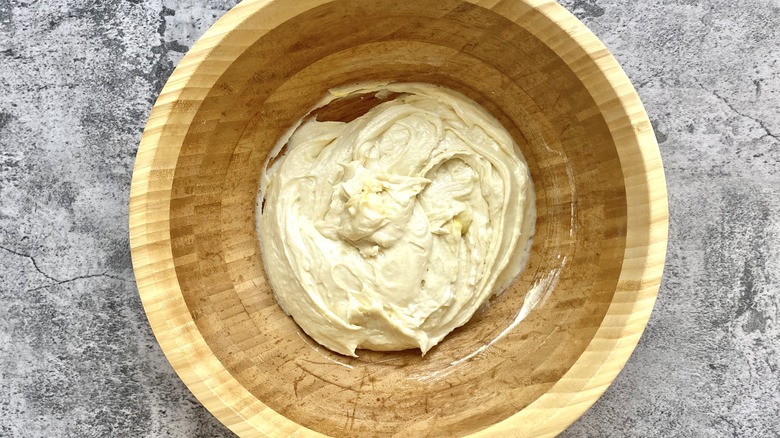 Maren Epstein/Mashed
Start off by preheating the oven to 325 F — yes, this is one of those rare cookie recipes that doesn't bake at 350! Mix the flour with the baking soda and the salt, whisking until the dry ingredients are well combined. In a separate bowl, cream the softened butter with the granulated sugar. You can use an electric mixer, if you wish. Epstein suggests a powered whisk, but if you're more of a hands-on kind of baker, you'll need to put in some extra elbow grease.
Next, return to your dry ingredients and add about ⅓ of this mix to the butter and sugar. No power whisking necessary this time, since Epstein says to stir with a spatula instead. Add ⅓ of the sour cream, stir with the spatula, then another ⅓ of the dry ingredients and another stir. Repeat until all the dry ingredients and sour cream have been mixed into the butter and it's starting to look a lot like cookie dough. Finish things off by stirring in the egg and both types of extract, using just ½ teaspoon of the vanilla. (The other ¼ teaspoon will be saved for later use.)
Bake the cookies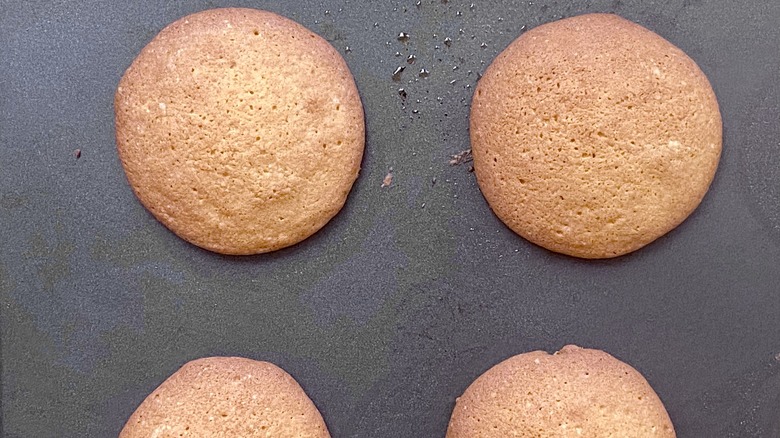 Maren Epstein/Mashed
Grease a non-stick cookie sheet, or use parchment paper or a Silpat if you prefer. If you have a cookie scoop or a small ice cream scoop, use these to scoop up dough balls. If you don't have either of these to hand, you can use a ⅛ cup measure, since you want about 2 tablespoons of dough per cookie ball. Place each cookie 5 inches apart on the cookie sheet, which means you'll likely be able to fit just four to six cookies per sheet. Why do you need all that room for the cookies? Because, as Epstein cautions, "They spread a lot!" 
Bake the cookies for about 18 minutes, or until their edges are golden-brown in color. Remove the cookie pan from the oven, then set the cookies on a wire rack to cool.
Frost the white side of the black and white cookies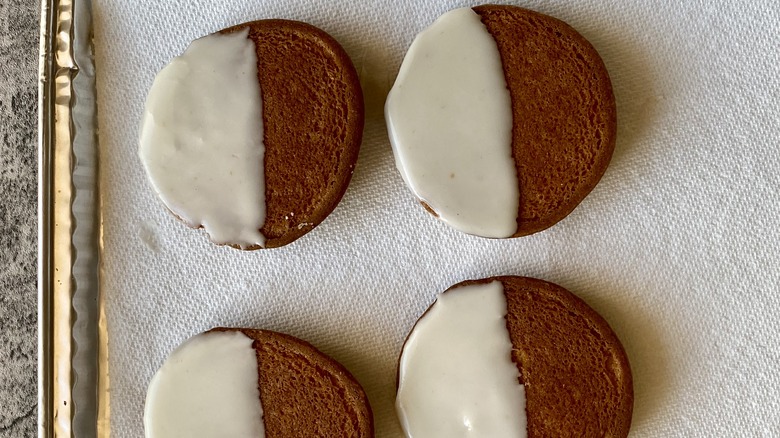 Maren Epstein/Mashed
While the cookies are cooling, you can prepare that all-important frosting without which these black and white cookies would be neither. Measure the powdered sugar into a bowl, then add the remaining vanilla extract. Mix 1 teaspoon at a time of the boiling water into the sugar, and stir. Repeat the process until, as Epstein describes it, "the frosting has the consistency of a ranch dressing and runs off the spoon in ribbons." At this point, stir in the agave (or corn) syrup.
Check the cookies to make sure they're completely cooled. If they're good to go, get ready to frost them. Or semi-frost them, at this point. Epstein uses an offset spatula to frost her cookies, but if you don't have one on hand, you can use a butter knife or rubber spatula instead. Whatever tool you're using, frost the flat side of the cookie, but only half of it. Only use half the frosting, too, since the other half will be used for the chocolate frosting. Once all the cookies are half-dressed, put them in the fridge for 20 minutes to allow the frosting to set.
Frost the black side of the black and white cookies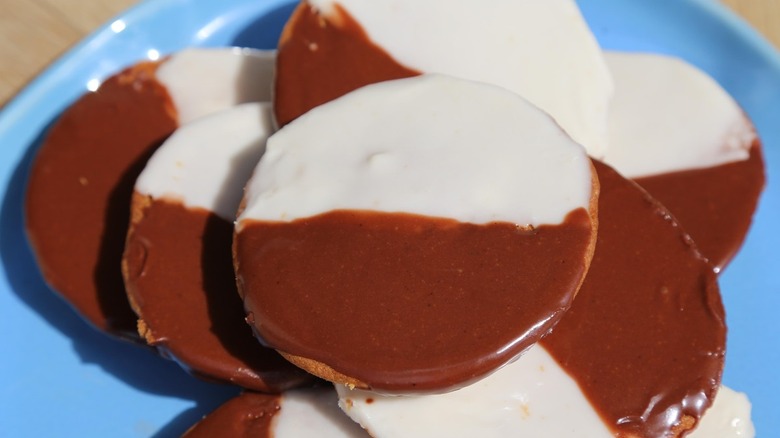 Maren Epstein/Mashed
Take that leftover frosting and add in the cocoa powder. If the addition of cocoa makes the frosting too thick to spread, stir in another teaspoon or so of boiling water until it reaches the same consistency as it had back when it was still white. Now, take your chosen frosting implement and spread the chocolate frosting on the naked half of the flat side of the cookies.
Once you're done, all those plain old cookies will have been magically transformed into a beautiful batch of black and white Cookies. The one thing they're not, at this point, is ready to eat. After applying the chocolate frosting, you'll need to pop them back in the fridge for another 20 minutes. (Note that the time these cookies will be resting in the fridge in this recipe is not factored into the below prep and cook times, so keep that in mind.)
After that, the frosting will be all set, and your cookies are good to go. Epstein says she likes to serve black and white cookies at parties: "They are decadent like cake!" Make sure you have just the right platter to display these sweet delights on — one worthy of a dessert that is so pretty and delicious.
Classic Black And White Cookie Recipe
Delicious black and white cookies are a staple in New York City, and you can make these bakery-esque treats right at home.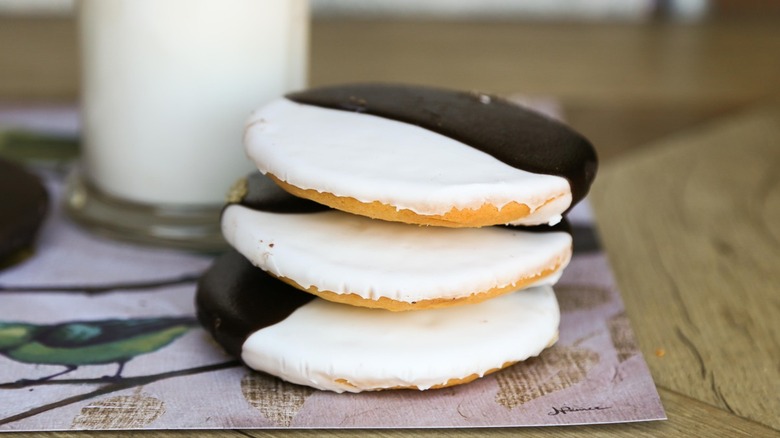 Ingredients
1 ¼ cups cake flour
½ teaspoon baking soda
¼ teaspoon salt
1 cup granulated sugar
10 tablespoons unsalted butter (at room temperature)
⅓ cup sour cream (full fat)
1 egg
¾ teaspoon vanilla extract, divided
¼ teaspoon almond extract
4 cups powdered sugar
½ cup boiling water
2 tablespoons agave nectar
3 to 4 tablespoons Dutch-process cocoa powder
Directions
Preheat the oven to 350 F.
Combine the cake flour, baking soda, and salt. Whisk until combined, and set aside.
In a separate bowl, combine the sugar and butter. Beat until the dough is creamy.
Add ⅓ of the dry ingredients to the butter and sugar, and combine with a spatula. Next, add ⅓ of the sour cream. Repeat this process until you've mixed in all of the dry ingredients and sour cream.
Add the egg, ½ teaspoon of vanilla extract, and almond extract to the dough, and combine until smooth.
Grease a non-stick cookie sheet, and use a cookie or small ice cream scoop to form dough balls about 2 tablespoons in size. Place the cookies 5 inches apart (4 to 6 cookies per sheet).
Bake for 18 minutes, or until the edges of the cookies are golden brown.
Allow cookies to cool on a baking rack.
Prepare the vanilla frosting by placing the powdered sugar and remaining vanilla extract in a bowl. Add boiling water to the sugar 1 teaspoon at a time, and stir. Repeat until the frosting has the consistency of ranch dressing and runs off the spoon in ribbons, then stir in agave.
Spread icing on half of the flat side of each cookie. Place the cookies in the fridge for 20 minutes to set the frosting.
Stir the cocoa powder into the remaining white frosting. If it's too thick, add another teaspoon of hot water. Frost the other side of the cookies, then return them to the fridge for the icing to set.
Nutrition
| | |
| --- | --- |
| Calories per Serving | 466 |
| Total Fat | 13.8 g |
| Saturated Fat | 8.5 g |
| Trans Fat | 0.5 g |
| Cholesterol | 50.5 mg |
| | |
| --- | --- |
| Total Carbohydrates | 85.8 g |
| Dietary Fiber | 1.2 g |
| Total Sugars | 70.2 g |
| Sodium | 134.7 mg |
| Protein | 2.6 g |