Creamy Cornbread Casserole Recipe That'll Be The Talk Of The Potluck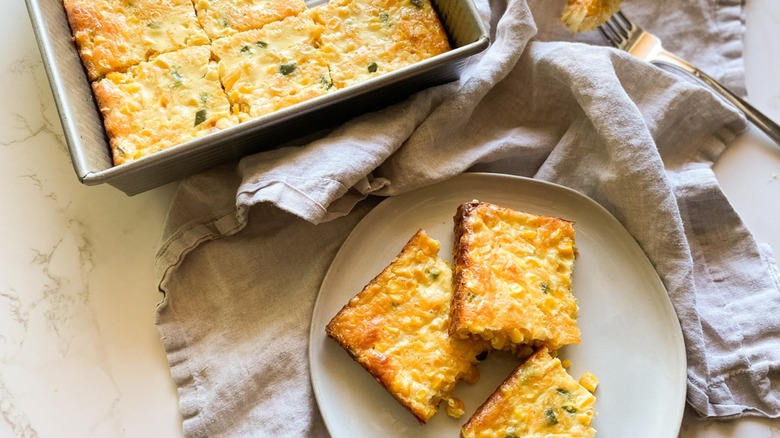 Kristen Carli/Mashed
It's a bread. It's a casserole. No, it's registered dietician and recipe developer Kristen Carli's delicious creamy cornbread casserole. As she told Mashed about her fun spin on traditional cornbread, "This is a casserole because it is mostly egg-based, as opposed to flour-based." That's right — although the recipe calls for flour, you will only use two tablespoons, while three eggs go into the batter as well.
Wondering how the end result may differ from a cornbread? "This texture is very similar to a frittata," Carli explained. Meanwhile, you can serve this dish as a main course, similar to a casserole. Best of all, this indulgent dish works equally well for a breakfast as it does for a dinner paired with a veggie. Plus, we are going to go ahead and bet you have 99 percent of the ingredients needed to make this creamy cornbread casserole in your kitchen right now.
Grab a few simple ingredients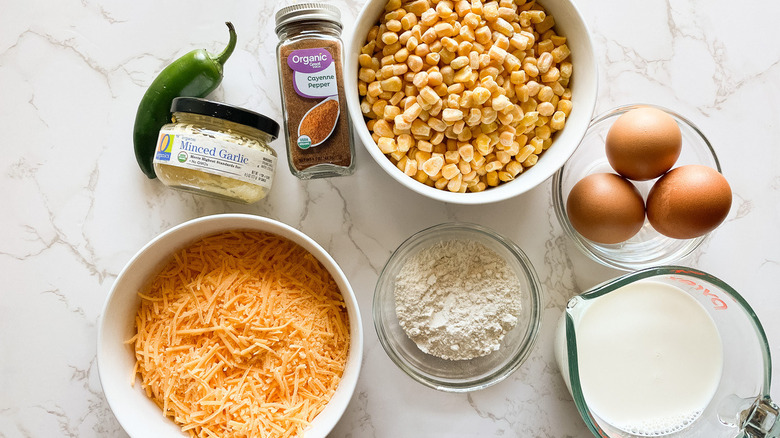 Kristen Carli/Mashed
For your creamy cornbread casserole to make it to the kitchen table an hour from right now, simply gather some simple ingredients from your pantry, fridge, and freezer. This recipe calls for olive oil, eggs, whole milk, just a pinch of flour, frozen corn, shredded cheddar cheese, a jalapeño, and just a few seasonings: salt, pepper, and cayenne pepper.
If you are making this dish for your family, or for a group, don't worry, as Carli told Mashed, "It is not spicy." Say you want to enjoy a spicier version of the cornbread casserole, though. "It could be spicy if you want to pump up the heat a bit," Carli noted. Go ahead and add more cayenne, or don't deseed the jalapeño. Remember, the heat of a jalapeño lives in the seeds. Or, you can serve the casserole with your favorite hot sauce. 
Prepare your batter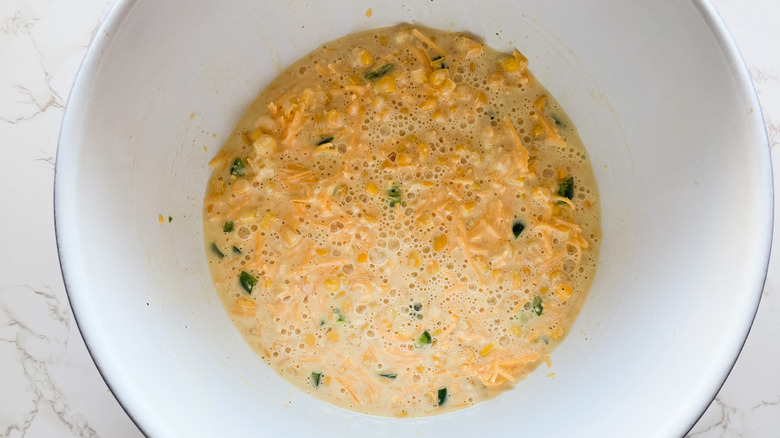 Kristen Carli/Mashed
Carli's creamy cornbread casserole could not be easier to prepare. Your very first step is to preheat the oven to 350 degrees Fahrenheit. Next, grab a baking dish that is 8x8 inches in size, and brush it with olive oil, being sure to get the sides and bottom.  
Okay, now get a large bowl — basically all of your ingredients go into this bowl, so make sure it is large enough. In go your three eggs, your whole milk, the salt, pepper, and your desired amount of cayenne. Whisk the mixture to combine it well. Next, add in your flour, and whisk the batter again.
Finally, you can add in the frozen corn — no need to defrost it, as the casserole is about to hit the oven for a little under an hour. The final ingredients go in the bowl: your shredded cheddar cheese and the jalapeño, which you will have diced. Avoid jalapeño hands by wearing gloves if you want, and be sure not to touch your eyes!
Bake and enjoy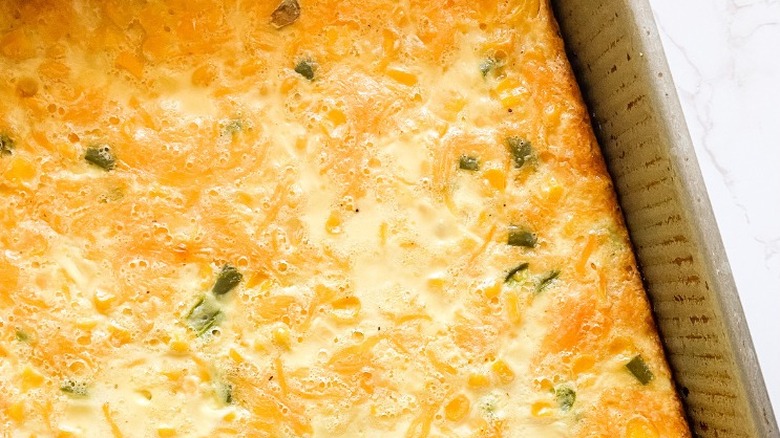 Kristen Carli/Mashed
After you add the cheese and jalapeño to the mixture, give it one more good stir before pouring everything into your prepared baking dish. The casserole should bake for 45 to 50 minutes until it is set, with Carli advising Mashed, "When you are baking this dish, be sure to watch it at the end to avoid burning the casserole." 
Finally, it is time to enjoy your creation, with Carli sharing, "We ate this with some green salad for dinner." She also told Mashed, "It would make a great breakfast or brunch or even a great potluck dish to bring to a casual party." This is a great tip, especially when it comes to a last-minute get-together since this recipe is so simple to make. So, the next time you go to the market, pick up an extra pepper, and you'll be all set to make this dish day or night!
Creamy Cornbread Casserole Recipe That'll Be The Talk Of The Potluck
It's a bread. It's a casserole. No, it's registered dietician and recipe developer Kristen Carli's delicious creamy cornbread casserole.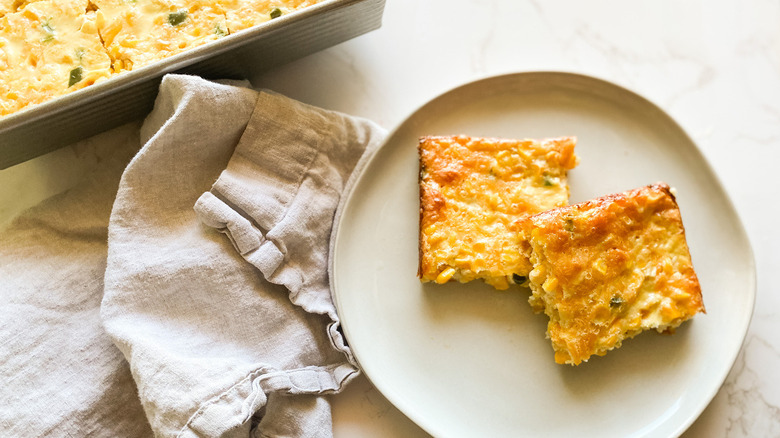 Ingredients
1 tablespoon olive oil
3 eggs
1 cup whole milk
1 teaspoon salt
½ teaspoon pepper
¼ teaspoon cayenne pepper
2 tablespoons flour
12 ounces frozen corn
1 ½ cups shredded cheddar cheese
1 jalapeño, diced
Directions
Preheat oven to 350 degrees Fahrenheit. Brush olive oil along side the bottom and sides of a 8x8-inch baking dish.
In a large bowl, add eggs, milk, salt, pepper, and cayenne. Whisk to combine. Add flour. Whisk to combine again.
Add corn, cheese, and jalapeño. Stir to combine. Pour into prepared baking dish. Bake for 45 to 50 minutes, until set.
Serve and enjoy!