Bobby Flay Is Starting A Podcast With His Daughter, Sophie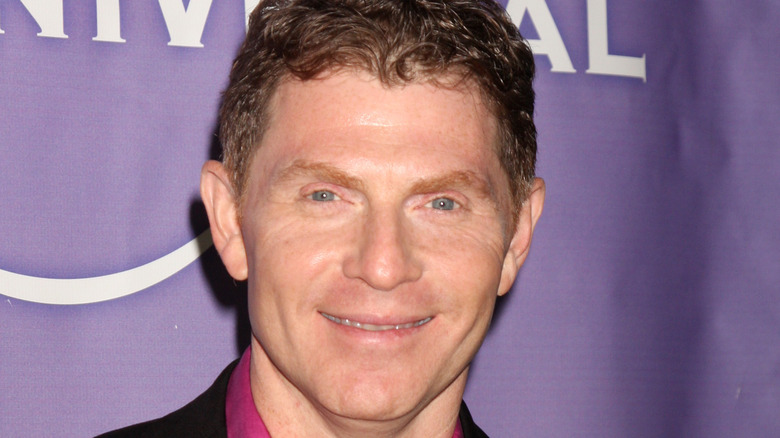 Shutterstock
Bobby Flay and his daughter, Sophie Flay, are no strangers to working together. The famous chef and his daughter, a community journalist at ABC7 Los Angeles, first came together on camera to co-host the popular Food Network show "The Flay List," which was released in 2019 (via Food Network). They have just announced the exciting news that they will be becoming coworkers once more. The father-daughter pair will be teaming up again in a new podcast called "Always Hungry," according to the Food Network.
"You'll get a peek into our relationship and we'll talk about things like where we get our recipes and whether or not people are still dressing up for dinner," Sophie said of the new project to Food Network. Listeners will get a heartfelt, behind-the-scenes look at Bobby and Sophie's relationship, as well as hear their thoughts on cooking, dining, and the world of food. Each episode will be centered around a specific food-themed concept and will include discussions, playful banter, and recipes, although, as Sophie joked to People, "He does a lot more cooking than I do. I do a lot of the eating."
'Always Hungry' will release new episodes every Tuesday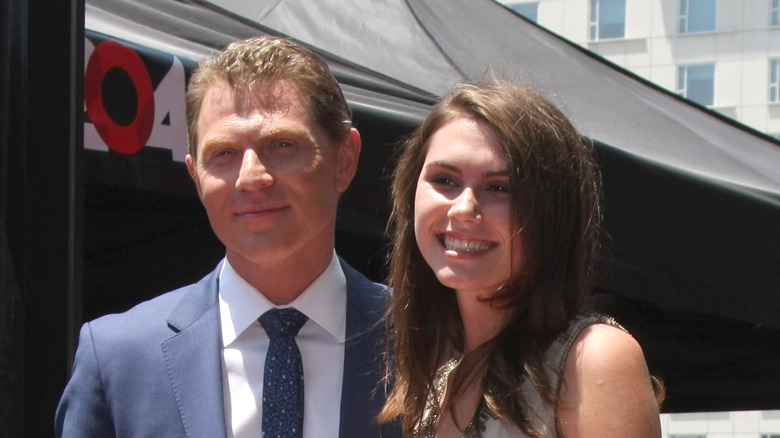 Shutterstock
The podcast was officially released on Tuesday, April 27, according to a tweet from Flay, and listeners can expect a great lineup of entertaining topics and discussions. "It's really a conversation about life and being a parent, being a daughter, being friends, and being adventurous in the world of food," Bobby Flay told People, adding, "That's what we do as a family, is we have conversations. I just thought it would be really interesting to continue on a podcast." Sophie agreed, explaining to Food Network that this new podcast highlights how both of their passions for food and cooking has brought them closer.
After Bobby shared the news on his Twitter account, fans were quick to express their excitement over the new show. "Thank you @bflay & @abc7sophie for sharing your hearts and your love for food. Plus it brings family closer together," one fan replied. Another follower posted: "This sounds fun! Looking forward to it."
New episodes of "Always Hungry" will air every Tuesday. It can be found on Spotify, Apple Podcasts, I Heart Radio, or anywhere else you listen to podcasts.