David Chang Thinks This LA Restaurant Makes The Best Patty Melt In The World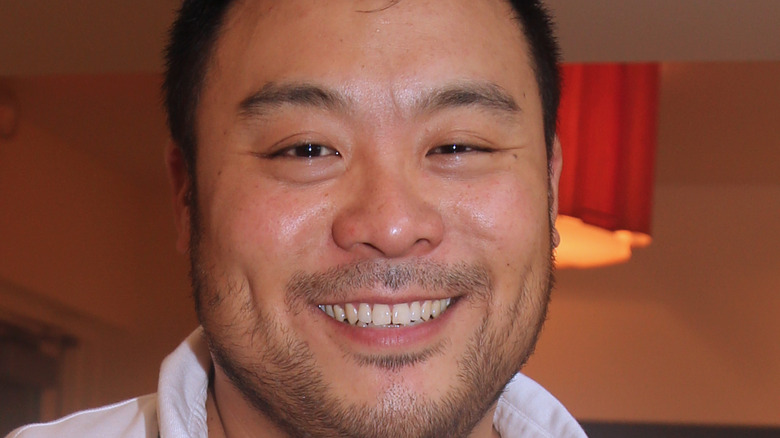 Shutterstock
David Chang is the outspoken chef and television personality behind Netflix hit "Ugly Delicious" and was once named one of Esquire's "most influential people of the 21st century," according to his website. Chang has earned a name for himself for his modern take on Korean cooking, founding the Momofuku empire that spans three countries, and particularly hailed for his take on pork buns and ramen (via NPR) as well as the fried chicken sandwiches at his Fuku restaurant, as noted by Eater New York. With high praise from Bon Appétit and the New York Times, as well as multiple James Beard Awards and Michelin stars, he's a shining star in the culinary world. So when Chang himself praises a restaurant or a particular dish, it's something we always want to try.
Still taking his affection to this day — Cassell's Hamburgers in Los Angeles. Chang loves Cassell's so much that he once voted for the unassuming hamburger joint to earn a spot on the prestigious list of The World's 50 Best Restaurants. Chang is a member of the World's 50 Best Restaurants Academy and has voting rights (via Eater LA) — and if he ever has his way, the restaurant will join the rarefied ranks of Le Bernadin in New York and Chicago's Alinea on the prestigious list, as seen at The World's 50 Best Restaurants.
Chang loves this patty melt so much he's been tempted to copy it
David Chang has been seriously smitten with Cassell's Hamburger's patty melts for a while, first publicly declaring his love in 2017 in an interview with Eater. The beloved sandwich usually consists of a hamburger patty topped with grilled onions and Swiss cheese, placed between two slices of grilled rye bread. 
So what makes Cassell's version so spectacular? To start with, executive chef Christian Page grinds his own beef every day (via Cassell's), so the burgers couldn't be fresher. He told LA Magazine that he uses a mixture of chuck and brisket and further noted that good searing is also important and gives Cassell's patties a delicious, caramelized exterior. Also, Cassell's patty melt includes both the expected Swiss cheese as well as cheddar, along with the grilled onions and rye bread. The melts also comes with a side of pickles and the restaurant's "mustardy mayo."
Chang told Eater: "It's just one of the best goddamn things you could eat anywhere," crediting Cassell's "special griddle" and the way they melt their cheese. In fact, he's referring to the "cheese skirt" Cassell's creates by layering the cheese so that it extends over the bread onto the griddle and becomes crispy, adding another texture to the sandwich (via Yelp). The restaurant mogul has even said that he's wanted to serve patty melts at some of his restaurants, but wouldn't dare. "I don't want the people at Cassell's to be like, 'Well, you just stole our s***,'" Chang told Eater. "Because I only want to do homage to what they've done."
Whatever Cassell's is doing, it works. Chang said that he eats at a lot of diners and always orders patty melts. None, he said, has ever measured up to Cassell's masterpiece.