The Surprising Origin Of Queso Dip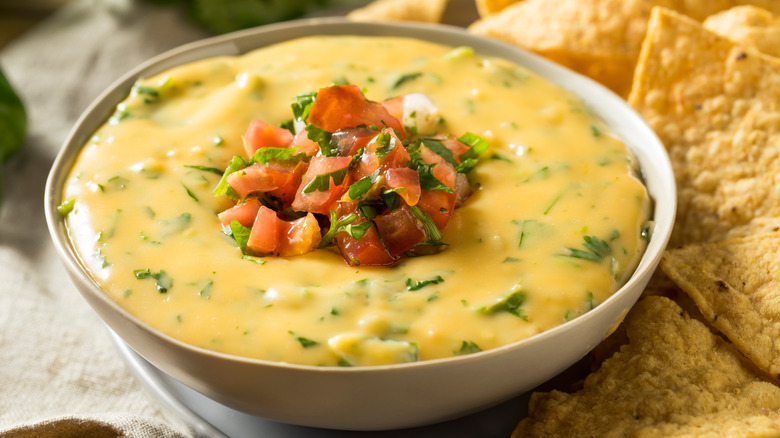 Shutterstock
The origins of queso dip, a potluck staple, may be steeped in the heart of Texas, but that's not who first developed an Americanized twist on Mexican flavors and called it cheese dip. Queso dip has been around for quite a long time in a form we could likely recognize as the dish we know today. The first published recipe of this cheesy and slightly spicy side has been attributed to an 1896 issue of an American magazine called The Land of Sunshine (via The New Yorker). 
The entry for "chiles verdes con queso" was categorized under the heading of "Mexican food" and discovered by queso researcher Lisa Fain, blogger of Homesick Texan and author of the book "Queso! Regional Recipes for the World's Favorite Chile-Cheese Dip." Fain describes this original dish as being chile-heavy instead of cheese-focused, but we imagine it's still delicious. The evolution to cheesey-ooey-gooey sauce likely was influenced by the popularity of fondue and a British favorite dish called Welsh rarebit which, surprisingly, is a version of melted cheese over toast. 
Queso and guacamole make perfect companions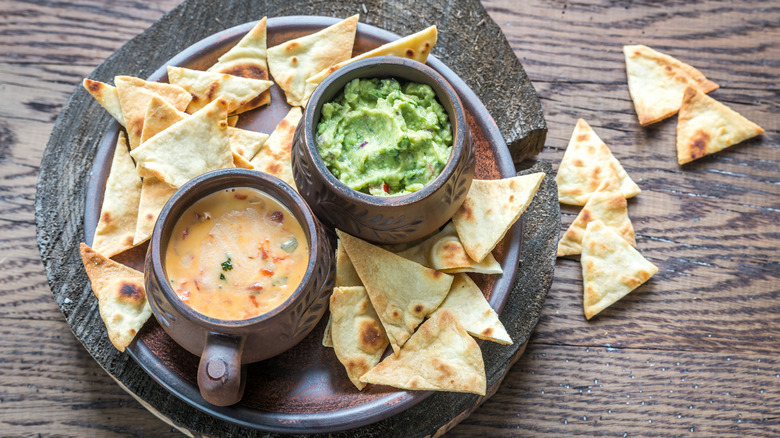 Shutterstock
Fain reports recipes for "Mexican rarebit" as early as 1914 adding chiles to the melty cheese, likely a precursor to our queso today. And while the origins may surprise you, the region that drove the popularity of this dish is likely common knowledge. The rise of chile con queso is widely attributed to Texas and Tex-Mex cooking (via American Express Essentials). 
One specific source may date back to a 1918 menu at Martinez Café (now called El Fenix) by Mexican restaurateur Miguel Martinez. This queso was specifically designed for chips and is the kind we expect to hang out near our guacamole and salsa or pico. "The queso became such a huge hit, it quickly evolved into the signature dip that is still served to — and beloved by — our guests today," says Alfred Martinez Jr, grandson of Miguel and the family's now franchise operation. And while Texas has been eating queso for over 100 years, you can thank the 1960s and '70s for bringing this hit dish mainstream for the rest of us. Rotel dip used the well-known Rotel tomatoes with cheese product Velveeta to help develop our common make-at-home favorite today.