The Surprising Ingredient Bobby Flay Adds To His Queso Dip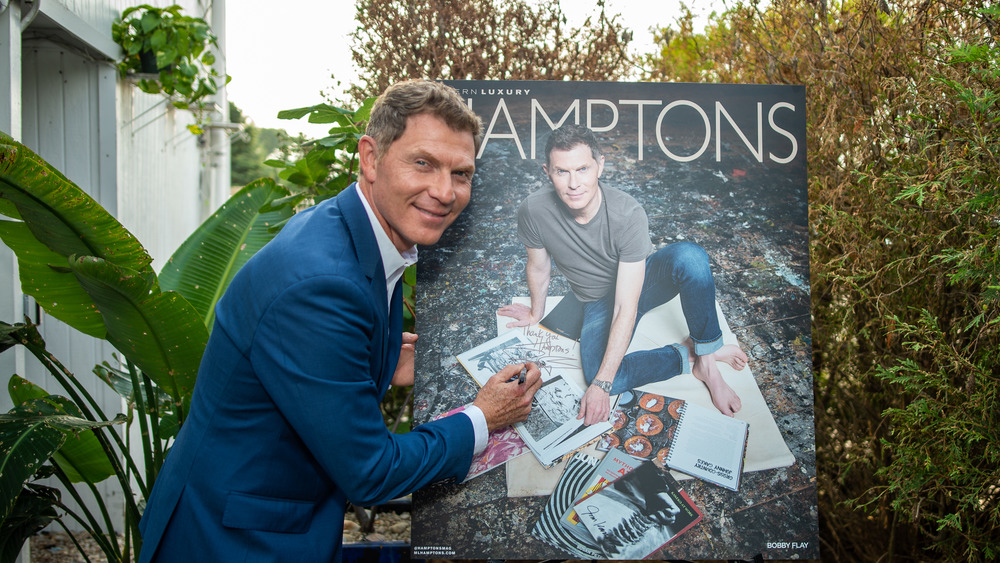 Mark Sagliocco/Getty Images
It's almost time for the Super Bowl, and if you're a Kansas City Chiefs or Tampa Bay Buccaneers fan (or, you know, a Tom Brady fan), it's an even bigger deal than usual. In fact, according to ESPN, this year the Buccaneers will even become "the first team to compete for a Super Bowl title in its home stadium"! 
Of course, Super Bowl Sunday being so close means it's time to start thinking about snacks! Even if you're just watching the game with your significant other or your immediate family, it's definitely cause for some indulgent treats, and Bobby Flay has just the recipe: a cast iron skillet full of queso dip, topped with some pickled poblano relish (via Instagram). Oh, and plenty of tortilla chips for dipping, of course. According to his caption (from Super Bowl season last year), it's a variation of a dish served at his now-closed restaurant, Mesa Grill. Fans swarmed to the comments to express their approval, with one writing: "My mouth is watering." Another noted: "Loved that Queso! Thanks for sharing the recipe." What makes it even better is how simple the dish is to make.
How to recreate Bobby Flay's queso at home
You can find the full recipe for this queso on Bobby Flay's website, and it's a great one for beginners. Even if you have a staple queso recipe that you wouldn't dare stray from, it might be worth trying the relish anyway. All you'll need is a poblano chili, vegetable oil, a red onion, some cilantro, red wine vinegar, salt, and pepper. The combination of blistered poblano with the fresh flavors of red wine vinegar and cilantro promise a perfect accompaniment to any rich, melted cheese dip.
If you've never blistered peppers before, don't worry, it's easy. First, prepare by lining your baking sheet with aluminum foil, brushing the peppers with oil, and spreading them out in a single layer on the baking sheet to ensure even cooking (via Culinary Hill). Then, just keep an eye on them, rotate them regularly, and watch the magic happen before your eyes. You want to remove them from the oven once they're blackened all over but not yet turning ash white. Finally, don't forget to quickly wrap the peppers up with plastic wrap or foil as soon as you pull them out, so they can continue to soften in their own steam (via The Spruce Eats). This will make them even easier to separate from their skins and make into a pickled relish once they've cooled.