Alex Guarnaschelli's Tips For Perfectly Charred Peppers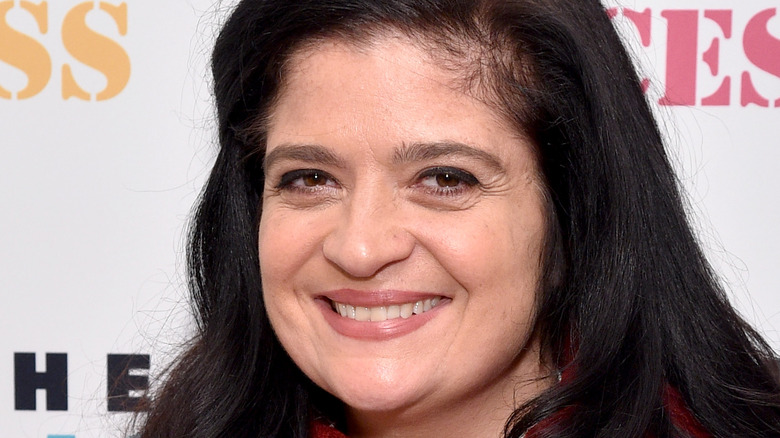 Bryan Bedder/Getty Images
Alexa Guarnaschelli is a big fan of peppers. If you do a quick Google search, you will find the "Chopped" judge cooks with these a lot. From her stuffed peppers to her quick cooking Shishito peppers to her giardiniera, peppers, particularly of the red variety, are one of Guarnaschelli's go-to vegetables. You may even notice that Guarnaschelli often roasts her prized peppers, and we understand why: Their smoky, sweet flavors are great for salads and making hummus, for example. Roasted peppers also make many pasta dishes pop with their color and their subtle but distinct taste. Even fellow Food Network star, Ree Drummond, also known as The Pioneer Woman, uses this ingredient in her quick and easy roasted red pepper pasta. 
And guess what? Roasting peppers is something even a novice cook can do. First, charred peppers are one of the few ingredients that you can actually burn with intention; that's definitely in our wheelhouse of cooking know how. But if you've never scorched any type of peppers, it might seem a little intimidating, right? Well, push those feelings of insecurity aside because Guarnaschelli offered tips and tricks on Instagram to make this culinary challenge easy peasy. 
Char your peppers right on your stovetop
Shutterstock
Charred peppers can add some amazing flavor to any number of recipes, but if you've never charred your own peppers or feel a little sheepish about doing so, Guarnaschelli has you covered. The celebrity chef took to Instagram to offer her best tips and tricks so you're able to char your red bell peppers to perfection.
Guarnaschelli's first recommendation is to char your peppers directly on the burner. The chef uses a gas stove to achieve the right amount of char; she also notes that the charring should not take long. And don't overcook them or they might not be quite "as juicy." If you watch Guarnaschelli's video, you can see how quickly the outside skin of the peppers burns. Guarnaschelli then says you want to peel and seed them while they're hot. Once you do this, pop them in the refrigerator, no paper or plastic storage bag required while they're cooling.
Guarnaschelli clearly knows what she's doing; one of her followers even commented, "Exactly how my husband's Italian grandmother taught me ... store some in evoo with a few whole garlic cloves ... yum." Sounds yum to us too. Thanks, Alex.