Trader Joe's New Calrose White Rice Is Perfect For Summer Poke Bowls
In early May, @TraderJoesList spotted an eye-catching illustration on the shelf of their local Trader Joe's. Retrieving the item revealed it to be a bag of Calrose rice, which they later shared on Instagram. For $2.45, you could get a two-pound bag of rice with, in their words, "a sticky texture perfect for poke bowls or as an accoutrement to your favorite fried food like orange chicken."
As of writing, the responses to the rice have been almost universally positive. Followers use the rice for paella, stuffing vegetables, and rice pudding amongst other things. "The best!! Medium grain is all I ever use and it's not always easy to find," one comment enthused. "I was so happy when I saw it at traders!" The few that have not had a religious experience over the new rice point to the fact that the type Trader Joe's is selling is not organic. They do not, however, dismiss the colorful illustration that originally caught the eye.
An eye-catching illustration of research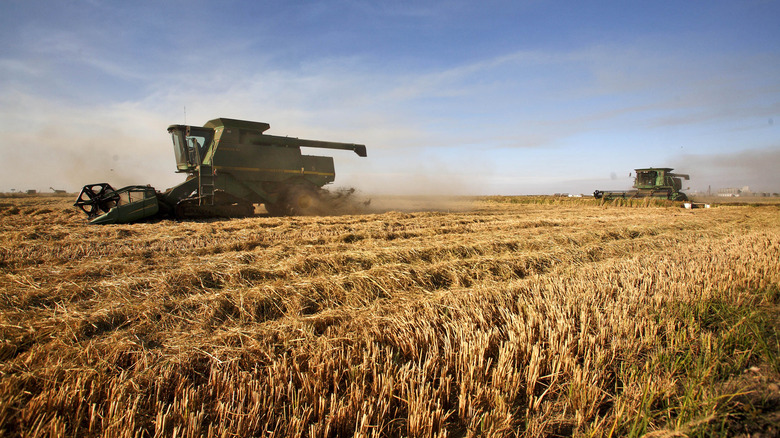 Bloomberg/Getty Images
Calrose rice is the result of the efforts made by the Rice Experiment Station near Biggs, Calif. According to their centennial packet, the station — which works under the nonprofit California Cooperative Rice Research Foundation, Inc. (CRRF) — was founded in 1912 to research and develop breeds of rice that would flourish in the Californian climate. In 1948, Calrose was the third such strain struck upon and the first to be the medium grain that Instagram loves.
As The Kitchn reports, Calrose now marks 85% of California's rice yields. It's soft, sticky, and mild in flavor, making it a perfect pairing for most dishes. Hence, its popularity. Looking back at a century of research that now contributes over a billion dollars to the state's economy, Edward Knipling of the U.S. Department of Agriculture praised to The Enterprise-Record both the station's unique funding model that relies primarily on payments made by Californian growers and the results of such research: "The results have been profitable for the industry and for the public."
Unfortunately, that is not so easily communicated via the packaging's illustrations. But the TJ's bag does feature a "Grown in California" seal in the corner.