This Cooking Method Stops Flourless Cakes From Burning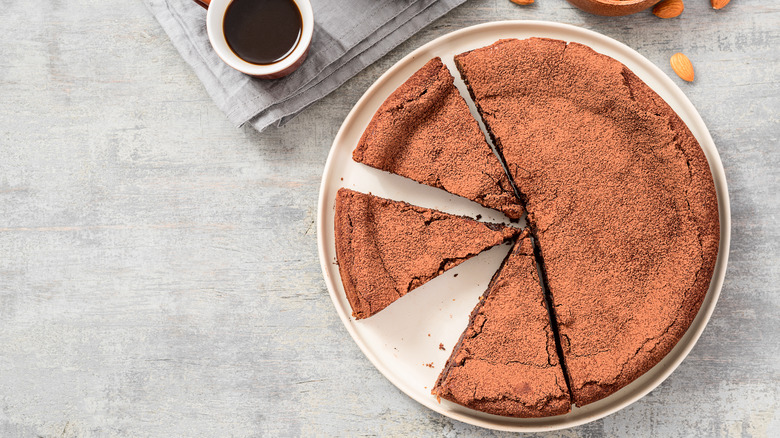 Shutterstock
Baking and decorating a cake is always a great way to spend a weekend by yourself or with friends and family — the reward being you get to enjoy it after! And it can actually be enjoyable with simple hacks to transform a simple boxed cake into a gourmet dessert. There are a few mistakes to watch out for so nothing goes wrong with your cake, though — when it comes to flourless cakes especially, you'll want to make sure that the bottom doesn't come out burnt.
According to Allrecipes, there's a way to bake your flourless cake that can actually prevent the bottom of the cake pan from getting too hot. All you need to do is prep a water bath. Another, more fancy, name for this water bath technique is bain marie, according to Culinary Hill. Bain marie might sound intimidating, but in actuality, water baths are easy to prep, so you'll be enjoying your well-baked cake in no time.
Here's how to make a water bath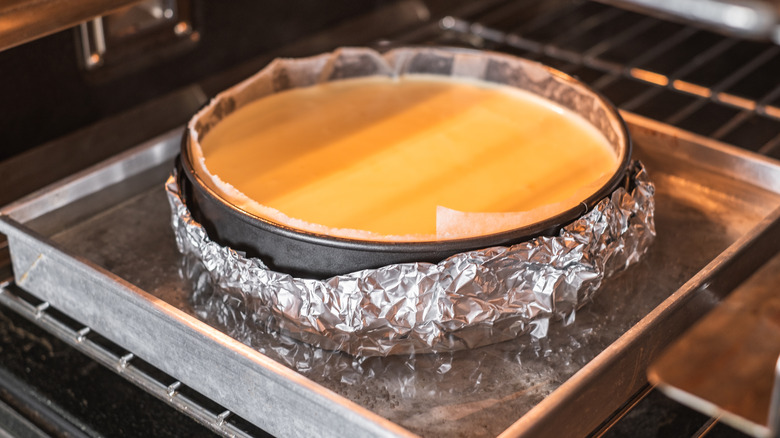 Shutterstock
If you're an avid baker, you may have already used this technique with cheesecake or crème brûlée. And, another pro tip: you can also use a water bath to make sure your pumpkin pie has the right texture for its creamy filling as this method ensures heat is evenly distributed. 
Epicurious shows how easy making a water bath can be. All you need to do is take your smaller pan with the pre-baked flourless cake, place it in a larger pan, and fill the larger pan with boiling water until the water reaches the halfway mark of the cake pan. Then bake all pieces together. The method is straightforward, but there's a few more tips you should know to make everything run smoothly.
Food 52 recommends boiling your water in a kettle to make pouring easier with no splashes or any possible diluting of the batter. According to Food 52, keep an eye on the cake as it bakes and if too much water evaporates, you can also refill the water bath midway through the baking process. Their final recommendation is to lift the cake pan out of the oven first and wait for the pan full of water to cool before removing it. 
Ready to give this method a try? This decadent flourless chocolate cake is a great way to perfect your water bath technique and enjoy a treat, too.