Hearty Stuffed Mushrooms Recipe Your Guests Will Rave Over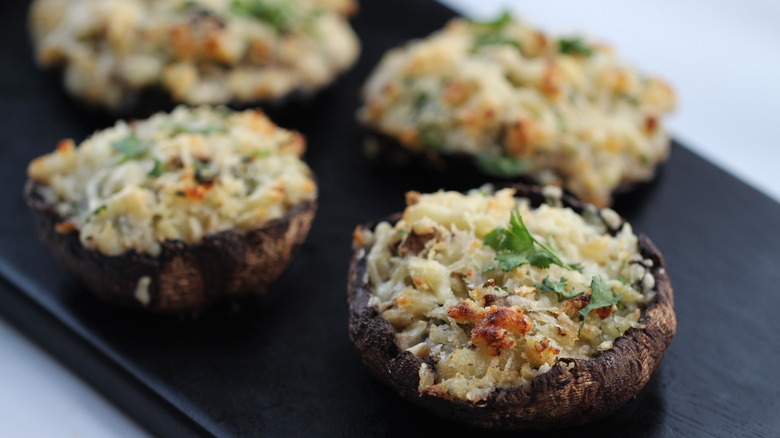 Susan Olayinka/Mashed
For your next get-together with friends, ditch the usual chips and dips, and go with a simple yet scrumptious appetizer: stuffed mushrooms. Given how easy it is to prepare this rather sophisticated-looking dish, you might want to pin the recipe up on your fridge. We're not joking — this dish probably requires less work than deciding which restaurant to order your takeout from.
Catered to suit a busy lifestyle, this quick and hearty dish is developed by Susan Olayinka of The Flexible Fridge. Your go-to recipe the next time you're playing hostess should most definitely be Olayinka's tasty creation. "There's something luxurious about stuffed mushrooms! And the stuffing makes this so delicious," she says.
The fact that mushrooms — the key ingredient in the dish — are also healthy for you, is just the icing on the cake. According to Healthline, mushrooms are loaded with vitamins, fiber, antioxidants, and minerals, and they are fat-free. And unlike meat or certain vegetables, you can't undercook mushrooms. A whole mushroom tastes good even when eaten raw!
Olayinka's recipe takes the flavor of this humble ingredient up a notch, by stuffing it with cheese and charring it just a bit in the oven. The result is a delectable plate of stuffed mushrooms you won't be able to get enough of.
Gather the ingredients to prepare stuffed mushrooms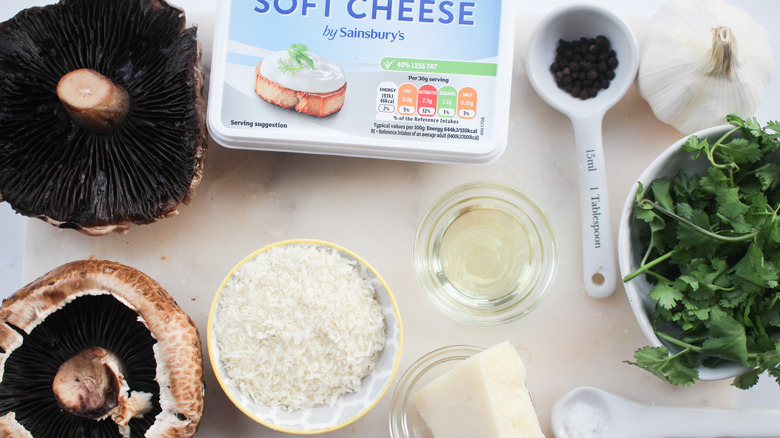 Susan Olayinka/Mashed
The recipe requires a short list of ingredients, a majority of which go towards making the stuffing. To make sure that you don't miss out on a particular ingredient, it's best to gather everything you need right on your kitchen counter. All that you need to make the stuffing is probably already chilling in your pantry: 1 cup of soft cheese, ½ cup of Parmesan cheese, ¼ cup of breadcrumbs, 3 tablespoons of freshly chopped parsley, and 1 teaspoon each of salt and pepper. Also keep aside 1 tablespoon of Parmesan to sprinkle on top of the stuffed mushrooms, in addition to 1 tablespoon of extra-virgin olive oil to drizzle on them before baking. 
Now, let's focus on the star of the recipe: portobello mushrooms. You will need six of them for this dish. Go ahead and inspect the mushrooms you have. Discard the ones that look slimy or spotted. You need ones that are firm to the touch and have a consistent color on their cap (via The Produce Moms). Once you have all of the ingredients set on the table, it's time to get the tough part over with: cleaning up the mushrooms.
Prep the portobello mushrooms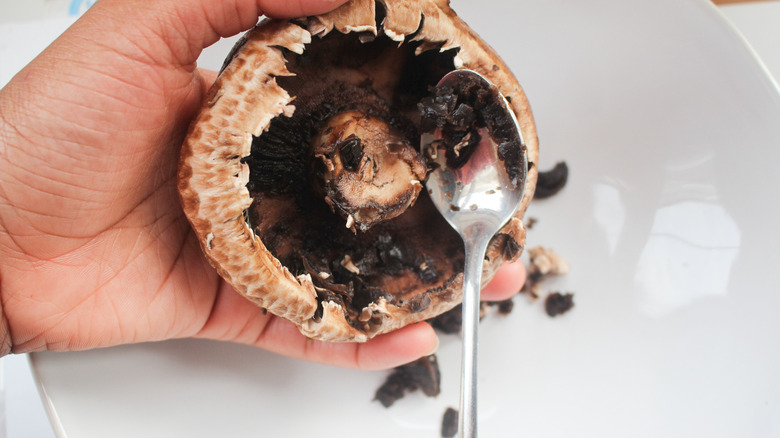 Susan Olayinka/Mashed
If you have never cooked a portobello mushroom before, handling this tiny umbrella-like fungi can seem a bit strange. It has a large cap, dark flaps called gills under the cap, and a thick stem. Every part of a portobello mushroom is edible. For this dish, however, we have to remove the gills to make space for the cheese stuffing. 
To do this, hold the mushroom firm in one hand, and, using a small spoon, gently scrape it out. At the end of this process, you'll have a smooth cavity to fill the stuffing in. Make some more space by chopping the stem right at the base. This way, your mushroom looks like a small sturdy pot. The stem should be diced and kept aside. It will later be used as part of the stuffing. 
Moving on to the big question: Should you or should you not clean your mushrooms in water? Mushrooms are highly porous and if soaked in water, can turn soggy. But muddy mushrooms have to be washed in water — and it's okay to do so as long as you don't leave them in for long. "I usually run my mushrooms under the tap then pat them dry with tissue paper or use a salad spinner to dry," says Olayinka. The clean and dry mushrooms are ready for the stuffing.
Before moving on to the next step, preheat the oven to 350 F.
Prepare the stuffing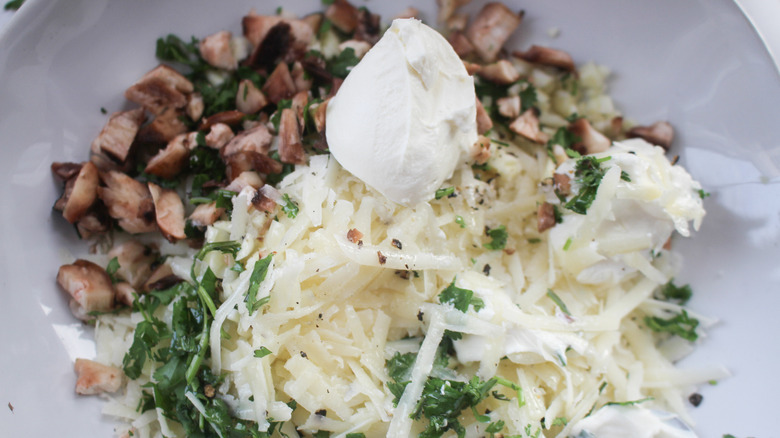 Susan Olayinka/Mashed
This step is a no-brainer. Put all of the ingredients for the stuffing — including the soft cheese, Parmesan cheese, breadcrumbs, and chopped parsley — into a bowl. It is important that you use a mix of the hard cheese — aka the Parmesan — and soft cheese. Soft cheese has a high moisture content, is mild-tasting, easily spreadable, while hard cheese is mostly used in grated or crumbly form and has a sharper taste. "The soft cheese is the binder and the Parmesan really adds that sharp taste. So, for taste and texture, I use both," says Olayinka. She recommends using soft cheese with high fat content. 
Add the chopped mushroom stems that you had kept aside while prepping the mushrooms to this cheesy mix. The soft cheese is going to make the mix very pasty, so your best bet, according to Olayinka is to use a wooden spoon. "Your hands may be a little cheesy otherwise! The mixture is pretty soft, which is good," says Olayinka. Mix it until you see that all the ingredients have come together as one flavorsome mass.
Stuff the mushrooms, and bake for 25 minutes at 350 F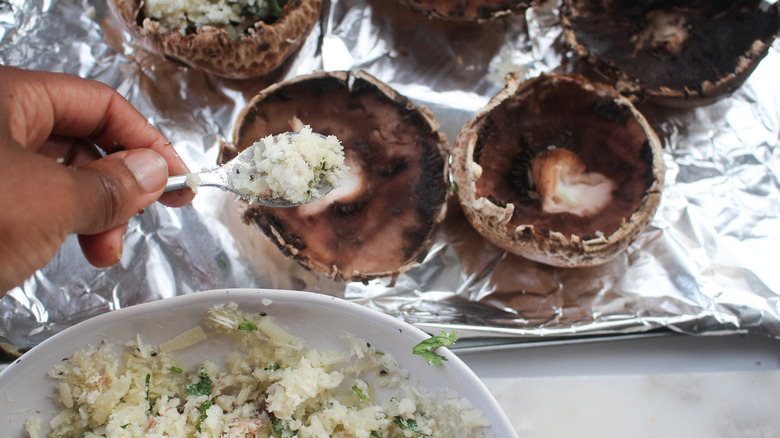 Susan Olayinka/Mashed
For the last step, fill generous amounts of the stuffing into the cavities of the mushrooms using a spoon. Top this cheese stuffing with some more cheese. Yes, you read that right. Sprinkle grated Parmesan cheese on top of the stuffed mushrooms. This is an important step, as it is this layer that turns a golden hue and gives the appetizer a crusty texture on top when baked. Layer up a pan with an aluminum sheet, and lay the stuffed mushrooms on it. Drizzle some extra-virgin olive oil before you slide them into the oven.
Bake for 25 minutes at 356 F. You will know your dish is done with that strong whiff of baked mushroom and cheese wafting in the air. "Mushrooms don't take long to cook, so as long as the cheese has turned brown, you are good to go," says Olayinka. Take the tray out of the oven, and garnish the mushrooms with freshly chopped parsley. 
While there is no doubt that the dish makes for an appetizer all by itself, if you are planning a whole dinner course, Olayinka recommends it be served "as a starter to a tomato-pasta dish or maybe paired with some roasted sweet potatoes."
Hearty Stuffed Mushrooms Recipe Your Guests Will Rave Over
For your next get-together with friends, go with a simple yet scrumptious appetizer: stuffed mushrooms.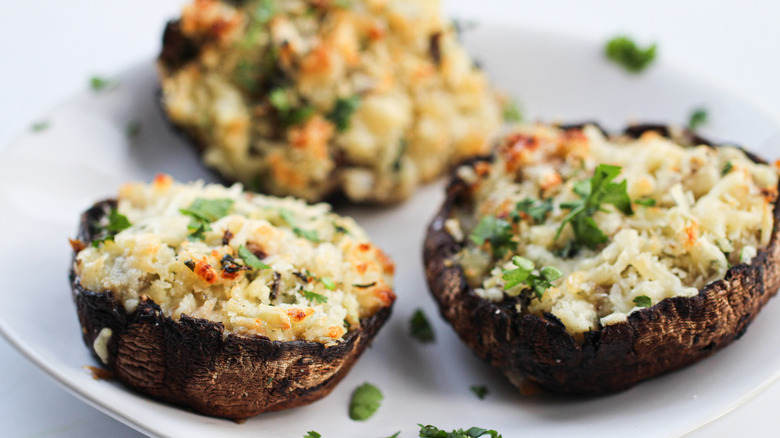 Ingredients
6 portobello mushrooms
1 cup soft cheese
½ cup Parmesan cheese + 1 tablespoon
¼ cup of breadcrumbs
3 tablespoons parsley, chopped
1 teaspoon black pepper
1 teaspoon salt
1 tablespoon extra-virgin olive oil
Directions
Gather the portobello mushrooms, and take out the stems and gills with a spoon. Then, set aside.
Chop the mushroom stems into smaller pieces.
Preheat the oven to 350 F.
Place the chopped mushroom stems, soft cheese, Parmesan cheese, breadcrumbs, chopped parsley, black pepper, and salt into a mixing bowl. Mix together until well incorporated.
Spoon the mixture into the portobello mushrooms, ensuring that none are overflowing.
Sprinkle 1 tablespoon of Parmesan cheese on all of the stuffed mushrooms. Then, drizzle olive oil on the stuffed mushrooms.
Bake for 25 minutes in the oven at 350 F.
Serve, and enjoy.
Nutrition
| | |
| --- | --- |
| Calories per Serving | 392 |
| Total Fat | 26.9 g |
| Saturated Fat | 13.4 g |
| Trans Fat | 0.5 g |
| Cholesterol | 61.7 mg |
| | |
| --- | --- |
| Total Carbohydrates | 15.2 g |
| Dietary Fiber | 3.0 g |
| Total Sugars | 5.1 g |
| Sodium | 707.8 mg |
| Protein | 24.4 g |