Crab Stuffed Mushroom Recipe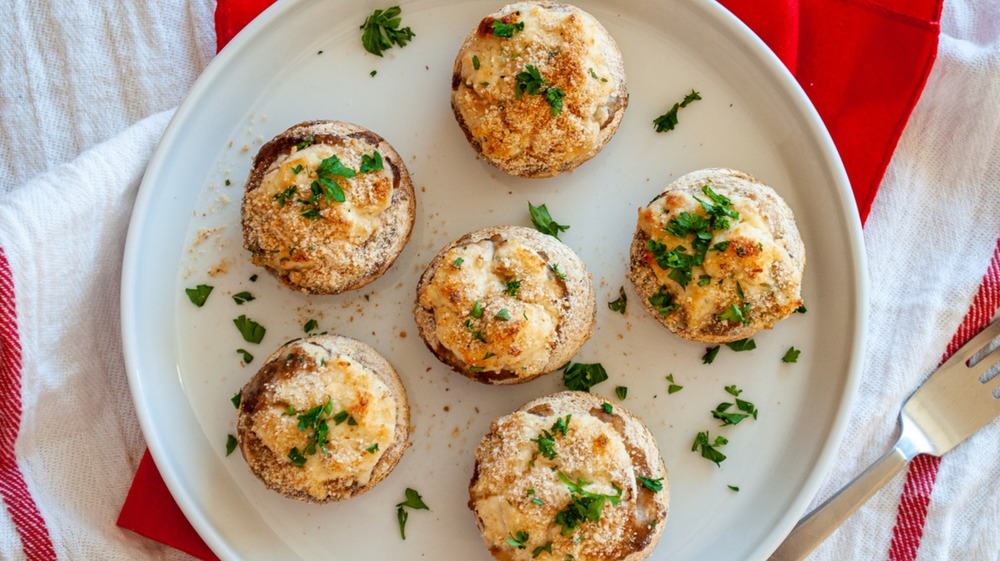 Laura Sampson/Mashed
It's always nice to have a yummy, warm appetizer in your back pocket to whip up when someone drops by. Can you think of anything more savory and delicious than crab stuffed mushrooms? Laura Sampson, who blogs at Little House Big Alaska, explained her inspiration for her recipe for this very dish to Mashed, saying, "It's based on a smoked salmon dip I like to make. Living in Alaska, we almost always have smoked salmon in the pantry or freezer and almost everyone has a smoked salmon dip they love to make!" 
This switch-up is perfect for company as well, with Sampson saying, "I think this is a great recipe to serve when you're entertaining. It's so nice to pull something hot out of the oven for snacking."  
"It's also low-carb, so if you've got diabetic friends or low-carb dieters this is a good recipe to serve them," she adds, also sharing, "These work best as an appetizer or as part of a light dinner, so maybe serving them alongside fresh bread and salad."
Of course, some may find the recipe a bit intimidating if you've never tried to make crab stuffed mushrooms (is it just us?). But Sampson assures home cooks, "This recipe is really easy to make. There's not a lot involved in making it and yet it tastes so amazing."
Gather your ingredients for the crab stuffed mushrooms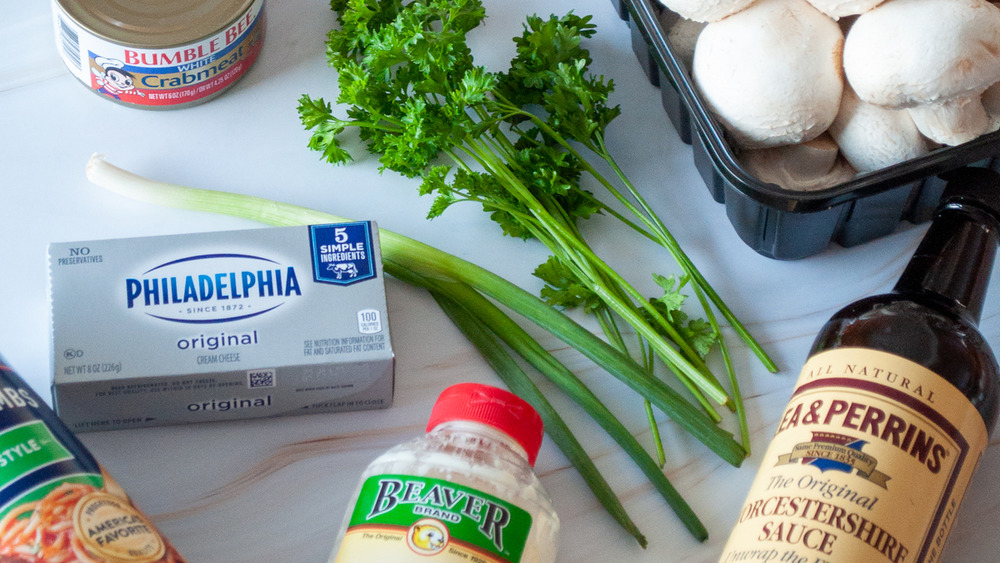 Laura Sampson/Mashed
As for ingredients, Sampson is right about the easy part here. You'll simply need fresh medium white mushrooms, cream cheese, a can of crab meat, Worcestershire sauce, horseradish, chopped green onion, Italian breadcrumbs, and minced parsley — the most exotic ingredient of which is probably the horseradish (the rest of the ingredients you may already have in your refrigerator and pantry). As for why Sampson chose this root vegetable for this recipe, she explained, "The horseradish is a tangy counterpoint to the heavier cream cheese flavor."
Prepare your mushrooms for filling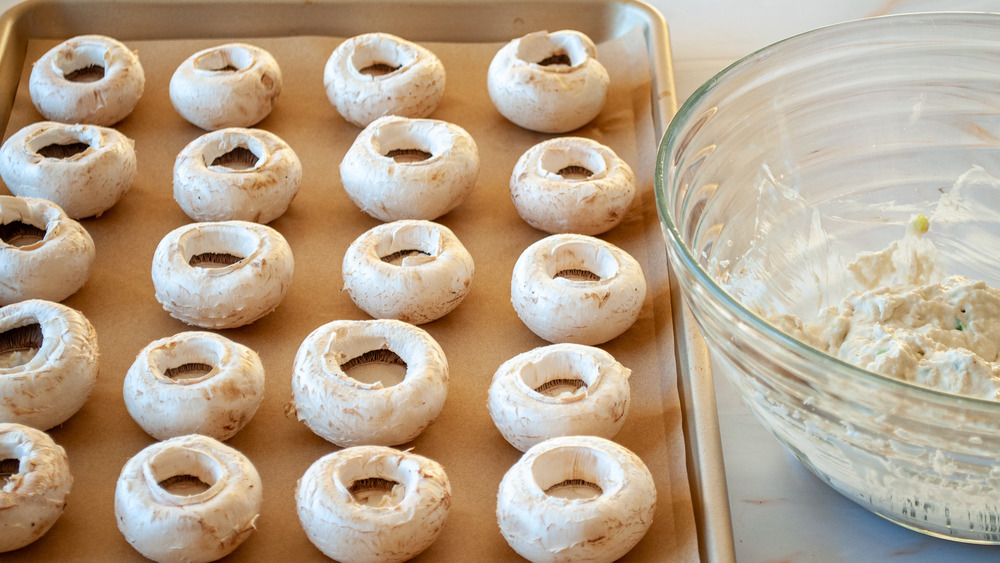 Laura Sampson/Mashed
So, the first thing you'll want to do when creating any stuffed mushrooms recipe is remove the stems from your mushrooms. We asked Sampson if there is a trick to pulling the stems off cleanly. Luckily, she has our backs. "Once you've wiped the mushrooms clean, you can just pop the stems right out," she advises, adding, "Grasp at the base and pull." And get this — the stems don't even have to get wasted. "Those stems can be saved and used in other dishes or at a bare minimum, a vegetable broth recipe." 
Prepare your crab filling for these stuffed mushrooms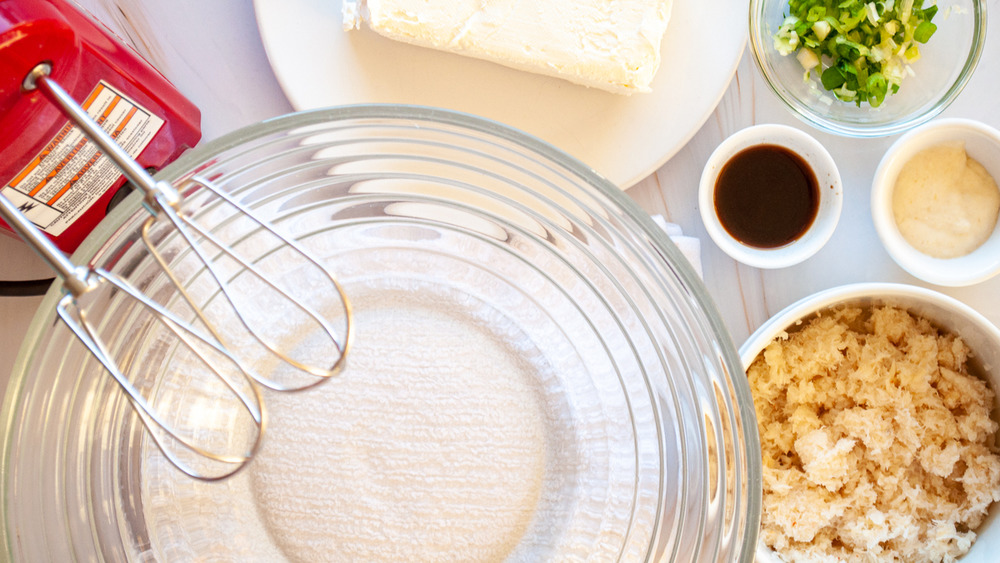 Laura Sampson/Mashed
The first step to preparing the filling is to pick over your drained crab meat. Wait, what? This means you'll be looking out for bits of crab shell, according to Sampson. And the technique is easy. "If you just toss the crab meat with a fork, any pieces of the shell should become pretty apparent," she notes. Next, you'll add in your softened cream cheese. "Just let it sit on the counter for at least an hour," Sampson recommends, adding, "Unwrapped works best."
Time to add the Worcestershire sauce, horseradish, and green onions. Then, use a hand mixer to combine the ingredients. Don't own a hand mixer? That's okay. "The cream cheese filling can easily be made by hand using a wooden spoon, or even a rubber spatula," Sampson told us. 
Meanwhile, if you want to make this dish even spicier, Sampson says "adding more horseradish to taste or adding a few dashes of Sriracha" should do the trick. If you aren't a green onion fan, Sampson says, "You can use onion powder, or garlic powder if those work better for you. Or, try fresh chives or shallots instead."
Stuff those mushrooms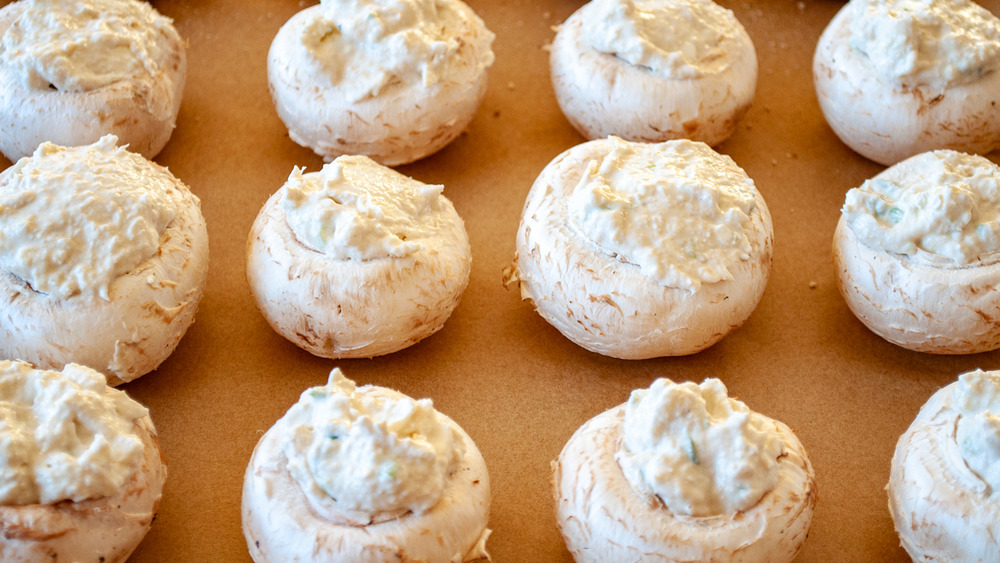 Laura Sampson/Mashed
Once your filling is prepared, you'll fill each mushroom cap with an equal amount. "You can just fill them a little more than full," Sampson advises home cooks, adding, "they should be stuffed but not overstuffed." She offers this inside tip as well: "You may have a little of the filling left over after stuffing. It's great for a quick cook's snack with crackers!" Sounds like the perfect reward for all that "hard work" in the kitchen! And, perfect timing because these babies are almost ready to be popped in the oven.
Add your breadcrumbs and seasoning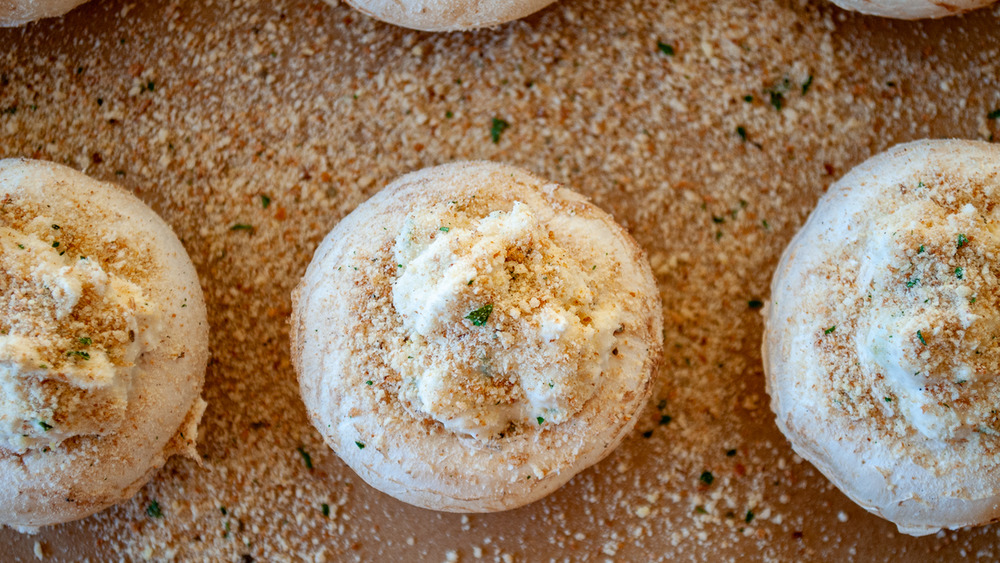 Laura Sampson/Mashed
Finally, you'll sprinkle the tops of your filled mushrooms with breadcrumbs, place them on a baking sheet lined with parchment paper or foil, and place your masterpiece in a preheated 400 degree oven. Just 20 to 25 minutes to wait until you can taste your yummy creation. Meanwhile, chop your garnish. "I always like to sprinkle on something green like chopped parsley to make them look prettier. Serving them on lettuce or kale leaves would be really pretty too," recommends Sampson.
When to know if your mushrooms are done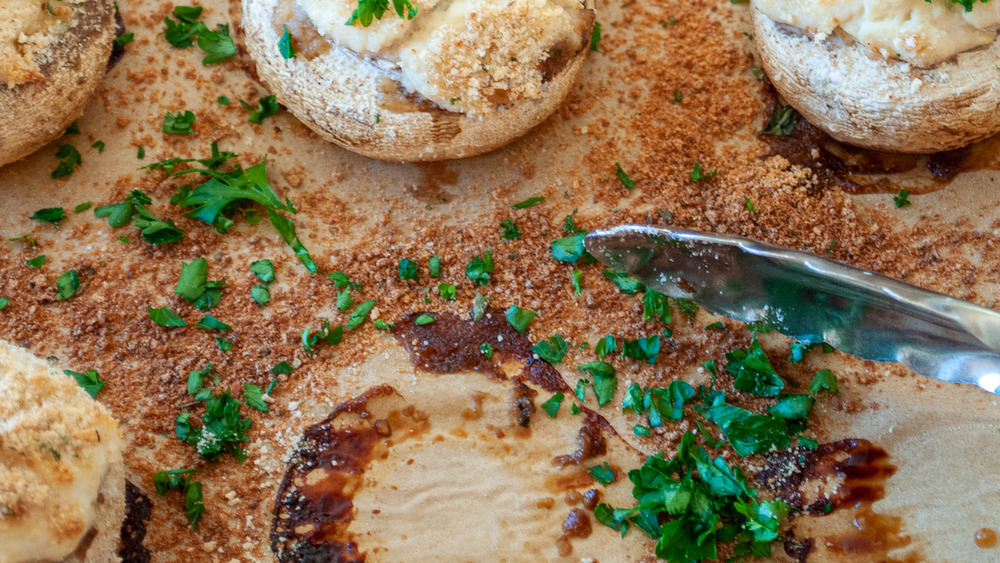 Laura Sampson/Mashed
The stuffed mushrooms are ready when the mushrooms are tender and the breadcrumbs brown up. But what if you take the dish out too soon, only to realize your 'shrooms aren't quite tender enough? Not that this has ever happened to us. Ahem. "If you accidentally pull your mushrooms out too early, that's not a problem," assured Sampson. "Just put them right back in the oven. Bake for another 5 minutes or until they are soft." Just don't bake 'em too long — like until they are falling apart. "They should have a bit of bite left to them," she tells us.
Crab Stuffed Mushroom Recipe
Can you think of anything more savory and delicious than crab stuffed mushrooms? This recipe is really easy to make — it's perfect for the beginner chef.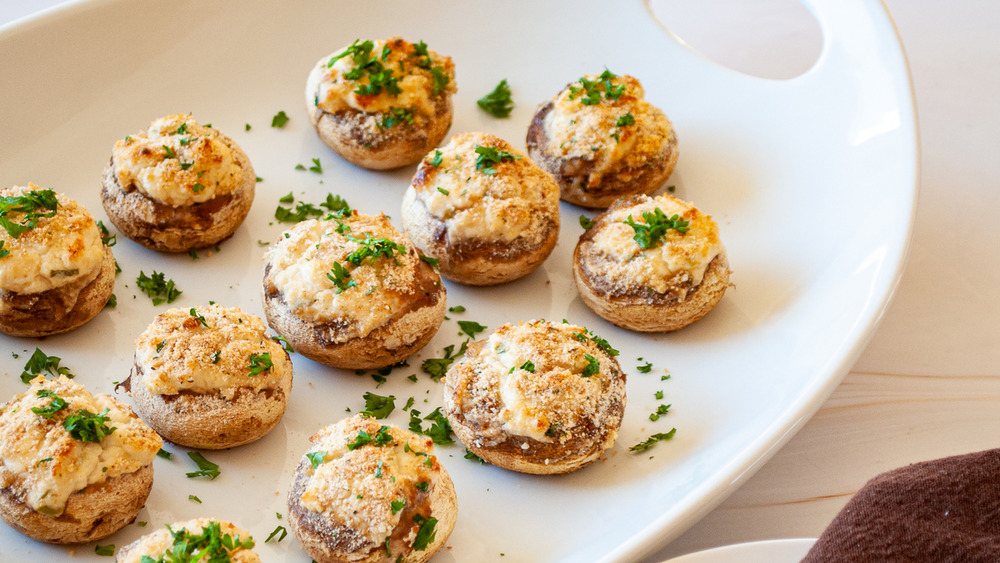 Ingredients
20 medium white mushrooms
8 ounces of cream cheese, softened
6 ounce can of crab meat, picked over
1-2 teaspoons Worcestershire sauce, to taste
1-2 teaspoons horseradish, to taste
1 tablespoon finely chopped green onion
¼ cup of Italian breadcrumbs
minced parsley
Directions
Preheat the oven to 400 degrees.
Line a baking sheet with parchment paper or foil.
Pull the stems out of the mushrooms and place the caps on the prepared baking sheet.
In a mixing bowl put the cream cheese, crab meat, Worcestershire sauce, horseradish, and green onions.
Mix with a handheld mixer until mostly combined.
Stop mixing and scrape the sides of the bowl, taste for Worcestershire sauce and horseradish, add more if desired and mix again just until well combined.
Use a spoon and stuff each mushroom cap with the cream cheese filling.
Divide filling evenly among the mushrooms.
Sprinkle with the breadcrumbs.
Bake in the preheated oven for 20-25 minutes until the mushrooms are tender and the breadcrumbs brown up.
Sprinkle with minced parsley.
Let them rest 5 minutes before serving.
Nutrition
| | |
| --- | --- |
| Calories per Serving | 56 |
| Total Fat | 4.1 g |
| Saturated Fat | 2.2 g |
| Trans Fat | 0.0 g |
| Cholesterol | 20.7 mg |
| | |
| --- | --- |
| Total Carbohydrates | 2.2 g |
| Dietary Fiber | 0.3 g |
| Total Sugars | 0.9 g |
| Sodium | 106.1 mg |
| Protein | 3.0 g |