Easy Baked Lemon Chicken Recipe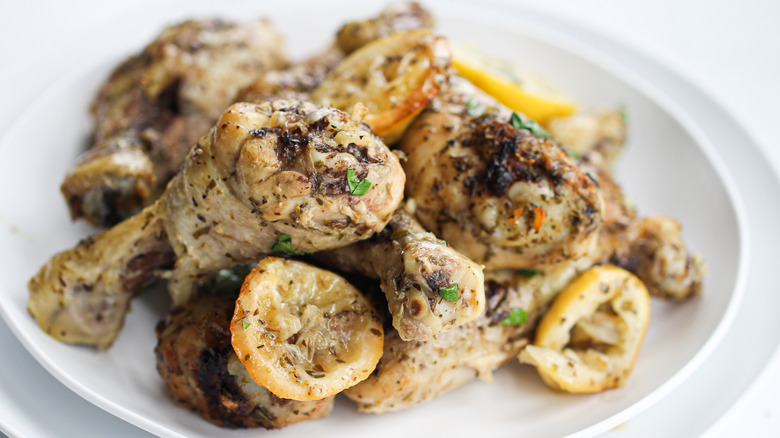 Susan Olayinka/Mashed
Every family has a few reliable stand-by foods around which a meal can always be built. Be it baked salmon, pan-fried tofu, roasted pork chops, or what have you, there are always a few entrees that everyone likes and that can be served as the anchor of a variety of meals.
Baked Lemon Chicken is one such entree that you may never have made before but will surely find its spot onto your household's go-to dinner roster the first time you serve it. Why? Two reasons: First, the diners, meaning family members, will love it. Second, the chef, meaning you, needs only about 10 minutes to prep the meal, and you'll love that.
"My family and I love lemon chicken, says chef and recipe developer Susan Olayinka of The Flexible Fridge, adding: "It's healthier because it's baked and it tastes so fresh because of the lemons." There is also a surprising amount of flexibility here. "Rice or roasted potatoes would work really well with this meal," says Olayinka, but you can also slice the meat off the bone and use it in wraps, salads, soups, tacos, and so on. What you are creating is a tasty, versatile protein that can be the centerpiece of all sorts of eats.
Gather your ingredients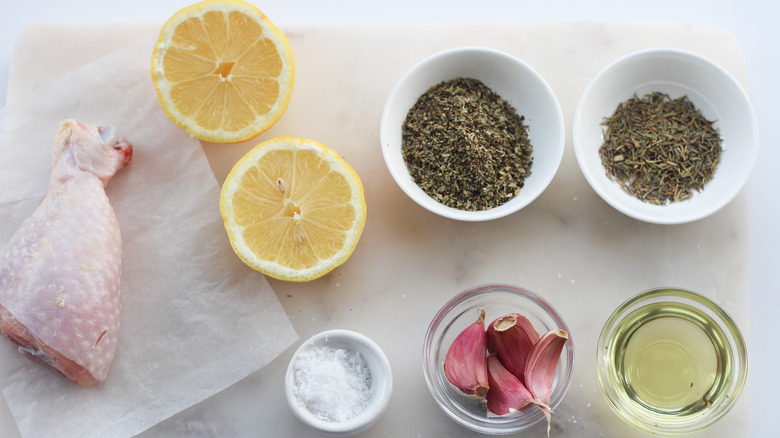 Susan Olayinka/Mashed
As with the prep and cooking of this dish, the ingredient list is also pretty simple stuff here. As in you need all are seven basic ingredients. And those are chicken drumsticks, a few lemons, oregano, thyme, garlic cloves, some extra virgin olive oil, and some salt. Want a bit of a kick? Add some pepper.
As for the hardware needed, beyond a knife to slice the lemons and chop the garlic cloves down into bits, all you need is a single baking dish. (Got a garlic press? Then by all means use it.) Oh, and an oven in which to bake the stuff, you need that too. But that's it!
Prep and season the chicken
Susan Olayinka/Mashed
First things first: preheat your oven to a modest 320 degrees Fahrenheit, as you'll be cooking this chicken in a rather low and slow approach. Next, wash the chicken drumsticks and then pat them dry.
Now coat the baking dish (a glass pan works best) in the olive oil, then place the chicken the dish followed by the juice of two lemons, dried oregano, dried thyme, chopped (or pressed) garlic cloves, and salt.
Mix everything together with your hands (or with a silicone spatula if you don't want to be so hands-on) so that the marinade of juice and herbs coats the pieces of chicken well.
Add in lemon slices and then bake the chicken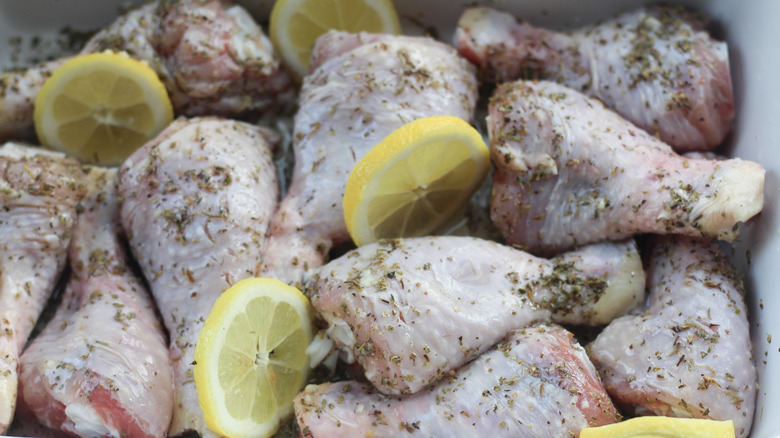 Susan Olayinka/Mashed
Cut another lemon into slender discs and then put the slices in the casserole dish spread out evenly and nestled around the chicken pieces. In this stage and in the juicing step, note this advice from Olayinka: "A mistake to watch out for is to ensure you don't squeeze any pits from the lemon. It's so easily done, and biting into one isn't the best experience."
Now cook the chicken in the oven at 320 degrees for 1 hour, and then take the dish out and serve it, whether with some rice, pasta, or potatoes, beside roasted veggies, cut into pieces for wraps — on and on the list of possibilities goes!
Easy Baked Lemon Chicken Recipe
These easy, slow-baked chicken drumsticks only require a handful of ingredients and make for a versatile main dish that will become a staple in your home.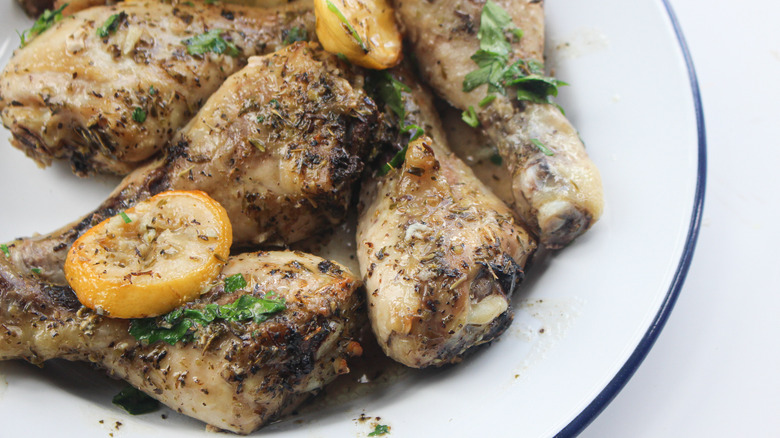 Ingredients
10 chicken drumsticks
olive oil, for greasing the baking dish
3 lemons
1 tablespoon dried oregano
1 teaspoon dried thyme
4 garlic cloves, chopped
2 teaspoons salt
Directions
Preheat the oven to 320 F and then wash the chicken drumsticks and pat them dry.
Grease a baking dish with the olive oil. Place the drumsticks into the dish, followed by the juice of 2 lemons and the dried oregano, dried thyme, chopped garlic cloves, and salt.
Mix everything in the dish together with your hands (or with a silicone spatula) so that the juice and herbs coat the drumsticks well.
Cut the remaining lemon into thin discs and put the slices in the baking dish scattered around the drumsticks.
Cook in the oven for 1 hour.
Remove the dish from oven and serve, ideally with rice or pasta.
Nutrition
| | |
| --- | --- |
| Calories per Serving | 601 |
| Total Fat | 36.0 g |
| Saturated Fat | 8.9 g |
| Trans Fat | 0.2 g |
| Cholesterol | 305.9 mg |
| | |
| --- | --- |
| Total Carbohydrates | 6.1 g |
| Dietary Fiber | 1.7 g |
| Total Sugars | 1.2 g |
| Sodium | 895.8 mg |
| Protein | 60.9 g |