Copycat Burger King Impossible Whopper Recipe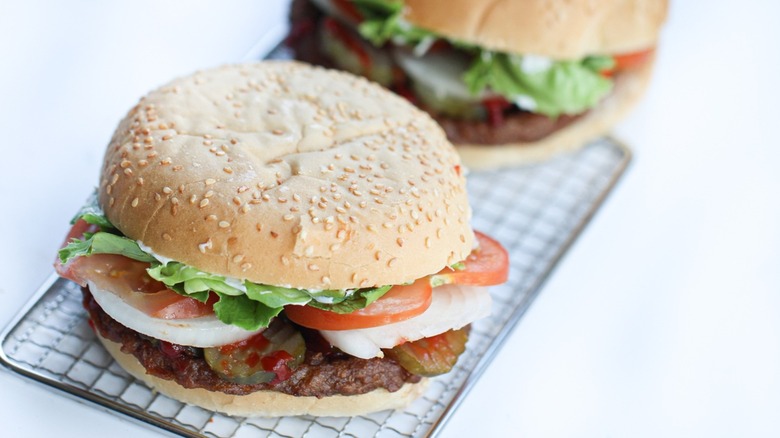 Susan Olayinka/Mashed
Burger King's Impossible Whopper has become a favorite among burger-loving vegetarians. It's a way to enjoy a burger without overthinking about the calories or animal sources — and who wouldn't want that? Even some meat-eaters might enjoy the Impossible Whopper, considering it's like the regular Whopper with some of the same ingredients like tomato, mayonnaise, onions, pickles, and buns — but instead of a flame-grilled beef patty, a plant-based Impossible burger is substituted instead.
While some vegetarians might be happy with Burger King's Impossible Whopper, some others, and especially vegans, may not be. Not only is the Burger King Impossible Whopper cooked on the same broilers as other burgers (though you can request a different cooking method), the burger has mayonnaise, and this dressing is made of eggs — which is not vegan. However, you can totally change that by making this delightful burger at home.
Not only can you cook the patty on a meat-free surface, but instead of regular mayo, you can use a vegan version instead. "Vegan mayo would work a treat! They both taste very similar to me," says recipe developer and food blogger Susan Olayinka of The Flexible Fridge. "I'm a great fan of meat-free food, so this burger ticks all the boxes. It's light too. Vegans and vegetarians no longer have to feel left out in a barbecue or for dinner."
That being said, let's get started on making our own copycat Impossible Whopper at home.
Gather your ingredients for the copycat Burger King Impossible Whopper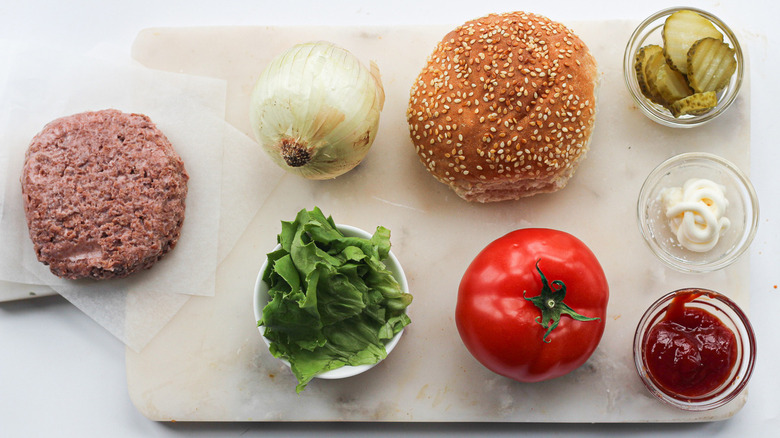 Susan Olayinka/Mashed
To make the copycat Impossible whopper, you will only need eight ingredients, and some of them are likely already in your kitchen, like ketchup, mayonnaise, and white onion. For the other needed ingredients, which are easy to find, you may have to do a quick grocery run: vegetable burger patties (imitation meat), pickle slices, burger buns, beefsteak tomato, and curly leaf lettuce. For vegans, you can substitute vegan mayonnaise for regular mayo.
Preheat the oven and flatten the burger patties for your copycat Impossible Whopper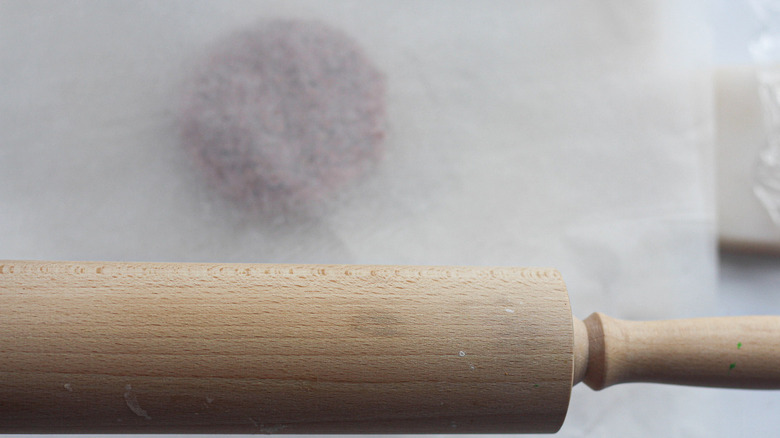 Susan Olayinka/Mashed
Prepare all of your ingredients for the copycat Impossible Whopper in one place at the kitchen counter, so they're easy to grab when you need them. To get started, you will need to preheat the oven at 350 degrees Fahrenheit. The step is simple yet crucial, as it will generate the right temperature for cooking later on. If the vegan burger patties are not thin, flatten them out. You can use a rolling pin and place the imitation meat in between two sheets of parchment paper to begin. "Thin patties are important to make it very similar to the Burger King version," says recipe creator Susan Olayinka.
Cook the veggie burger patties for your copycat Impossible Whopper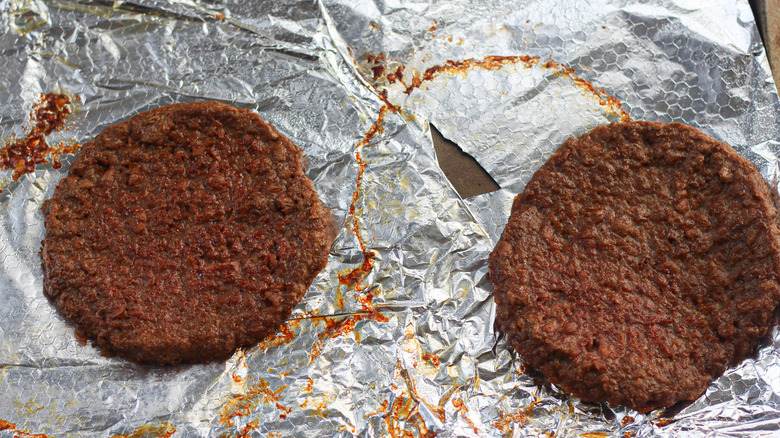 Susan Olayinka/Mashed
For the next step, you will need a baking tray. Line the tray with foil and place the burger on it — take note that the cooking time is different with each brand of burger patties, so pay extra attention and always read the instructions. 
Pop the tray in the oven and cook based on the instructions on your patties' packaging. If you intend to make more than two burgers, you can place three or more burgers in the baking tray if it's big enough. Doing so can save you time and electricity or gas.
Slice the onions, tomato, and place the veggie burger patties on the buns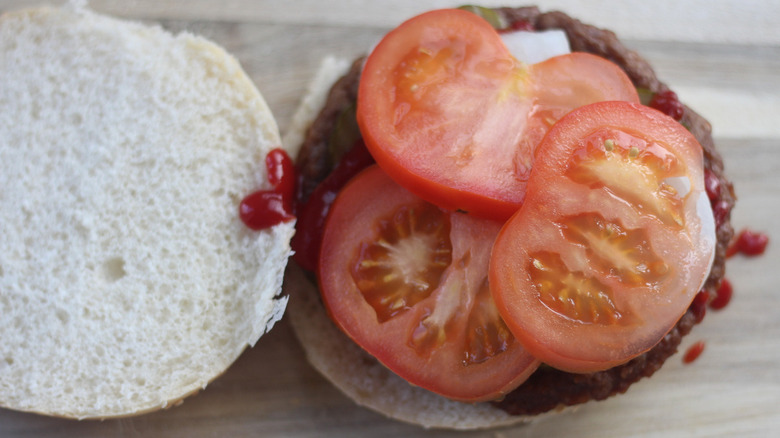 Susan Olayinka/Mashed
While waiting for the burger patties to cook, you can slice the onions into thin discs. You can also cut the other vegetables like the beefsteak tomato and the curly leaf lettuce according to your preference. Once your patties are cooked, place them on top of the bottom burger bun — and you can do this step on all the burgers. But if you like to take time preparing each burger, you can certainly do so, which what recipe creator Susan Olayinka did.
Assemble the copycat Burger King Impossible Whopper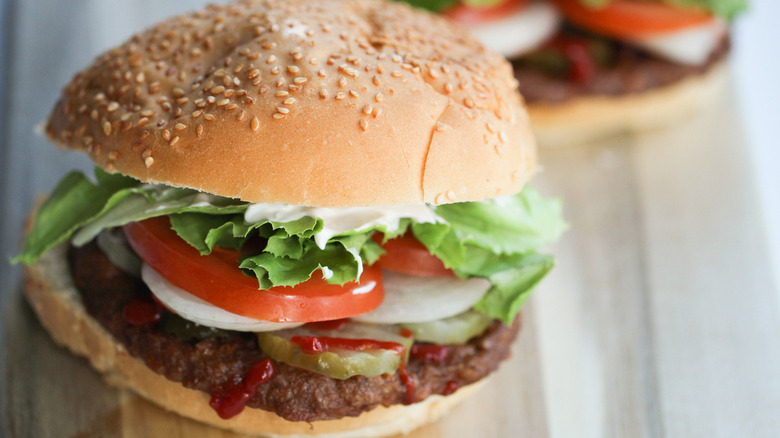 Susan Olayinka/Mashed
In each burger patty, apply one tablespoon of ketchup, followed by one tablespoon of mayonnaise or vegan mayo. Next, add two discs of white onions, three pickle slices, two slices of beefsteak tomato, and one large leaf of curly lettuce. When done, cover the burgers with the top part of the bun. While recipe creator Susan Olayinka used certain amounts of ingredients, you can tweak them to your liking. If you want more ketchup, onion, or lettuce, you can certainly add more. 
After you've assembled your own copycat Burger King Impossible Whopper, you'll be all set to enjoy a truly vegetarian burger without a trip to the drive-thru.
Copycat Burger King Impossible Whopper Recipe
Burger King's Impossible Whopper might not be completely vegetarian or vegan, but your own copycat recipe could be. Recipe creator Susan Olayinka shows you how.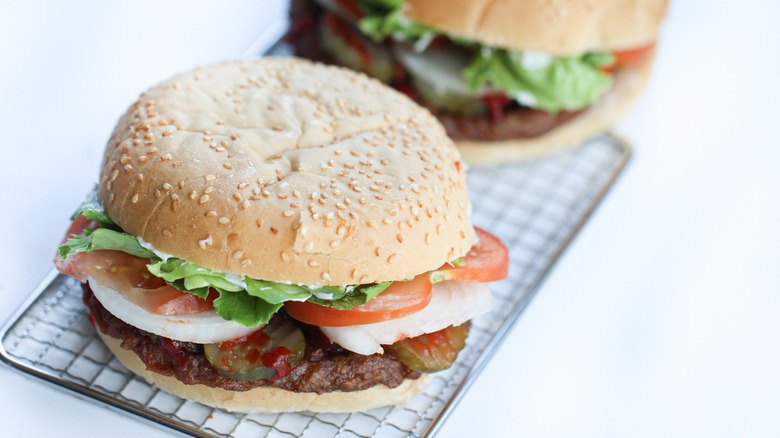 Ingredients
2 Impossible burger patties
2 burger buns
¼ cup sliced white onion
2 tablespoons ketchup
2 tablespoons mayonnaise
6 pickle slices
1 beefsteak tomato
2 large leaves of curly leaf lettuce
Directions
Preheat the oven to 350 degrees Fahrenheit (177 degrees Celsius).
If your burgers are not thin patties, flatten out them with a rolling pin after sandwiching them between two sheets of parchment paper.
Place the burger patties on a foil-lined baking tray and cook as per cooking instructions on the packaging.
Slice the white onion into thin discs
Once the burger patties are done, place the patties onto the bottom burger bun.
Top each burger patty with 1 tablespoon ketchup, 1 tablespoon mayonnaise, 2 discs of white onion, 3 slices of pickle slices, 2 slices of beefsteak tomato, and 1 large leaf of curly lettuce.
Repeat this process with the second burger
Cover the burgers with the top part of the bun and enjoy.
Nutrition
| | |
| --- | --- |
| Calories per Serving | 493 |
| Total Fat | 26.9 g |
| Saturated Fat | 10.1 g |
| Trans Fat | 0.0 g |
| Cholesterol | 5.6 mg |
| | |
| --- | --- |
| Total Carbohydrates | 38.8 g |
| Dietary Fiber | 5.1 g |
| Total Sugars | 9.7 g |
| Sodium | 821.9 mg |
| Protein | 24.2 g |