The Cocktail Shaker Egg Hack You'd Never Expect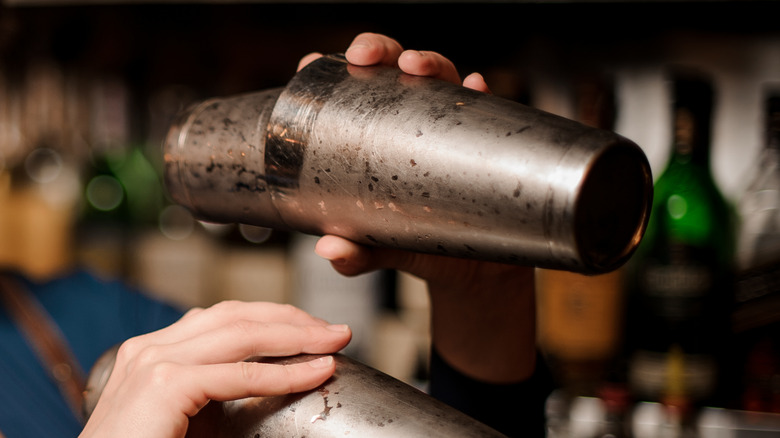 Shutterstock
The true beauty of scrambled eggs is that there are so many different ways to prepare them. They're a diverse dish that can be enjoyed with toast and bacon, made into a hearty breakfast taco, or as an omelet with all the veggies your heart desires. Some of the best hacks include making them in the microwave, cooking them in the oven, incorporating a splash of orange juice and/or sparkling wine for a bright and acidic kick, folding in sour cream, cream cheese, or milk for extra richness, and mixing them with spices for added flavor.
There are also several egg scrambling strategies and tools people swear by. Some people crack them directly into a hot pan and let them simmer as they're swirled around. Some, on the other hand, go the slow and steady route and cook them over low heat. Others use a fork, a silicone spatula, or a wooden spoon as their preferred scrambling instrument. But there's one surprising handheld appliance that can be a savior when it comes to making an egg-cellent plate of goodness.
This bar tool makes the perfect scrambled eggs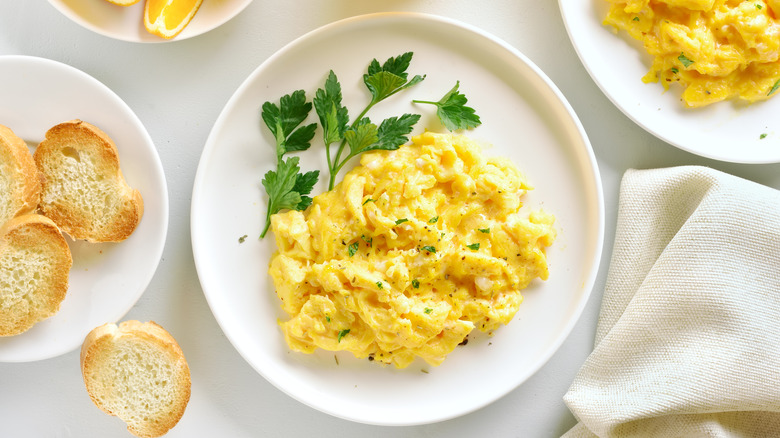 Shutterstock
Attention home mixologists: If you have a cocktail shaker at your home bar, it may come in handy the next time you're craving scrambled eggs for breakfast or breakfast for dinner. That's right; a cocktail shaker can do much more than mix martinis and mint juleps. According to Kitchn, a standard cocktail shaker can typically hold three to four cracked eggs — enough for a couple of servings! Give it a good shake, twist off the cap, gently pour the shaken eggs into a pan, and heat over the stovetop with some milk and butter, as desired. The end result will be perfectly fluffy, super creamy scrambled eggs!
The best part is that the shaker is pretty easy to clean after using it to scramble eggs. To remove any excess egg residue or clean any shaker in general, Home Bar Tools says to simply wash it out thoroughly with warm soapy water. (PS: If you don't have a cocktail shaker, a large sealed mason jar works really well, too.) Enjoy!