Homemade Air Fryer Steak Fries Recipe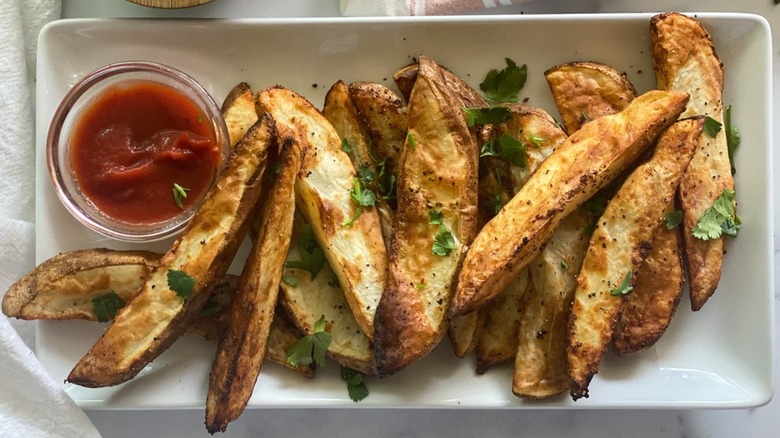 Miriam Hahn/Mashed
Potatoes are one of the best comfort food vegetables, while also being so versatile. Many prefer french fries as their potato side of choice. And why not? They're tasty, easy to make, and kids of all ages adore them. And within the world of fries, there are also various types to explore, including the classic thinner french fry and the much more hearty steak fry. The latter is a variant of the former, but they're actually cooked differently. 
French fries are usually deep-fried, while steak fries are baked, which might make them a healthier alternative to the deep-fried classic. However, steak fries usually also contain oil in their recipes. But today, thanks to the air fryer, you can now enjoy any kind of fries without worrying about too much excess oiliness.
This recipe developed by Miriam Hahn, a certified wellness coach from YouCare-SelfCare uses a touch of avocado oil spray (the one used in this recipe can be found at Trader Joe's), which limits excess fat and overheating while still providing the crunch and taste we all expect from our fries. 
"I use avocado oil spray because it has a high smoke point making it the healthier choice," says Hahn. Overheating oils can release chemicals that have been linked to neurological disorders, and of course, an odd, burnt taste can also develop. So, do make sure you pick an oil with a high smoke point when making fries.
And now, let's begin cooking our healthier air fryer steak fries.
Gather your ingredients for the air fryer steak fries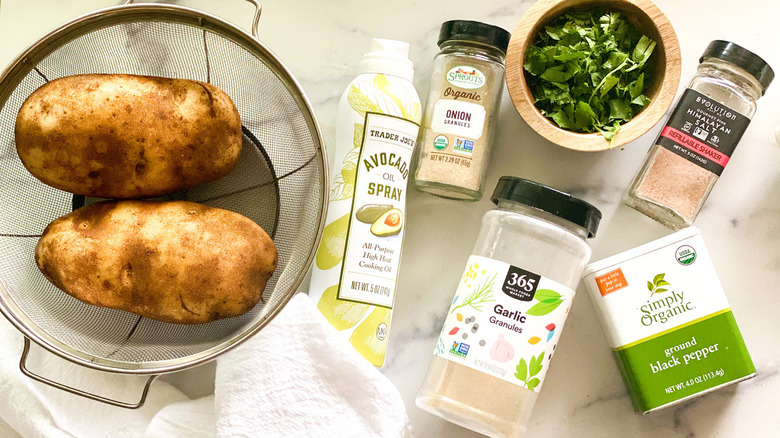 Miriam Hahn/Mashed
As you know, you don't need a lot of things to make fries. For air fryer steak fries, you'll only need a few ingredients, like two russet potatoes, avocado oil spray, salt, onion granules, garlic granules, pepper, and parsley. Most of the items mentioned are cooking staples, and you may already have them in your kitchen. As for the avocado oil spray, onion granules, and garlic granules, they're pretty easy to find at supermarkets.
Substitutes for some of the air fryer fries ingredients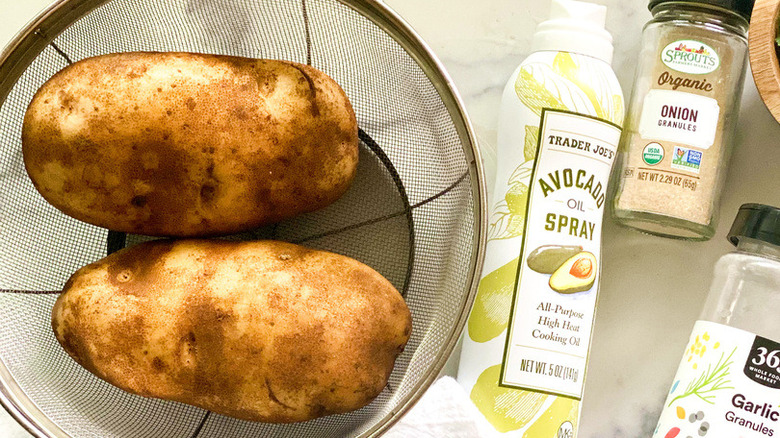 Miriam Hahn/Mashed
In wellness coach and creator Miriam Hahn's recipe, avocado oil spray is used because of its higher smoke point. You can follow her preference for guilt-free steak fries, but you can also use an alternative. "Any type of spray will work, or you can toss them in about two teaspoons of oil," says Hahn. "The spray saves a step and another bowl." 
As for the potatoes, you can also change them up. "You can use any kind of potatoes. However, if you use sweet potatoes, the cooking time varies, and they won't be as crispy," explains Hahn. You also have the freedom to use other spices. Hahn suggests using "chili powder and smoked paprika."
Wash and slice the potatoes for your steak fries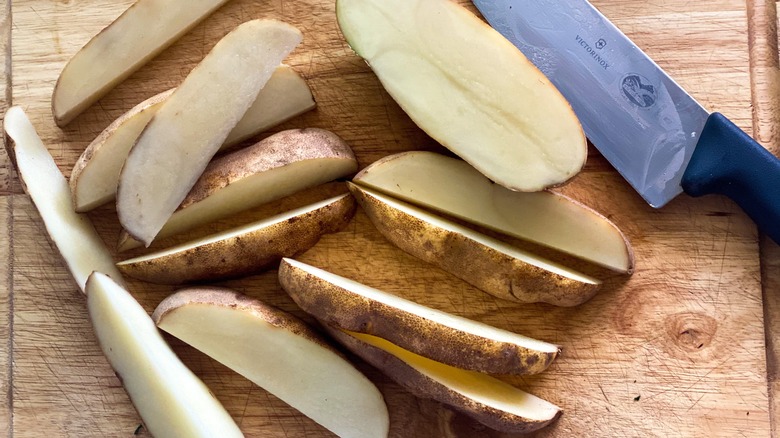 Miriam Hahn/Mashed
Unlike with most french fries, you don't need to peel the skin off of the potatoes to make steak fries. To get started, wash the potatoes thoroughly using only water. Since the skin remains intact, washing the potatoes is really necessary. This step is simple yet vital as it removes any dirt particles from the surface. Immediately after washing the potatoes, head onto the cutting board and slice them into large wedges.
Spray your sliced potatoes with avocado oil and add the spices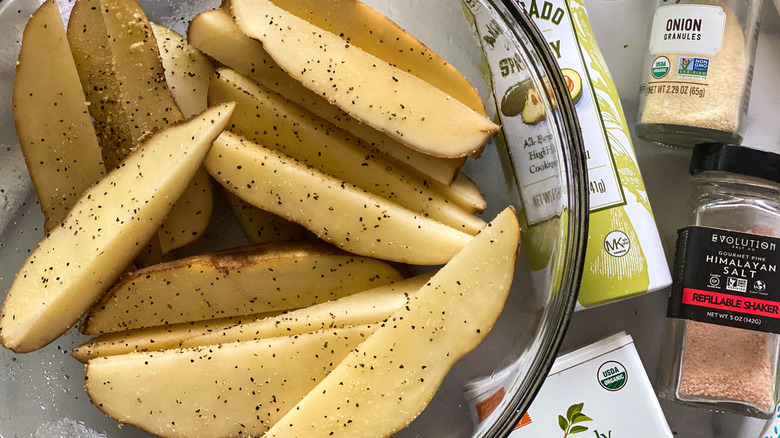 Miriam Hahn/Mashed
Place the sliced potatoes in a bowl and spray them with the avocado oil or with two teaspoons of your oil of choice, as recipe creator Miriam Hahn suggests. Next, sprinkle the potatoes with salt, onion granules, garlic granules, and pepper. You can mix the potatoes so that all of the pieces and sides are evenly coated with oil and seasonings. When done, place the seasoned potatoes inside the air fryer basket, but do arrange them and make sure that you give each piece some space.
Cook the steak fries in your air fryer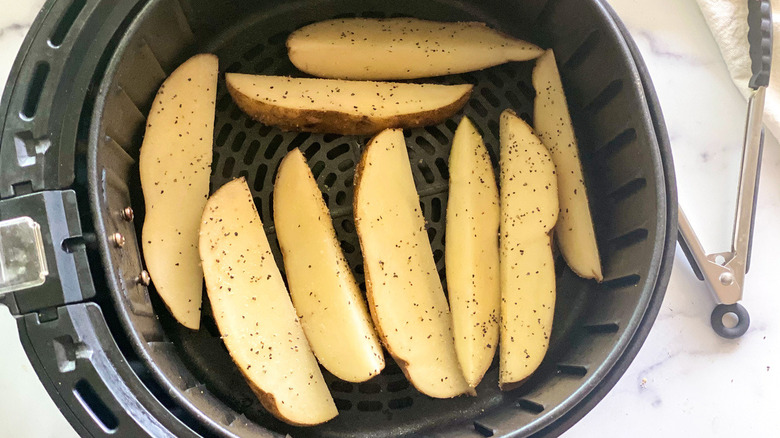 Miriam Hahn/Mashed
As the potatoes need to be distributed evenly in the air fryer basket, you may need to do two to three batches. When your potatoes are ready for cooking, set the air fryer temperature to 400 degrees Fahrenheit and set the cooking time to 15 minutes. 
After half of the cooking time has passed, shake the air fryer basket or flip the potato wedges to cook the other side. Once you're done, you can cook the potatoes for another five minutes if you don't find them crispy enough. 
To serve, place the steak fries on a plate and garnish them with parsley if desired.
Homemade Air Fryer Steak Fries Recipe
Air fryer steak fries with Trader Joe's Avocado Oil spray will give you all the taste of the classic fried potato without the excess fat.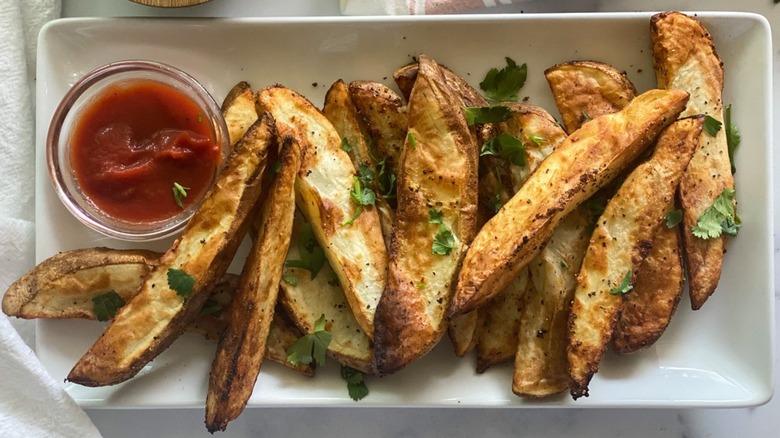 Ingredients
2 russet potatoes
2 tsp Avocado oil spray
½ teaspoon salt
½ teaspoon onion granules
½ teaspoon garlic granules
½ teaspoon pepper
Optional Ingredients
Directions
Wash the potatoes thoroughly.
Chop unpeeled potatoes into large wedges.
Place potatoes in a bowl and spray with avocado oil. Sprinkle with seasonings.
Place potatoes in the air fryer basket so that wedges are not touching. You might need to use multiple batches.
Set air fryer temperature to 400 degrees Fahrenheit and time to 15 minutes.
After the fires are half done, shake the basket or turn each wedge over.
If fries are not crispy enough after 15 minutes, add 5 minutes of cooking time.
Take out of air fryer and top with chopped parsley if desired. Serve.
Nutrition
| | |
| --- | --- |
| Calories per Serving | 118 |
| Total Fat | 2.4 g |
| Saturated Fat | 0.3 g |
| Trans Fat | 0.0 g |
| Cholesterol | 0.0 mg |
| | |
| --- | --- |
| Total Carbohydrates | 22.5 g |
| Dietary Fiber | 1.7 g |
| Total Sugars | 0.8 g |
| Sodium | 292.7 mg |
| Protein | 2.7 g |