What You Need To Know About The Classes Carlo's Bakery Offers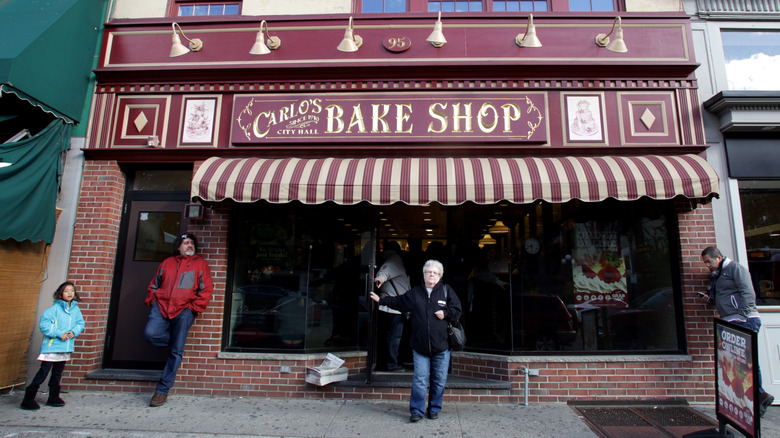 Shutterstock
Buddy Valastro has more than earned the title of "Cake Boss." A fourth-generation baker, the New Jersey chef started as a dishwasher in his father's bake shop and worked his way up to becoming one of the most famous bakers in the country, and has been whipping up extravagant, over-the-top confections for years. Since becoming the star of his own TLC show in 2009, Valastro's cake-making business has exploded in size and popularity. What began as the original Carlo's Bake Shop in Hoboken back in 1963 has grown to include 16 locations across the country.
While you can buy one of Valastro's delicious cakes at any of his bakeries, you can also take classes at the OG shop. If you've ever wanted to try your hand at cake-making — and want to learn from the expert himself — here's what you need to know. Who knows, you might just become the "Buddy vs Duff" star's right hand man or woman.
You can learn how to decorate cakes like a pro
While there are currently no available classes due to COVID-19, Carlo's Bakery has previously offered cake decorating classes at its Hoboken bake shop — and hopefully will again in the future as states start to reopen. At $125 per person, the class includes private instruction from Valastro's pro bakers. "Top decorators teach guests to drape cakes in whimsical fondant shapes," Groupon explains in the product description. The classes are two hours long and each participant leaves with not only a tasty treat, but also their own Carlo's Bakery apron.
The classes have received rave reviews from past students. "They give you history about the original Carlo's Bakery and a tour before you start decorating your cakes," one satisfied customer says on Trip Advisor. "The instructor was great and I was amazed how great our cakes turned out! They taste amazing as well."