How Rich Is The Olive Garden CEO And What's The Average Pay Of Its Employees?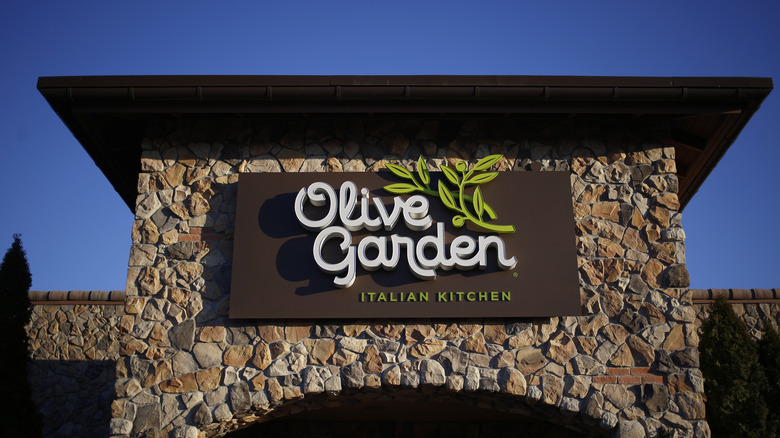 Bloomberg/Getty Images
With more than 800 locations and $4 billion in sales in 2020 alone (via Statista), Olive Garden is one of the most popular restaurant businesses in the United States. Given that level of success, it makes sense that Eugene Lee Jr., current CEO of Darden Restaurants (the parent company that owns Olive Garden) is one of the highest paid restaurant executives in the country (via Restaurant Business Online). One report from Salary.com estimated his total 2019 earnings were around $10 million dollars, which included an annual salary of $1 million, along with $3.2 million dollars in bonuses and roughly $4.3 million dollars in stocks. 
Of course, Lee owes much of Olive Garden's tremendous success to the work of its "family," which consists of approximately 100,000 employees (per the official website). And it seems he is determined to make his appreciation known. In March 2021, Darden announced that they would raise their minimum starting salary to $10 per hour for all hourly workers — including tips (via CNN). 
This decision comes at a time when conversations about potentially raising the federal minimum wage to $15 are happening on Capitol Hill as more and more workers protest for this living wage. Although Darden's $10 per hour rate doesn't quite measure up to the government's proposed $15 per hour, this new guaranteed wage means that all Olive Garden employees, regardless of their position, will earn above the national minimum wage of $7.25 per hour. 
How much do Olive Garden employees really make?
While the impending pay hike means good news for Darden employees, many Olive Garden workers already make above that amount. Per Indeed, the current average wage for back of house positions like line cooks is $13 to $14 an hour, respectively, while hosts take home $11.60 per hour. Servers reportedly make about $14.74 per hour, though Darden claims Olive Garden wait staff earn as much as $17 to $20 dollars per hour depending on the restaurant location and tips they earn (via CNN). 
Regardless of position, one perk all hourly employees share is they don't have to wait long to get their money — Darden operates on a weekly pay schedule rather than a typical bi-weekly one, per Full Service Restaurant News. Additionally, the company is widely known to promote from within (a whopping 90% percent of their general managers start in hourly positions), which means there is plenty of potential for growth. Should one choose to pursue a senior career at Olive Garden, they can expect to earn a salary ranging from $24,649 per year as an assistant manager and $66,388 per year as a general manager, according to Indeed.
Although there's no word yet on whether Darden will raise salaries for everyone along with the minimum wage boost, it's likely that isn't off the table. As Lee said in a statement to Restaurant Business Online, "We're going to do what we need to do to keep our best team members."