Copycat Starbucks Toasted White Chocolate Mocha Recipe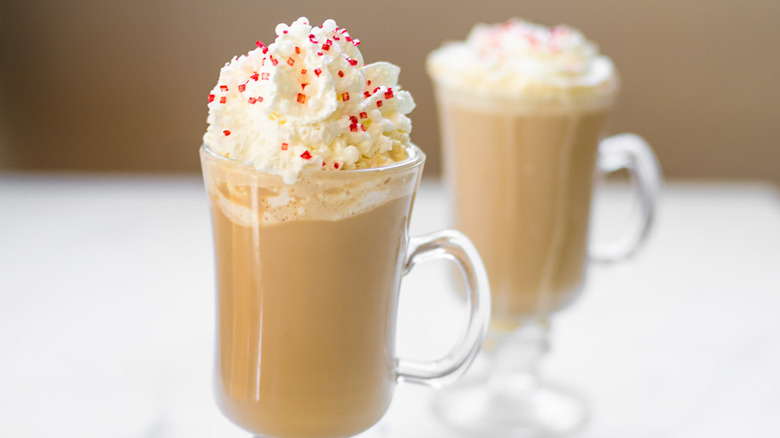 Mackenzie Ryan/Mashed
It's easier than ever to make your favorite coffee drinks at home, including those from Starbucks. This is especially handy if your favorite drink is seasonal, leaving you craving it during the times of the year Starbucks doesn't offer it. This copycat Starbucks Toasted White Chocolate Mocha, created by recipe developer Mackenzie Ryan of Food Above Gold, allows you to have the festive drink any time — even in the summer!
The copycat drink is easy enough to create at home and is fully customizable should you need it to be. Ryan noted that you can easily change the dairy milk for a non-dairy option without worry. If you're fully dairy-free, you'll need to change the dulce de leche as well, but we'll get into that more as we go along. 
The dulce de leche sauce in this drink is what gives it the "toasted" flavor that's the signature mark of this beverage. It is caramelized, sweetened condensed milk that adds an extra layer to the drink. Plus, it's so yummy! If you're ready to whip up this copycat recipe, keep reading.
Gather all your ingredients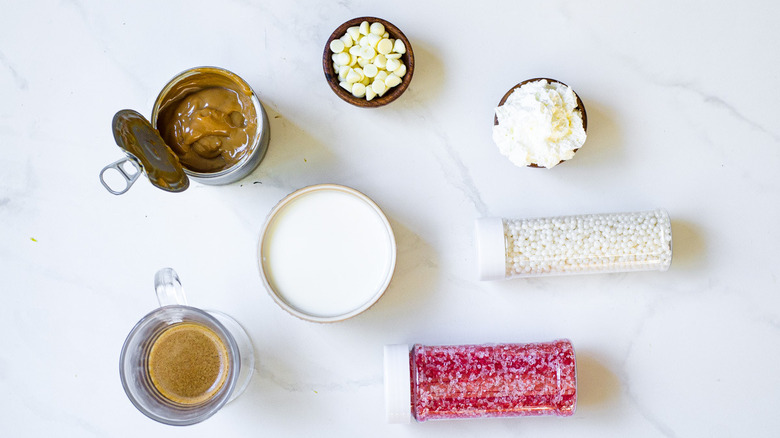 Mackenzie Ryan/Mashed
Gather all the ingredients together that you'll need for this copycat recipe. For the espresso, you can either make espresso in your machine or use pre-made espresso. For the milk — which you'll use in two different steps — you can also swap out dairy milk for a milk alternative or lactose-free option if you prefer.
Keep in mind, though, that if you are dairy-free, you'll need to swap out the dulce de leche as well, because it is dairy-based. You can either find a coconut-milk-based dulce de leche or make it yourself using sweetened condensed coconut milk.
The toppings are all optional, but whipped cream will especially make it feel like a true Starbucks drink. This can also be swapped for a dairy-free selection, too. The sprinkles and candy pearls are just an added bonus.
Prepare the white chocolate sauce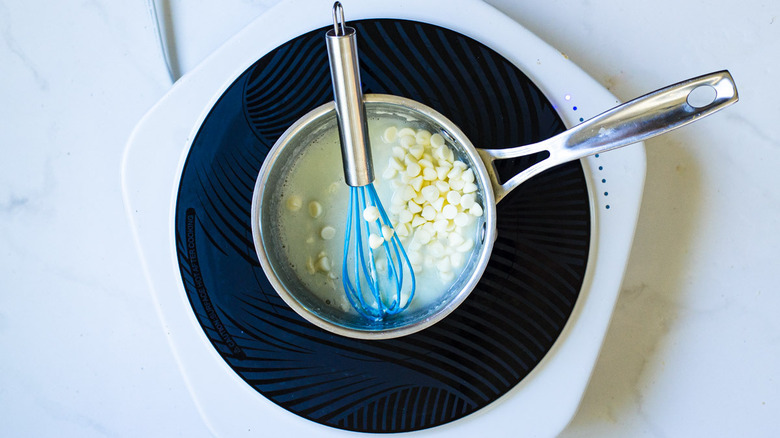 Mackenzie Ryan/Mashed
Place your saucepan on the stovetop and turn your burner onto medium-low. If the temperature is up too high, it will make the milk boil and burn. Plus, it makes it hard to get a smooth sauce as the white chocolate melts. Pour in 1 ½ tablespoons of milk and bring to a simmer. Once it's gently simmering, pour in the white chocolate chips and stir until they're melted in. Then add the dulce de leche sauce and stir until blended in. 
The dulce de leche sauce is what will give your drink that toasted flavor, so this is an important ingredient that can't be left out or mistreated! Keep stirring this mixture until it's all blended. Once combined, pour into the bottom of your glass or mug.
Start to build the drink in the glass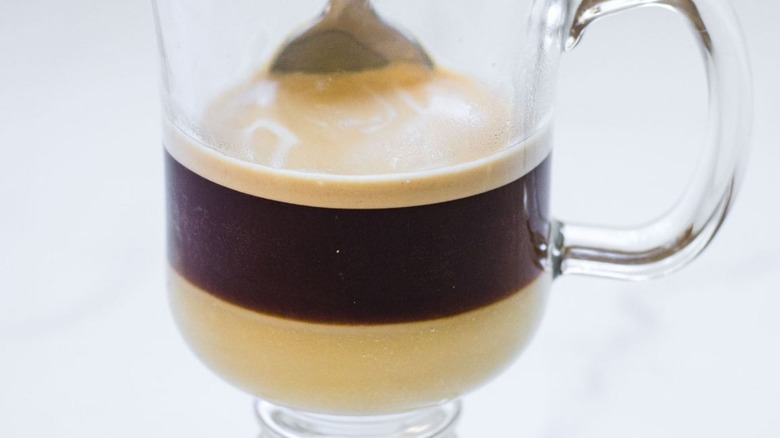 Mackenzie Ryan/Mashed
Pour your white chocolate mixture into the bottom of the glass. Then pour your espresso on top of that. Whether you've made your own espresso or poured it from a jug you have in the fridge is up to you — either one is fine. However, if it's not freshly made, warm it up first so you don't cool off the drink with cold coffee. Once all of that is in the glass, stir it all together. (Feel free to admire the beautiful layers before you do — we did.) 
You now have the foundation for this drink!
Froth the milk and add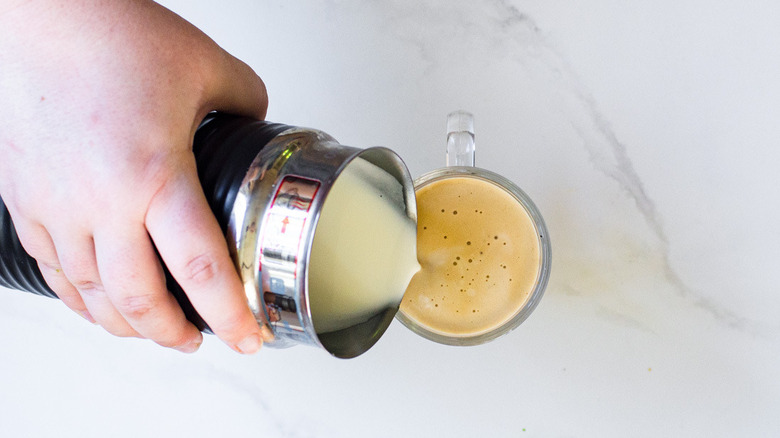 Mackenzie Ryan/Mashed
The next step is to froth the cup of milk, which can be done a couple different ways. The easiest way to steam or froth the milk is with a milk frother to get it around 135 degrees Fahrenheit. You can use a simple handheld one or a fancier one — either will get the job done. If you don't have a frother available, you can whip heated up milk briefly with a mixer or blender just to aerate it. Some non-dairy milks may not froth quite as well, but whipping air into it will still lighten it at least a bit.
Once it's whipped, frothed, and aerated, pour it into the glass where you've started the drink. 
Add the toppings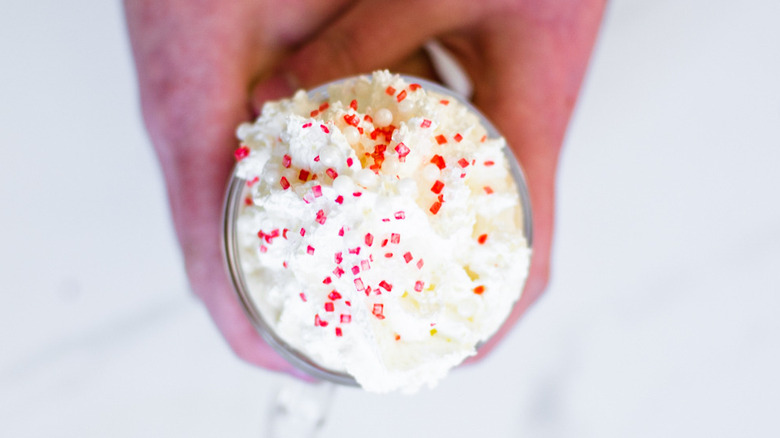 Mackenzie Ryan/Mashed
Now that all the deliciousness is inside the cup, it's time to add the rest of the deliciousness to the top. Using whatever whipped cream you've chosen, add a dollop to the top of your drink. Add as much or as little as you like. Then add any sprinkles or candy pearls as well. 
You can also opt to not add any toppings if that's what you prefer. Or you could use different toppings — this part is up to you. White chocolate shavings would be delicious, or you could even include a sprinkling of cocoa. The options are practically endless.
Enjoy your drink right away!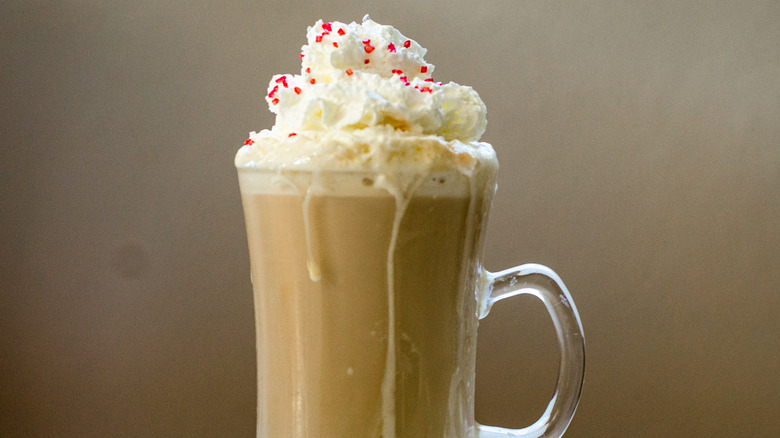 Mackenzie Ryan/Mashed
Once your drink is made, it's best enjoyed immediately while it's still hot. However, sometimes you just can't get through an entire drink before it cools off, sometimes going all the way cold. If you find yourself with half a drink left that's gone cold, you can pop it in the microwave for a few seconds to warm it back up. It won't affect the flavor at all, but it might separate a little bit in the glass. 
You can also double, triple, or even quadruple this recipe if you'd like. Simply multiply the ingredients by how many servings you want. The result will be the same delicious drink.
Copycat Starbucks Toasted White Chocolate Mocha Recipe
This copycat Starbucks Toasted White Chocolate Mocha recipe allows you to have the festive drink any time -- even in the summer!
Servings
1
12-ounce drink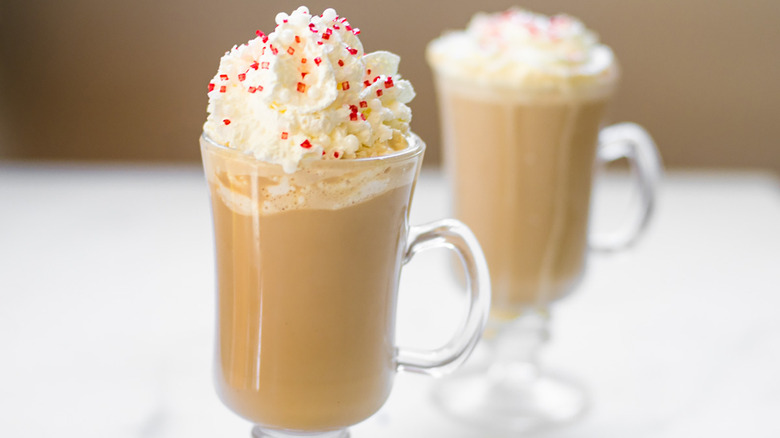 Ingredients
1 cup + 1 ½ tablespoons milk, divided
1 heaping tablespoon white chocolate chips
2 teaspoons dulce de leche sauce
2 shots espresso, hot
Optional Ingredients
Whipped cream, for garnish
Red sprinkles, for garnish
Candy pearls, for garnish
Directions
In a small pot on medium-low, bring 1 ½ tablespoons of milk to a simmer.
Whisk in the white chocolate chips until melted, then stir in the dulce de leche sauce.
Pour into the bottom of your cup.
Pour the two shots of espresso into the cup, and stir it to combine the white chocolate mixture.
Steam 1 cup of milk and pour it into the coffee.
Garnish with whipped cream, red sugar sprinkles, and candy pearls.
Serve.
Nutrition
| | |
| --- | --- |
| Calories per Serving | 283 |
| Total Fat | 14.2 g |
| Saturated Fat | 8.3 g |
| Trans Fat | 0.0 g |
| Cholesterol | 33.3 mg |
| | |
| --- | --- |
| Total Carbohydrates | 29.1 g |
| Dietary Fiber | 0.0 g |
| Total Sugars | 28.0 g |
| Sodium | 151.9 mg |
| Protein | 10.2 g |