This Baskin-Robbins Flavor Had A Gruesome Promotion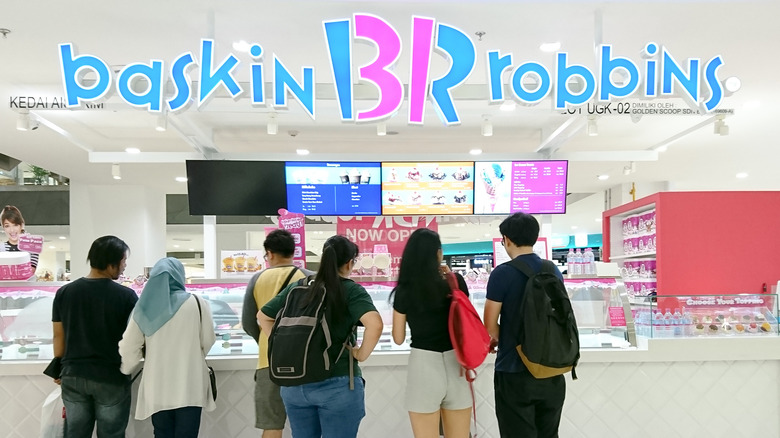 Shutterstock
Baskin-Robbins thrilled ice cream lovers when stores first hit the streets in 1945 with their one-of-a-kind flavors, per Baskin-Robbins. The ice cream chain's claim to fame has always been their 31 flavors, with the number hidden right in the middle of the sign. Vanilla and chocolate had their moment, but when Burt Baskin and Irv Robbins hit the dessert scene, a lot of fun, new flavors emerged. Today, there are more than 1,300 different flavors. While some are crowd pleasers, others did not fare as well.
On a hot summer's day, there's nothing like a nice bowl of ... duck ice cream? Baskin-Robbins had a unique idea for a flavor, but due to some unfortunate translating, the advertisements in Japan caused customers more fear than hunger. The flavor was actually a favorite of one of the founders, Robbins, and was called Cold Duck. It was inspired by Cold Duck sparkling wine, with hopes of delivering a similarly refreshing and sweet taste (via Portable Press). The taste was delicious, but not many Baskin-Robbins regulars in Japan had the chance to give it a try since the store promotions of dangling dead ducks scared them away — and with good reason.
Baskin-Robbins said goodbye to Cold Duck ice cream, but they haven't stopped experimenting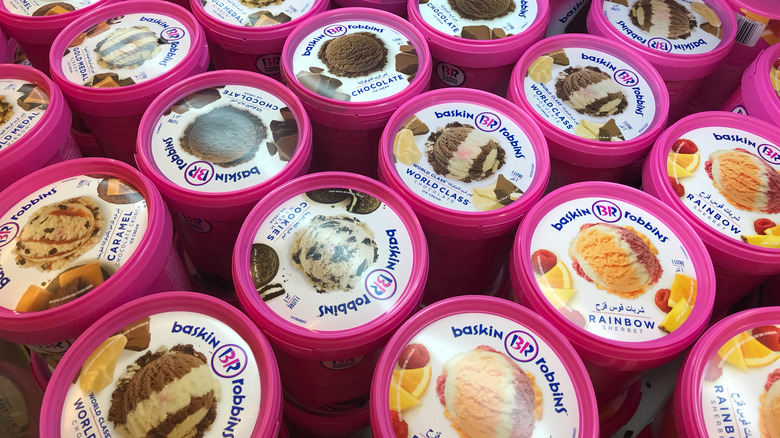 Shutterstock
Baskin-Robbins had no choice but to eliminate Cold Duck ice cream from their menu at all locations after the gruesome advertisements tainted the flavor's potential. As sad as Irv Robbins may have been to say goodbye to the unique flavor, it was for the best. When the business partners caught wind of the advertisements gone wrong, they were just as shocked as one might imagine. "We almost collapsed," Robbins told the Los Angeles Times. 
The name does not necessarily match the flavor, and that's due to the origin of the wine. André Champagne revealed that the name "Cold Duck" was created from a linguistic tongue twister. The wine was originally called "Kaltes Ende," which is German for "Cold End," with a nod to the method of wine-making. The German pronunciation had a similar ring to "Kaltes Ente," which means "Cold Duck," and alas, Cold Duck Sparkling wine was born. André lists the tasting notes as "a sweet sparkling red wine that mixes full fruity notes with a fizzy taste," which would obviously complement the creaminess of ice cream perfectly. Perhaps if it had been promoted with a bottle of bubbles as opposed to deceased ducks, it might still be a fan favorite today.