Copycat KFC Famous Bowl Recipe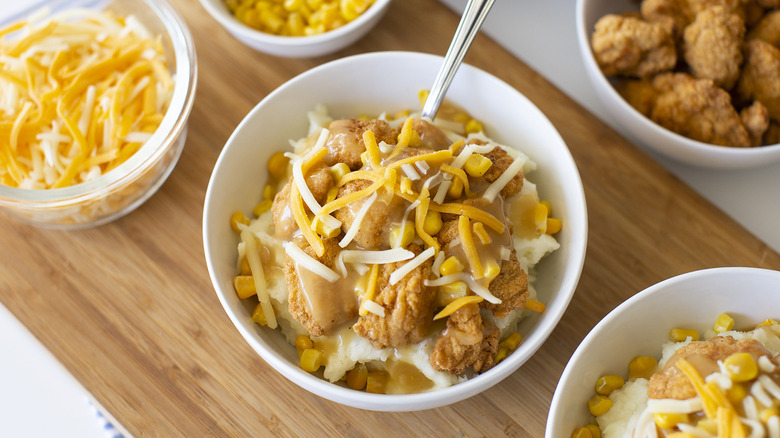 Melissa Johnson/Mashed
While there's a certain level of joy tied to eating out, there's an equally certain level of joy that comes with making your own food at home, especially when it's a copycat of a takeout favorite. This copycat KFC Famous Bowl, created by Melissa Johnson of Best Friends For Frosting, is beyond easy to whip up at home and gives you all the same ooey-gooey vibes of stopping in at the chicken restaurant.
To keep it extra simple, this recipe utilizes your microwave and a couple of frozen ingredients — we know how busy life can get. It all comes together in under an hour and serves the whole family easily. But while this recipe is designed to serve the whole family, you could easily tweak it to serve just one or two. Because all the ingredients are separate until the end, they're easy enough to manipulate into different serving sizes. 
Below, you'll find the whole recipe along with a few substitution options if you're dairy-free or want to use different cooking methods. And once you see how easy this copycat KFC Famous Bowl is to make at home, you'll stop grabbing fast food altogether. 
Get all your ingredients together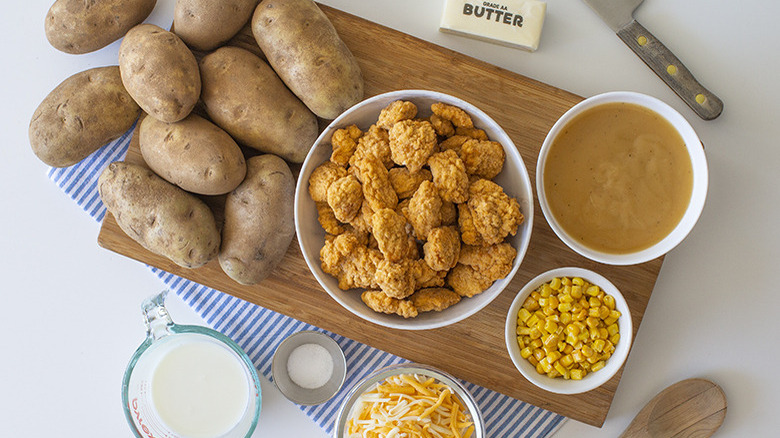 Melissa Johnson/Mashed
Grab all your ingredients, and let's make this super easy recipe! You'll need potatoes, butter, milk, salt, popcorn chicken, gravy, corn, and cheese. That's it! When you picture the KFC Famous Bowl, you can actually see all the ingredients — and you'll be using the same exact things here. 
To start, you can leave the popcorn chicken and corn (if using frozen) in the freezer until you're ready to cook them. That way, you don't have to worry about anything thawing out while you're working on the potatoes. At this point, you'll want to preheat your oven to 400 degrees Fahrenheit.
Prepare the potatoes first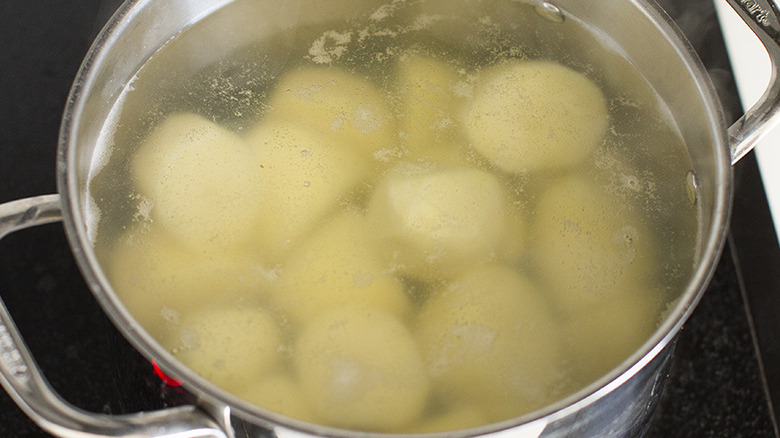 Melissa Johnson/Mashed
To start, you'll want to make the potatoes. In a large pan, boil water with a large pinch of salt. While it's coming to a boil, peel and chop the potatoes. Toss those into the pan and simmer until they're fork-tender. This should take about 15 minutes, give or take. Once ready, drain the water out and get together the rest of the ingredients to turn these cooked potatoes into mashed potatoes.
To save time and cut a corner, you can also use instant mashed potatoes here. Make them according to the package instructions, and set them aside while you get the rest of the components of the bowl together.
Toss the chicken in the oven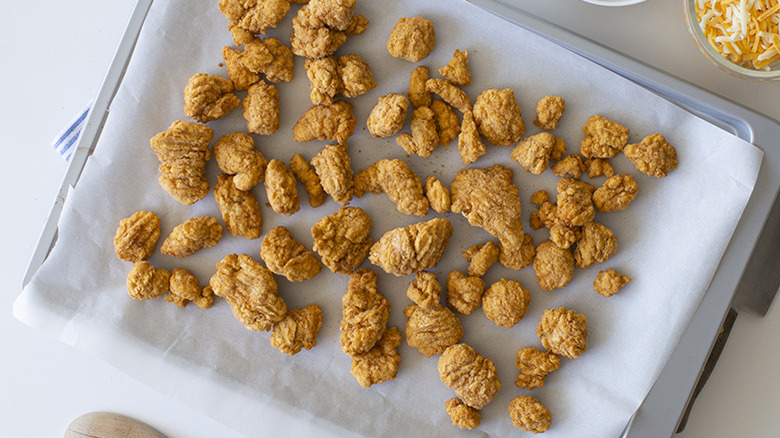 Melissa Johnson/Mashed
While the potatoes are cooking, you can start the popcorn chicken. Once the oven is fully heated, you're ready to go. Arrange the popcorn chicken on a baking sheet lined with parchment paper.  
Pop these in the oven for 15 minutes (or follow the instructions on the bag if it tells you something different). When your timer runs out, pull these out of the oven and set aside.
Alternatively, you can make these in an air fryer. Air fryers can vary slightly, but most likely you'll want to cook these at 350 degrees Fahrenheit for about eight minutes. Open the air fryer and shake the chicken around halfway through to ensure they're cooking evenly.
Mash the potatoes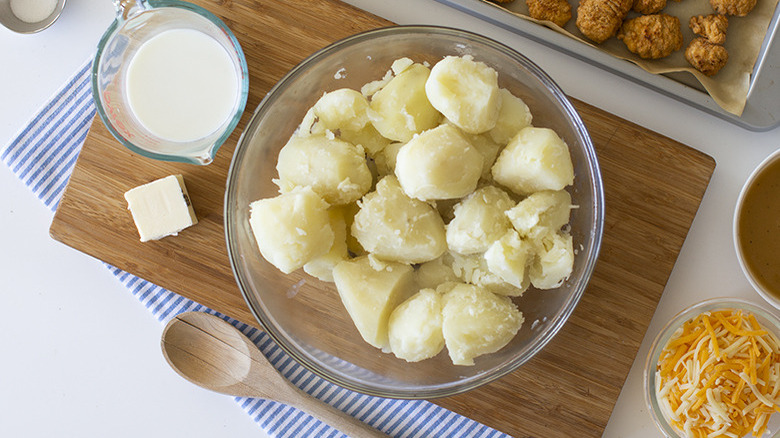 Melissa Johnson/Mashed
While the chicken is cooking and after the potatoes are cooked and drained, you can mash them. Put them either in a bowl or the bowl of a mixer along with the butter, milk, and salt. If you're following a dairy-free diet, you can easily substitute a non-dairy milk. However, it might change the flavor and texture of your potatoes slightly, depending on what you use.  
Blend using a hand mixer, stand mixer, or potato masher until they're the consistency you want. Mix longer for smooth, creamy mashed potatoes, or mix for less time if you want them chunky. You can also add more milk to smooth them out if you'd prefer.
If you've chosen to use instant mashed potatoes, you can skip this step.
Warm corn and gravy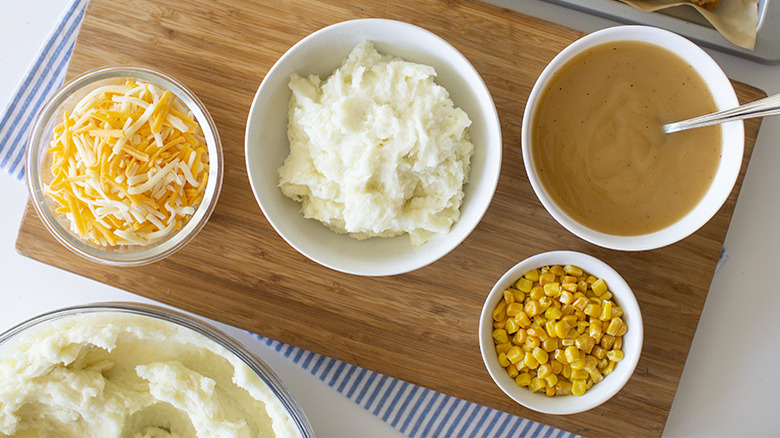 Melissa Johnson/Mashed
Place the corn in a microwave-safe bowl and put it in the microwave. Heat until cooked through, about one to two minutes. Check on the corn halfway through, and stir to be sure it's cooking evenly. Pour the gravy into a microwave-safe bowl, and put that in the microwave once the corn is done. Heat until cooked through, about another one to two minutes. Check on it halfway through, and stir to ensure it's warming evenly. For the corn and gravy, you can use however much or little that you like. Measure with your heart.
Once both of those are heated up, set them aside, because it's now time to assemble!
Assemble the bowls and enjoy!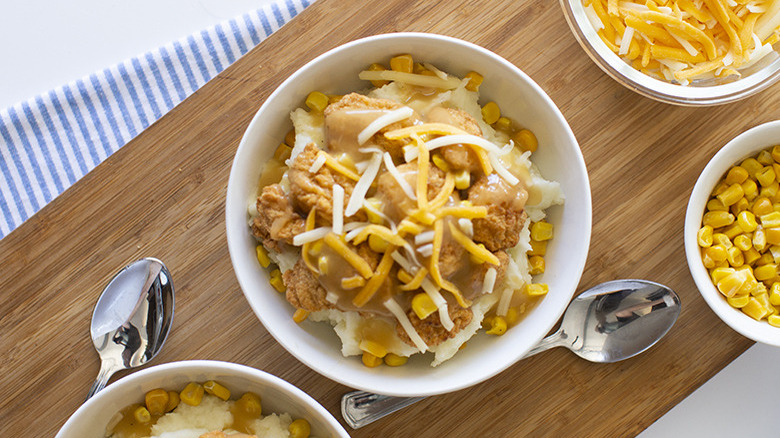 Melissa Johnson/Mashed
Grab your bowls and start by layering the mashed potatoes in the bottom. On top of that goes the popcorn chicken. Next pour on some corn, followed by gravy. Top it all off with cheese, and you're ready to eat! This recipe should make six bowls, but if you're extra hungry, it could end up being three or four bowls. This recipe is also easy to make and save for later. Simply pack each individual ingredient in its own container to store in the fridge. 
On the other hand, this could also very easily be made as a meal for one — just make the amount you need of each ingredient and make a copycat KFC Famous Bowl whenever you please. The beauty of this recipe is that it's super easy and super flexible.
Copycat KFC Famous Bowl Recipe
This copycat KFC Famous Bowl is beyond easy to whip up at home and gives you all the same ooey-gooey vibes of stopping in at the chicken restaurant.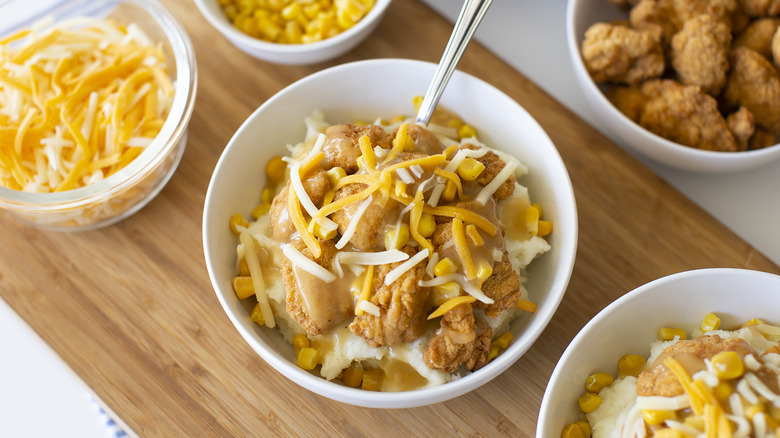 Ingredients
9 russet potatoes, peeled and halved
⅓ cup milk
Salt to taste
5 tablespoons salted butter (sliced)
1 ¼ pounds frozen popcorn chicken
1 cup canned or frozen corn
1 (12-ounce) jar chicken gravy
1 ½ cups shredded cheese (Colby Monterey Jack blend)
Directions
Preheat oven to 400 degrees Fahrenheit.
Peel and halve potatoes.
Boil a large pot of salted water, then add peeled and halved potatoes.
Boil for 15 minutes until fork tender, drain.
On a sheet pan lined with parchment, bake popcorn chicken for 15 minutes.
In a large bowl, add potatoes, butter, milk, and salt, and mix with a hand mixer until blended.
In the microwave, warm corn and then the gravy for 1 to 2 minutes each.
In single-serving bowls, layer mashed potatoes, popcorn chicken, corn, gravy, and cheese.
Serve and enjoy!
Nutrition
| | |
| --- | --- |
| Calories per Serving | 766 |
| Total Fat | 37.5 g |
| Saturated Fat | 16.8 g |
| Trans Fat | 0.8 g |
| Cholesterol | 127.6 mg |
| | |
| --- | --- |
| Total Carbohydrates | 75.2 g |
| Dietary Fiber | 5.5 g |
| Total Sugars | 4.1 g |
| Sodium | 1,383.5 mg |
| Protein | 34.5 g |