Zaxby's Has Good News For Fans Of Its Fried Pickles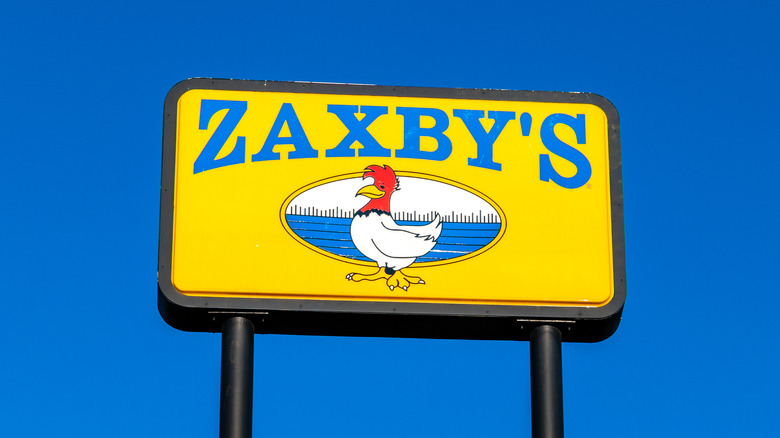 Shutterstock
We have Arkansas to thank for the emergence of fried pickles. According to Eater, Atkins, Arkansas' Duchess Drive-In started serving this finger food back in 1963 when the owner had a ton of leftover dill pickle slices and catfish batter. He combined the ingredients together, threw them in a deep fryer, and sold baskets of ten pickles for ten cents apiece. Fast forward to the present, and this crispy side dish has taken the country by storm. Zaxby's tapped into this love and has good news for any fried food fans looking to rekindle their love of some classic fried dill pickles.
According to PR Newswire, Zaxby's plans to bring their fried pickles back as an add-on option to their fried chicken sandwich and as a standalone item. The pickles come served up alongside a container of the brand's signature ranch sauce and will hit menus for a limited time at participating restaurants while supplies last. While you can expect to pick up this mouthwatering side at select Zaxby's soon, the news didn't list a specific date of when Zaxby's officially starts serving up these treats. With any luck, you might even start seeing these fried pickles in your area starting this week!
The return of a Zaxby's fan favorite
Shutterstock
While Zaxby's plans to keep its fried pickles on menus for a short period of time, with any luck, you can start expecting this product seasonally. According to Brand Eating, Zaxby's brought this side to menus during spring of 2020 with a similar set of terms. The restaurant kept the pickles on menus for approximately two months, so assuming history repeats itself, you might even see this signature side available until July if supplies hold out. Only time can tell what will happen with the promotion, but with any luck, the restaurant can serve up our fill of this fried fan favorite.
If you count yourself a fan of these popular pickles, make your way over to your nearest Zaxby's to see if your local restaurant has started carrying this product. With a bit of luck, you can order up this classic, tangy side and enjoy all of its time tested flavors. Make your moves soon, because once this item disappears, it might take a year for these pickles to resurface.